We recognize the value of efficient customerCustomer Customer is an individual or an organization that purchases a product or signs up for a service offered by a business. relationship management (CRM) and how it can make or break a company. By enhancing your sales and marketingMarketing Marketing is the field, set of actions, or practice of making a product or service desirable to a target consumer segment, with the ultimate aim of effecting a purchase. methods, you may stay one step ahead of the competition and meet the rising expectations of the current world. Integrating sales CRM software into your company's daily operations is one of the most efficient methods of obtaining these objectives.
Many advantages of CRM software include improved leadLead Lead refers to a prospect or potential customer (who can be an individual or organization) that exhibits interest in your service or product; or any additional information about such entity. management, opportunity management, accountAccount Account refers to a record of primary and background information about an individual or corporate customer, including contact data, preferred services, and transactions with your company. management, clientClient A client is an entity who pays another entity for products purchased or services rendered. Also called a customer. segmentationSegmentation Segmentation is the process of subdividing a large market into distinct partitions (or segments) based on demographics and other factors, with the aim of formulating and implementing separate strategies to better engage the consumers in each segment., enhanced communication, and automation of repetitive work. Some companies find the CRM integration process challenging, so this article will provide broad steps of CRM integration to attain these benefits.
Step 1: Establish Your Business Needs
To integrate sales CRM software, you must first ascertain your company's needs. These are different for every company. Establishing these needs for CRM would include:
Pain points—areas within your sales operation that are often difficult or troubled. The right CRM solution

Solution

Solution is a combination of ideas, strategies, processes, technologies and services that effectively helps an organization achieve its goals or hurdle its challenges.

can help address these and smooth them out.
Prospect and customer management—these include the procedures and activities taken to manage customers so they are delivered to, satisfied and serviced.
Sales and marketing procedures—These are the steps of your sales process

Sales Process

Sales Process is a series of strategic steps or a set of activities aimed at driving sales growth through the alignment of personnel, market insight, methodologies, relevant business units, and technology.

that provide the path for a customer from first interest all the way through closing and continuous customer service. Your sales process should be well-established before selecting CRM software.
Step 2: Choose the Best CRM Software
There are many different types of CRM software on the market. Here are the primary points to address when choosing CRM software for your company:
1. Cost – this is often the main issue a company worries over. Certainly the basic cost of CRM is something a business must take into consideration, but these are factors affecting cost above and beyond the basic cost:
Cost of administration – do you need to hire or train a full-time administrator?
Onboarding

Onboarding

Onboarding is the process or act of introducing a new customer to your product or service; or integrating a newly hired employee into your workforce or team.

time – the time it takes to train up and your users will affect production.
Adoption – Will users take to the software and really use it?
2. Features – CRM software has many different features, and you should pay attention to those that will actually benefit your business. Some CRM solutions offer far more features than you will ever use, and are complex enough to confuse users. Others might not have enough functionality for you.
3. Scalability – The most important goal for your company, of course, is to grow. Choose a CRM that will grow with your company, not one you must replace once you reach new heights.
4. Support – When you need support, it is often vital, as your sales might be slowed down or stopped. Not only should your CRM software have first-class support, but users should be able to access supporting information from right within CRM.
We suggest Pipeliner CRM, which is totally visual, onboards rapidly, is reasonably priced, is feature-rich, and contains in-context support.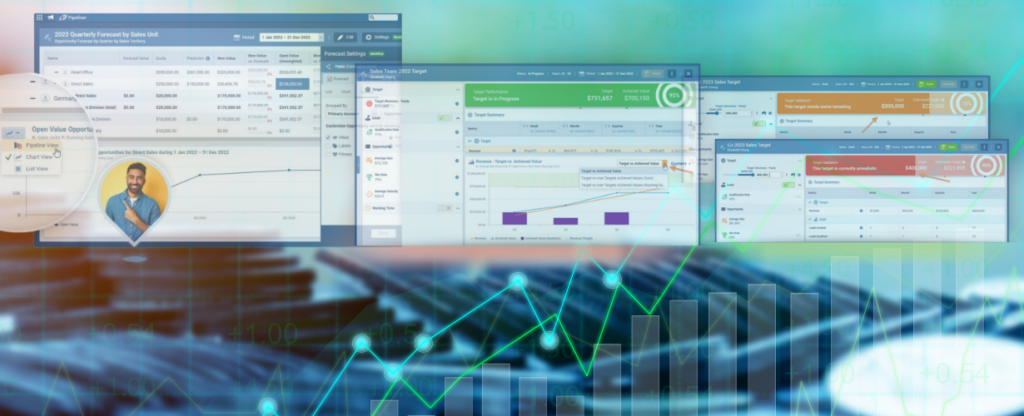 Step 3: Plan the Integration Process
To get your CRM software up and running, it is essential to properly organize the integration procedure. Steps to plan for and take into account:
Data

Data

Data is a set of quantitative and qualitative facts that can be used as reference or inputs for computations, analyses, descriptions, predictions, reasoning and planning.

migration – This is the vital step of importing your prospect and customer data from your previous solution to your new CRM software. It includes determining which data needs to be imported and setting up a reliable importation procedure.
Customization – This is the tailoring of your CRM software to the precise requirements of your business. This includes conforming CRM to your sales process, customizing fields, adding tasks and activities to sales process steps, and any other customization needed.
Testing – Once your CRM software is installed, test it to ensure it is working as you need it to. Work with your CRM vendor as necessary to make sure CRM is everything you need it to be before it is broadly deployed within your organization

Organization

Organization is a cohesive group of people working together and formally bound by a shared identity (e.g., one team, company, club, etc.) and a common purpose (e.g., business growth, athletic victory, etc.).

.
Step 4: Train Your Staff
Next comes the vital step of training your users on the new CRM software. Fully training them will mean that their transition to the new system will be efficient and, most importantly, the new CRM will fully support them in their sales efforts.
As well as hands-on training, your CRM should be equipped with video training and tutorials, userUser User means a person who uses or consumes a product or a service, usually a digital device or an online service. guides, and training materials right within CRM.
Note that Pipeliner CRM contains all of these elements, and training staff on Pipeliner CRM can be done in a few hours, while many others take weeks or months.
Step 5: Track and Assess the System
Once your CRM software is up and running, you'll need to monitor it for:
Technical performance of the CRM itself.
User adoption. Are the salespeople actually using it to their benefit? This is the most important aspect of a CRM. Pipeliner CRM, for example, is greatly loved and taken to by users.
As you monitor the system and users, keep track of all information and make adjustments as necessary.
Conclusion
By integrating CRM software into your organization, you will strengthen customer connections, generate income, and optimize your sales and marketing processes. Plan and execute the integration process following the steps above—and bring your company to its next level of success.
To help you enhance your business operations, Pipeliner CRM provides a wide range of services including sales CRM software integration. Contact us today.