Mobile CRM App for Sales
All You Need For Selling On The Go!
Accounts & Contacts
Accessing accounts and contacts on-the-go is critical to staying one step ahead. The Pipeliner CRM Mobile app gives you all the features and functionality of accounts and contacts — right from your phone.
No matter where your journey may take you, send out emails, make calls, view documents, and stay up to date on vital information.
Instantly collaborate with your team on accounts and contacts, to make better, more informed decisions.

Check out the history of any accountAccount Account refers to a record of primary and background information about an individual or corporate customer, including contact data, preferred services, and transactions with your company. or contact — including all opportunities, emails, appointments, and notes.

Create new accounts and contacts using your location, address book, or by utilizing your phone's camera as a business card scanner.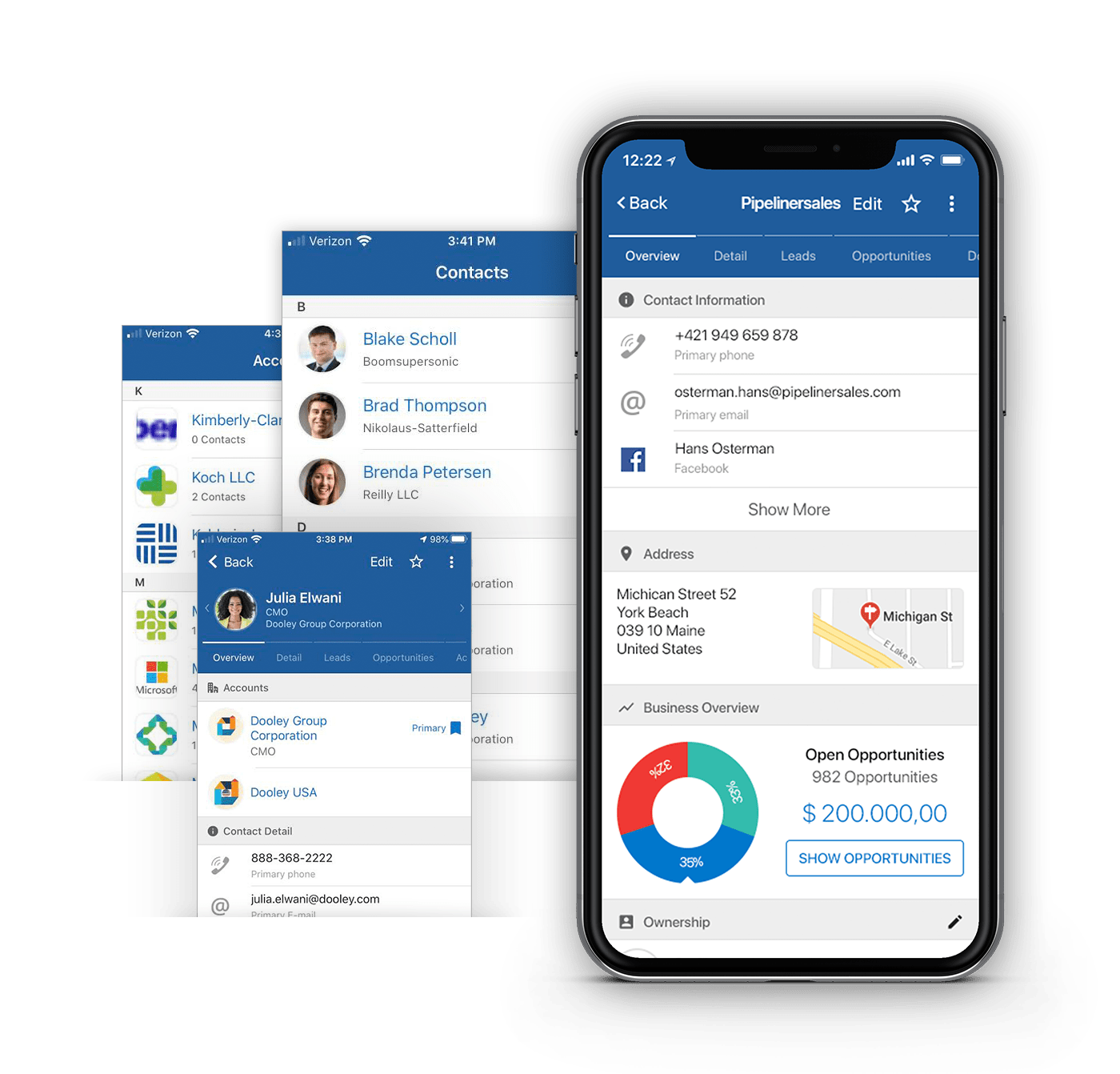 Opportunities & Leads
Opportunity and LeadLead Lead refers to a prospect or potential customer (who can be an individual or organization) that exhibits interest in your service or product; or any additional information about such entity. management are practically synonymous with sales itself — for what else is a salesperson doing besides working on closing deals? The Pipeliner CRM Mobile App delivers Pipeliner's robust opportunity and lead management features right to your phone.
View, edit, and manage your pipelinePipeline Sales pipelineis a visual representation of the stage prospects are in the sales process. from "Anywhere"!
Whether you are visiting a clientClient A client is an entity who pays another entity for products purchased or services rendered. Also called a customer., working at a tradeshow, or are out of the office, instantly access your opportunities so you never miss a beat.

Leads are the lifeblood of any sales organizationOrganization Organization is a cohesive group of people working together and formally bound by a shared identity (e.g., one team, company, club, etc.) and a common purpose (e.g., business growth, athletic victory, etc.).. Now you can Create, Edit, and Qualify leads on the fly.
Activities
A salesperson is always engaged in activities, whether it is an appointment, email, or a phone call. Additionally, these need to be recorded and maintained so you have records of all your communications with clients.
The Pipeliner CRM Mobile App makes tracking all your activities a piece of cake.
The Calendar and Tasks menus deliver seamless organization of all activities in a beautiful layout.

Receive push notifications directly on your phone, so you never forget to complete an activity.

If you make a phone call, send a text message, or write an email, the app will automatically remind you to log it as an activity when you return to Pipeliner.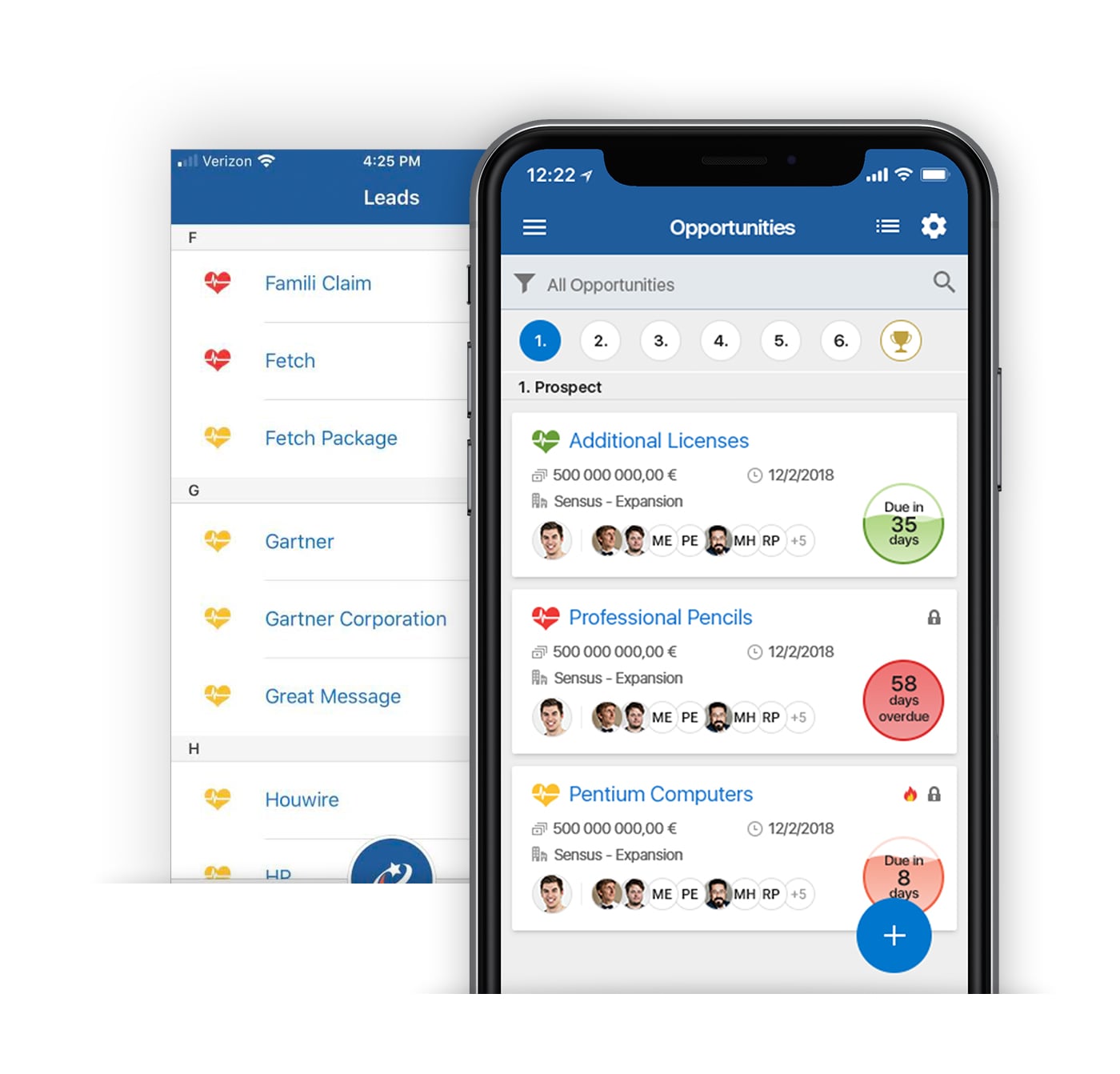 Navigator
The Navigator feature provides a targeted and innovative method of delivering instant intelligence to the userUser User means a person who uses or consumes a product or a service, usually a digital device or an online service.. It's the first screen viewed when Pipeliner is opened — for very good reason. It brings focus and clarity to the complexity of a salesperson's environment by giving an overview of everything in Pipeliner.
Set your sales target in Navigator to quickly view your progress in meeting sales goals.

Access your agenda, including activities that are due today or past activities that need attention.

Suggestions provide visual, actionable insights to help move Opportunities and Leads forward in your process.

Don't Just Take Our Word For It – Come & See For Yourself!
Sales KPI Dashboard
The Pipelinersales KPIs (Key Performance Indicators) Dashboard is built so that everyone on the sales team can visually utilize data to make more knowledgeable choices, both inside and outside the office. DataData Data is a set of quantitative and qualitative facts that can be used as reference or inputs for computations, analyses, descriptions, predictions, reasoning and planning. is only useful if you can easily access it, interpret it — and turn it into noble actions.
We deliver 27 popular, pre-built KPIs you can use to immediately analyze business for a single rep, a sales unit or territory, or a whole sales team.
Compare opportunities based on the Account, Account Class, Owner, or Sales Unit.

Analyze opportunity values based on ranked, weighted and balanced target comparisons.

Get an overview of every Pipeline, including the value of opportunities currently at each step, as well as the value of lost opportunities at each step.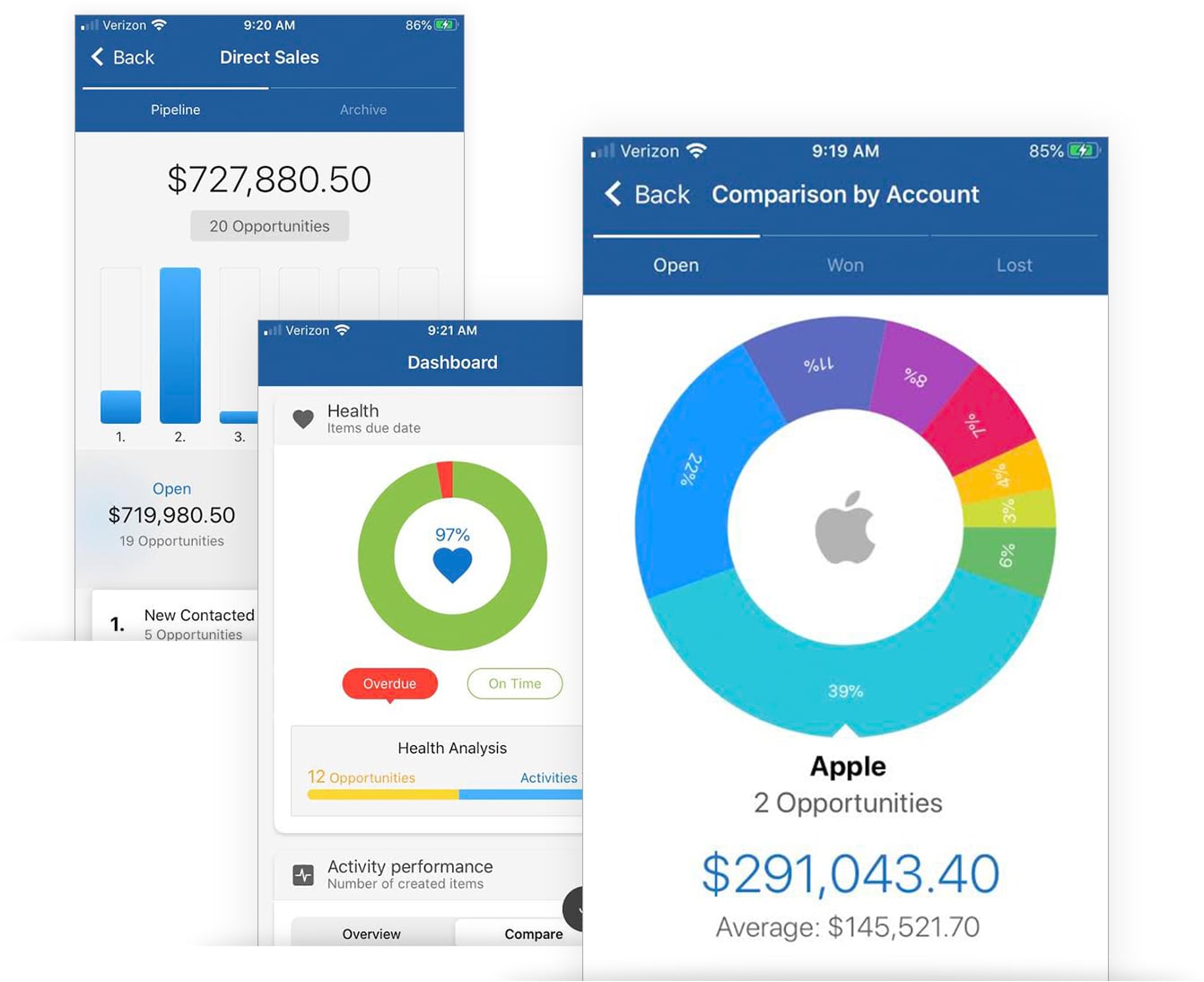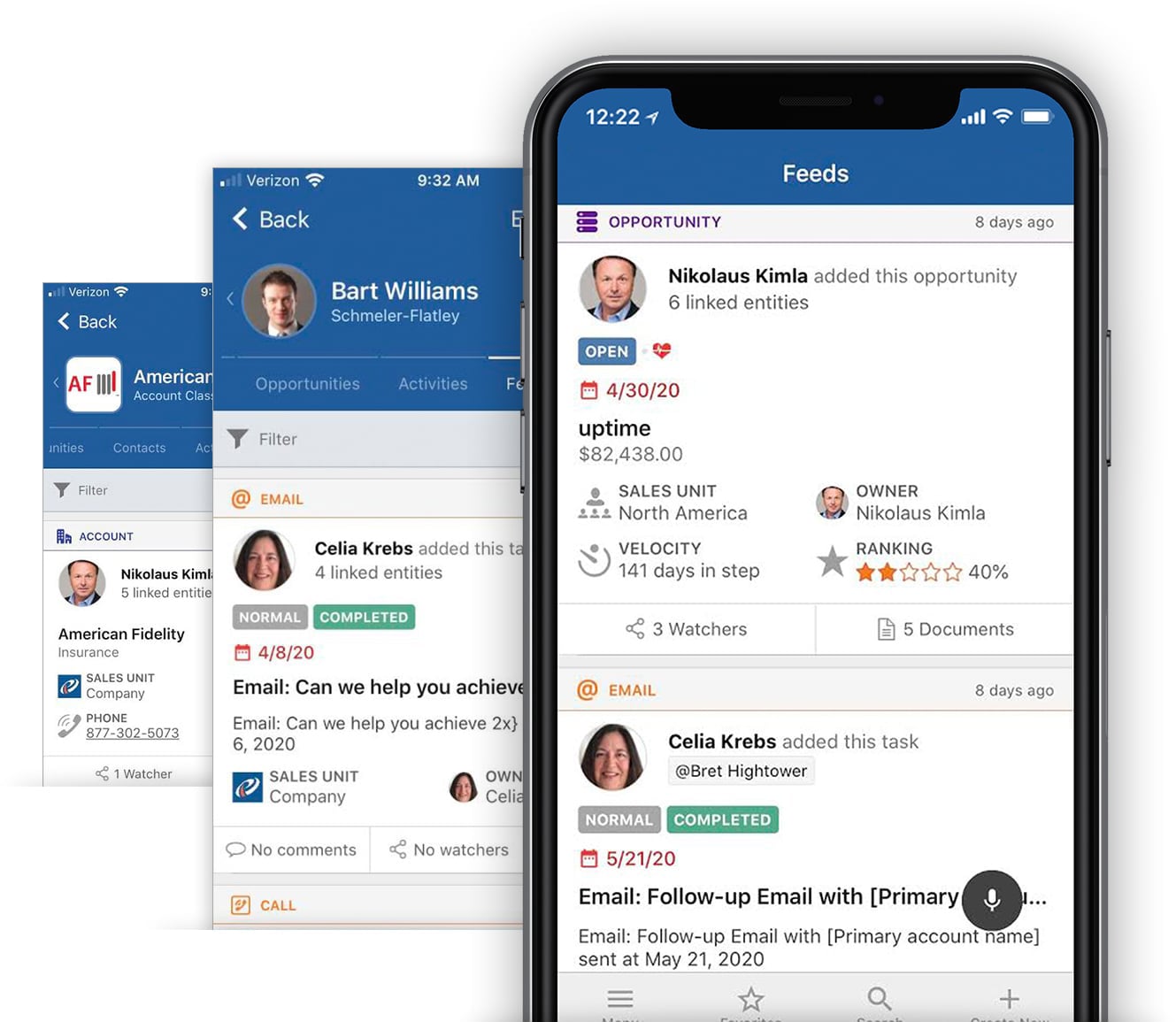 Feeds
Eliminate back and forth communications with your team by accessing the history right in feeds. This area operates as a social media platform, displaying the most recent activity in any record. Instantly view team interactions, emails, activities, and messages so you are always in the know.
The Feeds Section is available everywhere in the mobile app, to give you insight into updates that have taken place with a Lead, Opportunity, Account, or Contact.

Use the Filter to quickly shuffle through all communications and find what you need, when you need it.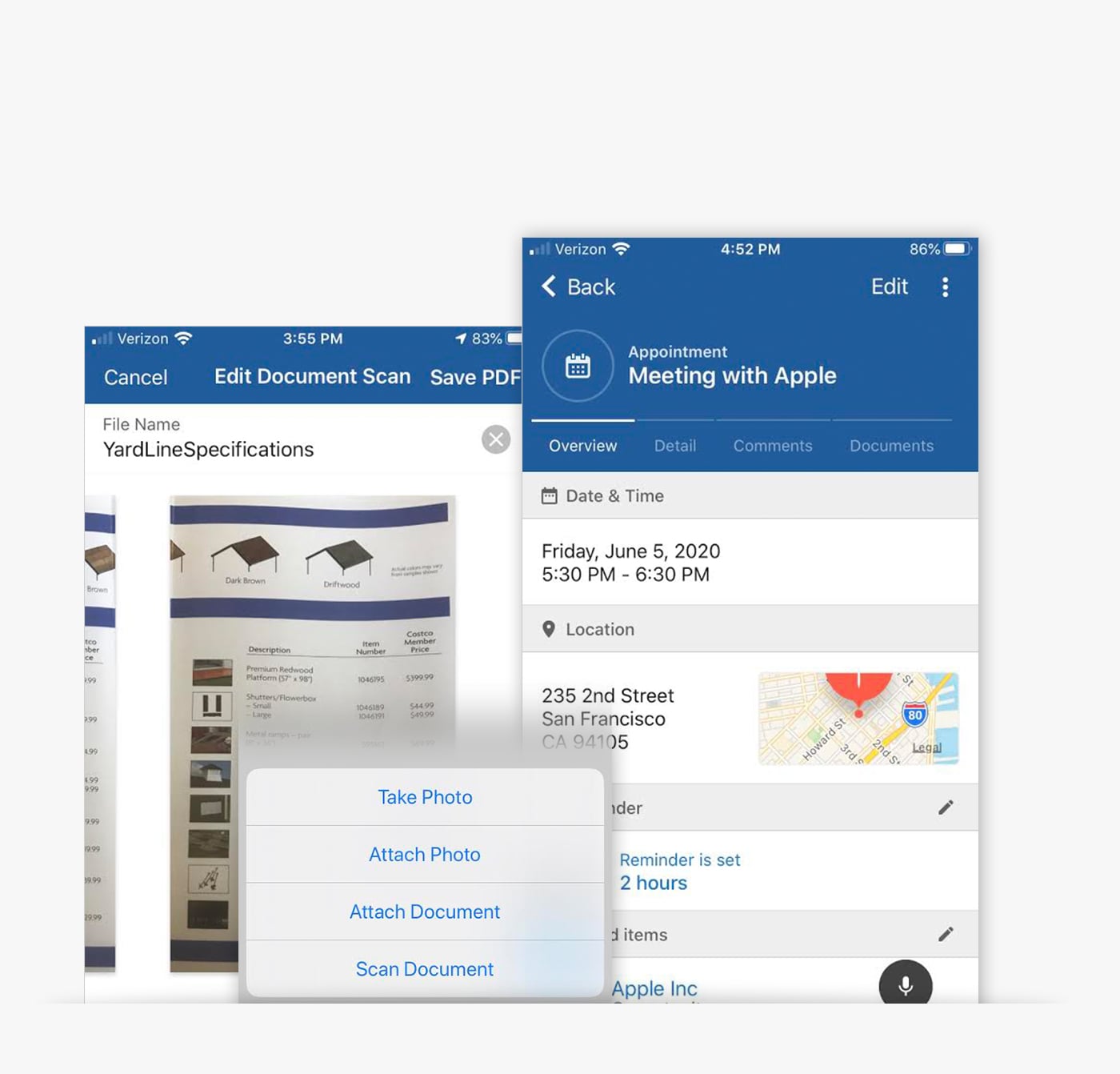 Mobile Specific Features...
Notification Center — Receive notifications about new data added to leads, opportunities, contacts, accounts or activities with which you are associated. Notifications can be adjusted in your user settings, so you only receive what is most important to you.

Business Card Scanner — Do you receive a lot of business cards you want to turn into contacts? Use your phone's camera to capture information on business cards, and turn them into new Pipeliner contacts.

Call, Email, and Text — When browsing through an account or contact, you can call, email, or text if they have a phone number or email address added. Once you return to Pipeliner, you will automatically be prompted to log it as an activity.

Create Accounts & Contacts from Location or Address Book — Use your current location to add a new Account or Contact. Or, import them directly using your phone's address book.

Viewing Accounts & Contacts on the Map — Enter a contact or an account's address, and you will be shown geographically where it is located.
Profiles & Filtering
Sales teams generally have many different ways they want to visualize data. For instance, you might want to view the sales targets of your entire team, versus your individual goals. Pipeliner allows you to save these views you know you're going to regularly use — with our Profiles Feature.
Instantly customize and filter data so you always have the precise view you need.
Create a Profile for anything you want to quickly view, including your deals over $10,000, Opportunities involving a specific productProduct Product refers to anything (an idea, item, service, process or information) that meets a need or a desire and is offered to a market, usually but not always at a price., ordeals a certain colleague is working on. The options are endless…

Utilize the profiles you create on your computer or create new profiles directly from your phone.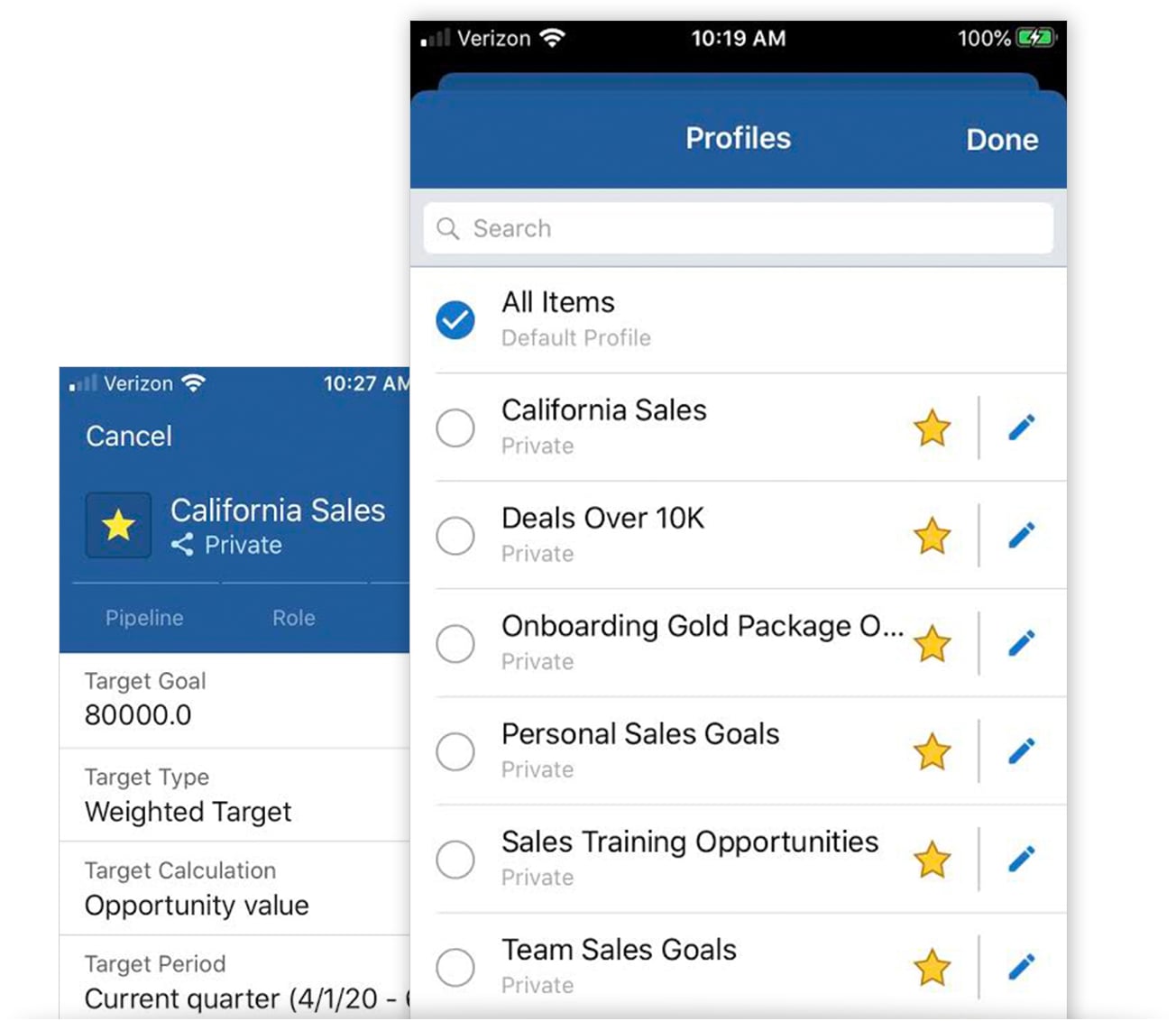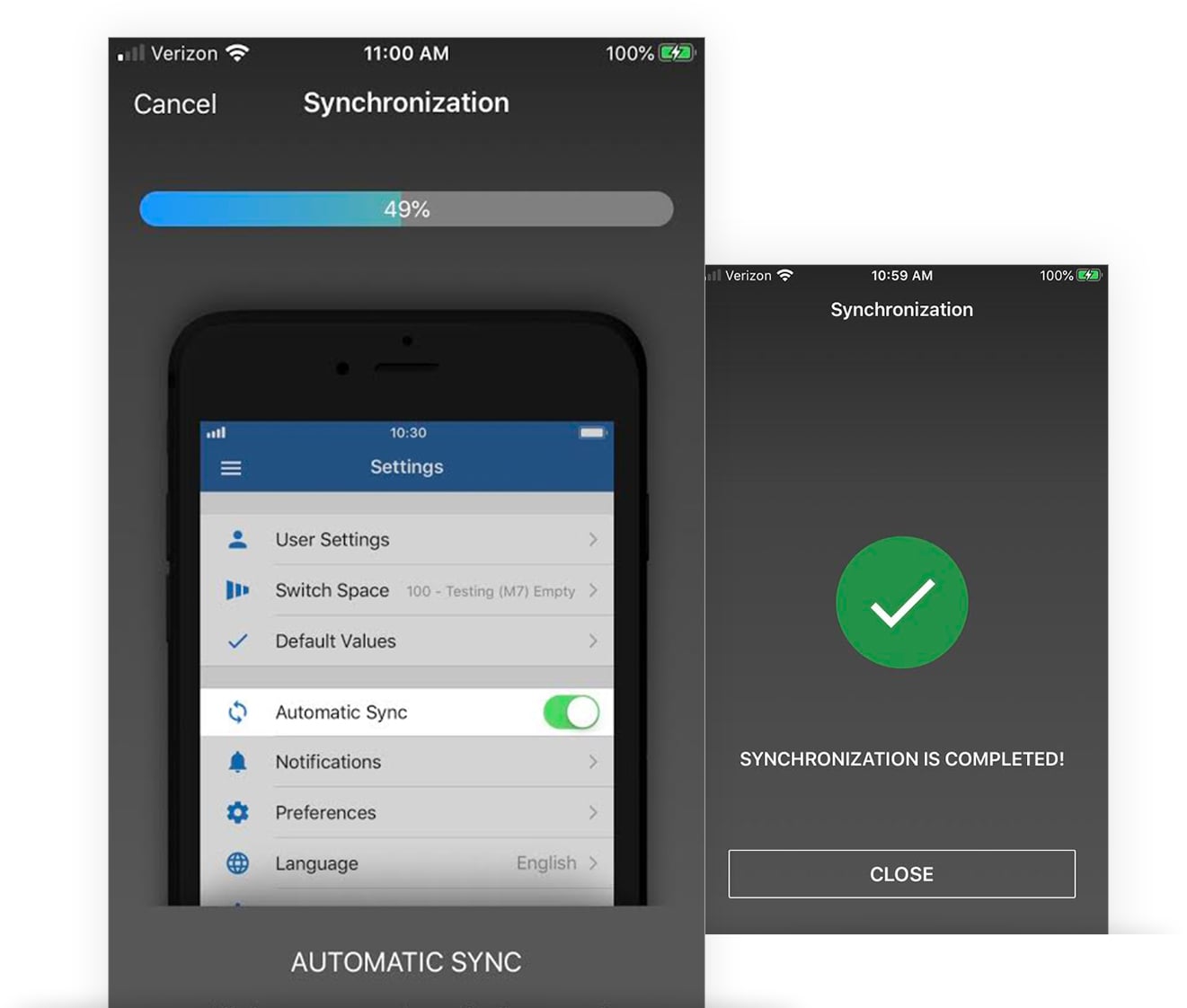 Automatic Sync
You have just had a meeting with a prospect, and are now headed back on a long train ride that has no internet connection. You enter data about the meeting you just had and its effects on the opportunity and account. When you're once again in a range of an internet connection, your data will be synchronized with the cloud, automatically.
Once synchronized, the rest of your company will be able to access the data and view your updates.
Synchronization occurs in the background so updates are instantly added to the cloud, from anywhere in the world.
Full Customization
One of the main features that Pipeliner customers rave about is its customization. Anything you customize from your Pipeliner CRM desktop will automatically show up in your Pipeliner CRM Mobile App.
Whether it is personalized fields, the fully customizable Pipeliner View, or user-designed templates, Pipeliner prides itself on being able to fit any company's operations.
Any customization you make as an Administrator from your CRM will automatically fuse into your Pipeliner CRM Mobile App experience.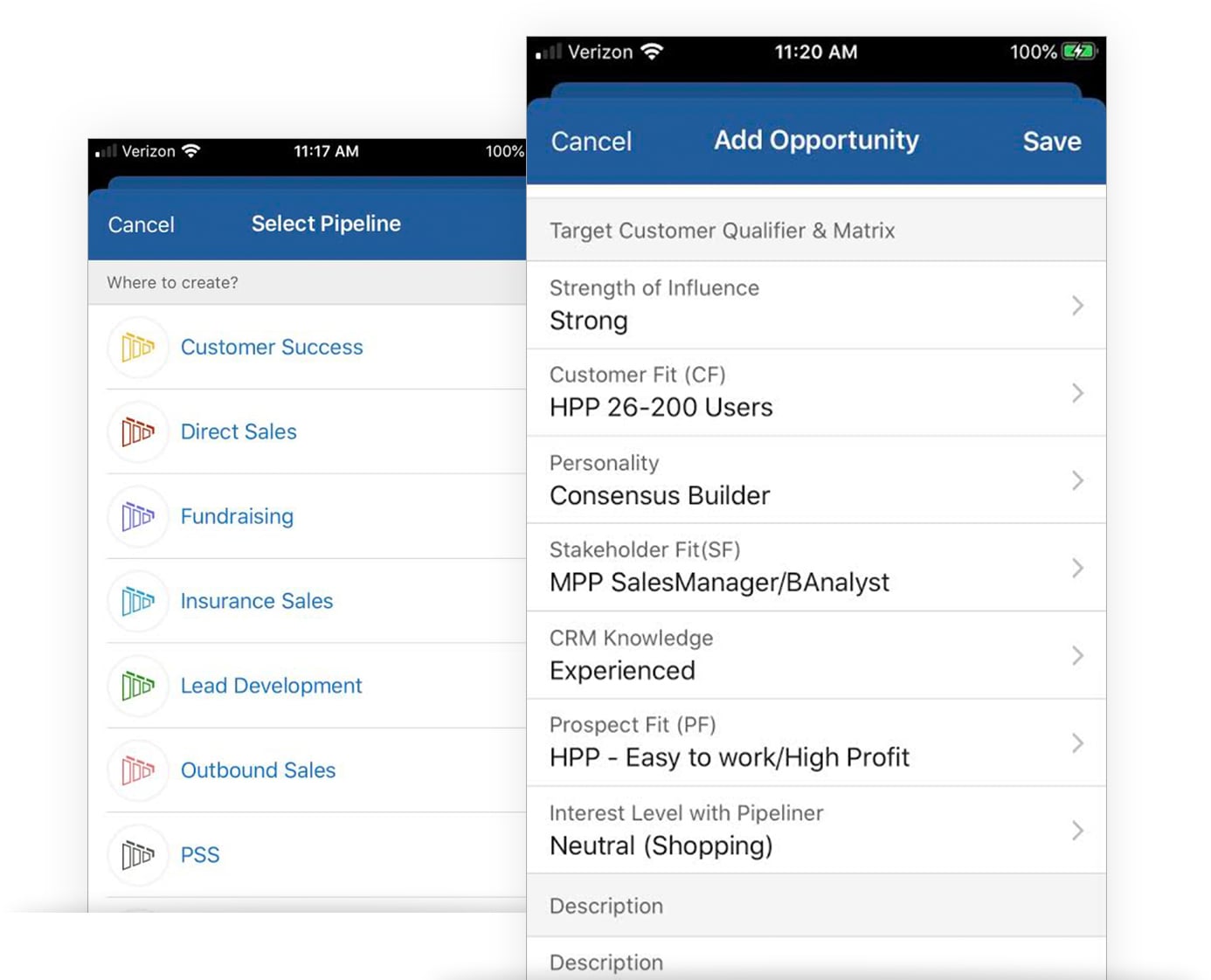 Download Pipeliner CRM Mobile App
Now put Pipeliner's most vital features always at your fingertips—with Pipeliner Mobile CRM for iOS and Android.
It's Pipeliner CRM on the go!