Google Suite for Pipeliner CRM
Our Google Suite of Product

Product

Product refers to anything (an idea, item, service, process or information) that meets a need or a desire and is offered to a market, usually but not always at a price.

Integrations Includes ⤵
Gmail
Our seamless Integration with Gmail makes capturing email communications a breeze. Automatically append emails to contacts, send out customized emails from within Pipeliner, and quickly access email history in any record.
Tailor the integration to your needs by choosing which entities to automatically link emails, as well as choose which folders to sync to Pipeliner.
All emails sent and received from Contacts and Accounts will appear in Pipeliner Feeds when there is an exact match on the email address.

Send emails directly from within Pipeliner, utilizing Email Tracking, Template Customization, and an Instant Report with Insights.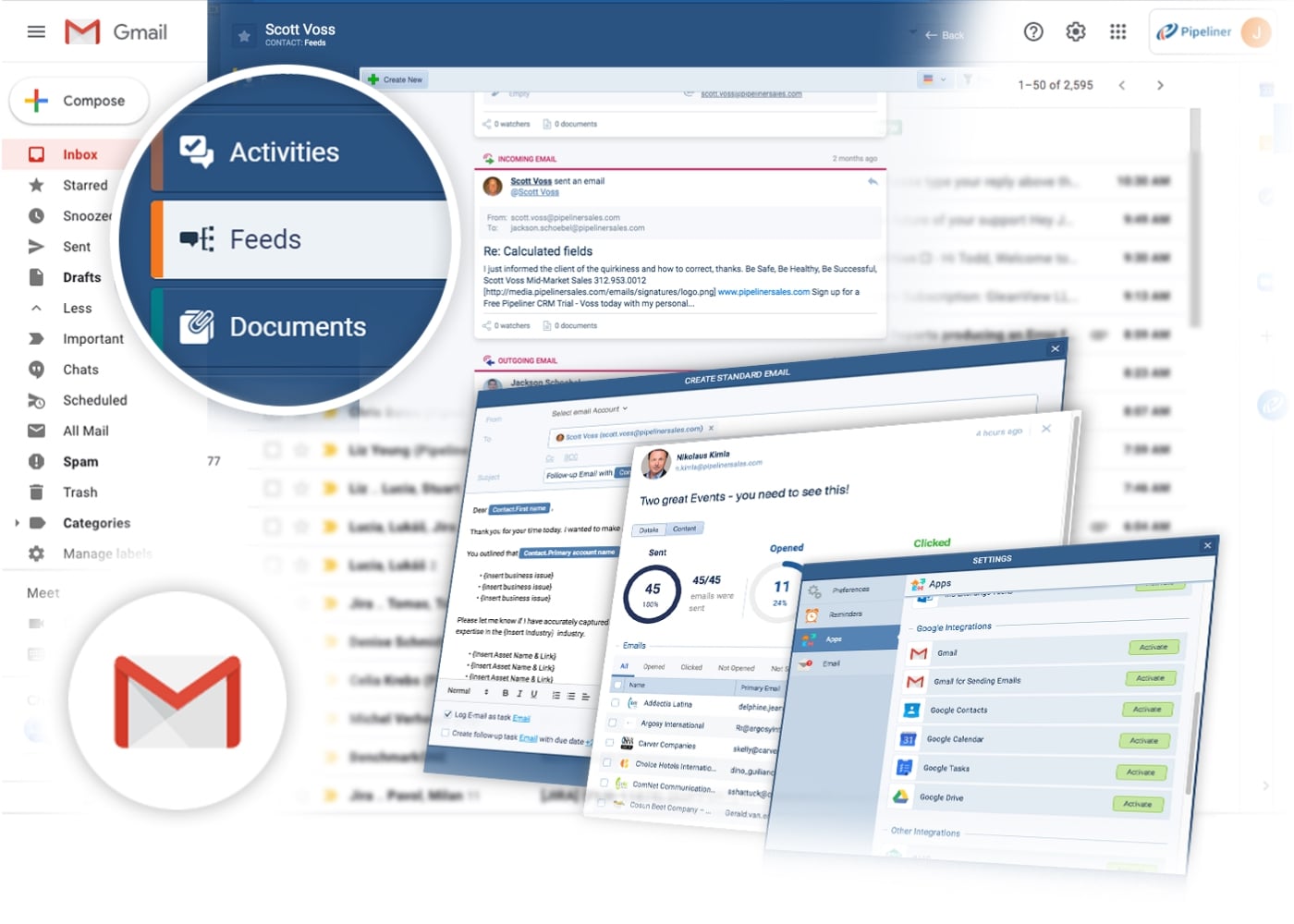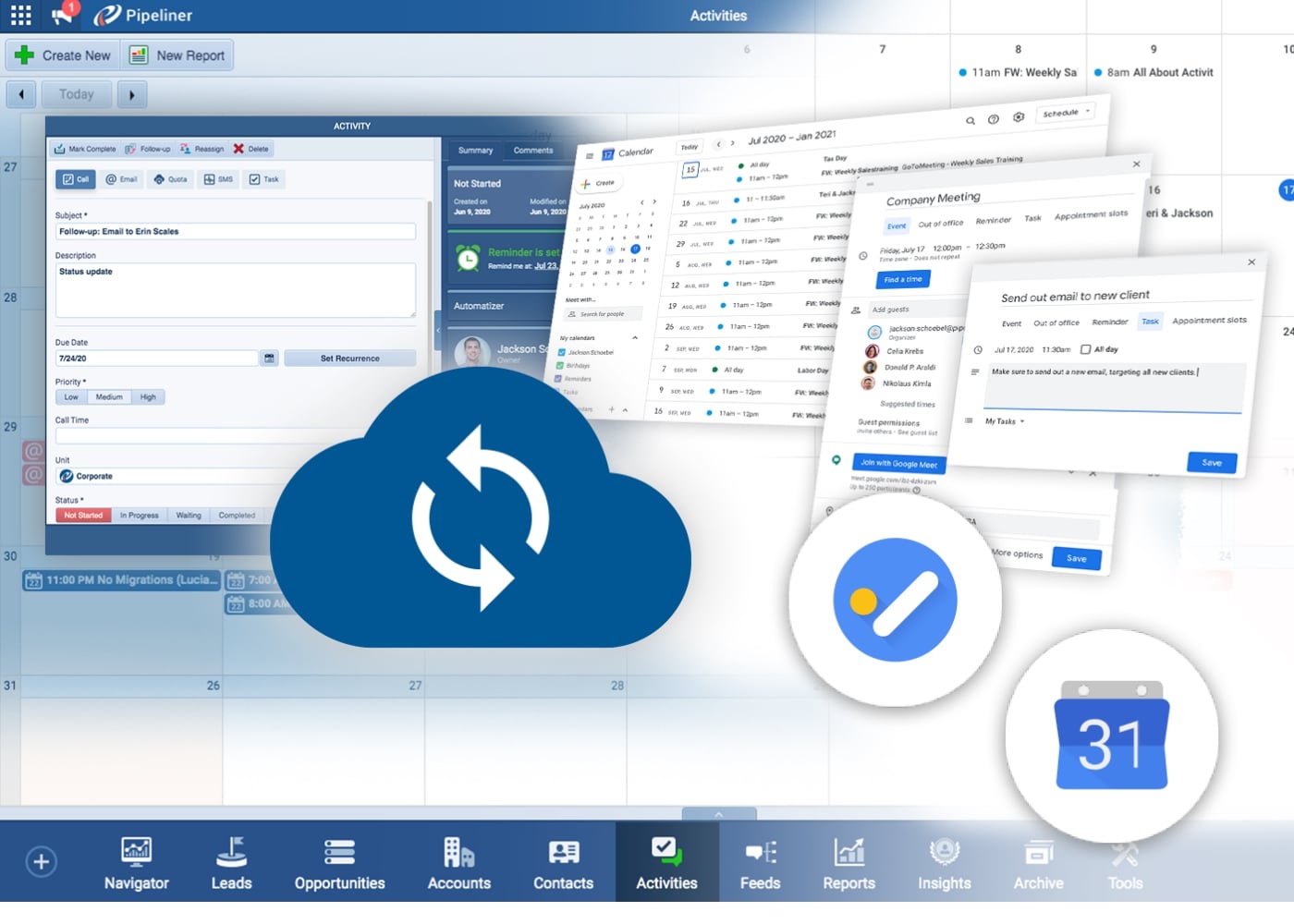 Google Calendar & Tasks
When you connect Google Calendar and Tasks, every meeting and task is automatically synchronized to Pipeliner CRM in the cloud. Pick a folder from Google to synchronize with, or create a completely new folder from Pipeliner CRM.
Your schedule will always update in real-time, meaning anything that gets added in Google will update in Pipeliner CRM and vice versa.
Whether you're working in Pipeliner CRM or in Google, your tasks, appointments, and meetings will synchronize in both Pipeliner CRM and Google.

There is no need to switch between applications to adjust your schedule.
When I came across an issue that I wasn't able to handle, support was really fast. Support has been second to none.
Google Contacts
Our Google Contacts integration enables you to keep contacts organized, up-to-date, and readily available to other members of your team. With a variety of syncing options available, you can arrange and structure your contacts however you'd like. When activating the integration, there is an assortment of synchronization options available ⤵
Unidirectional Synchronization (Google → Pipeliner) — Contacts will sync from your selected Google folder to Pipeliner CRM.

Bi-directional Synchronization (Google ↔ Pipeliner) — A two-way sync where dataData Data is a set of quantitative and qualitative facts that can be used as reference or inputs for computations, analyses, descriptions, predictions, reasoning and planning. will sync back and forth from your selected Google folder to and from Pipeliner CRM.

Unidirectional Synchronization (Google ← Pipeliner) — Contacts will sync from Pipeliner CRM to your selected folder in Google.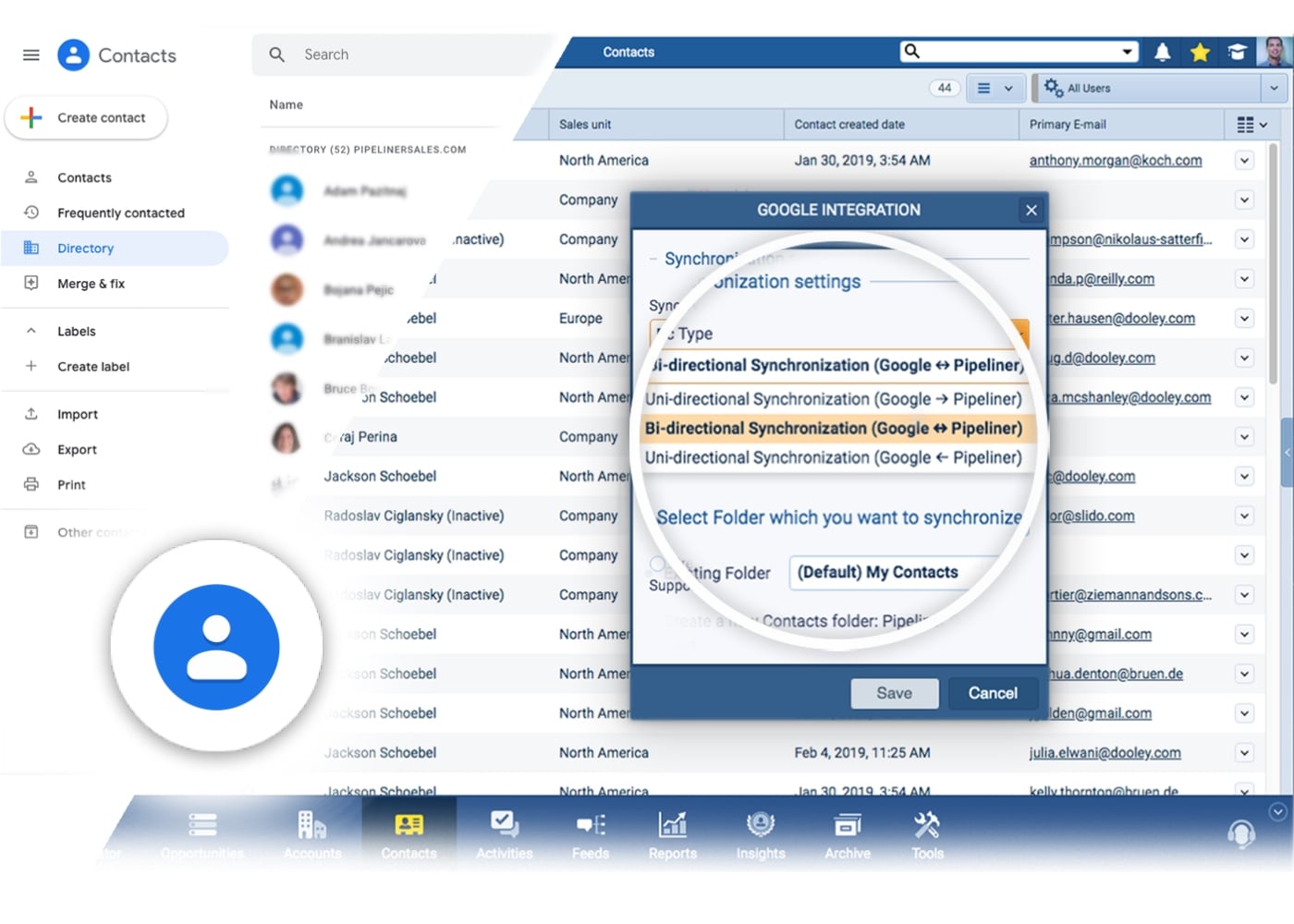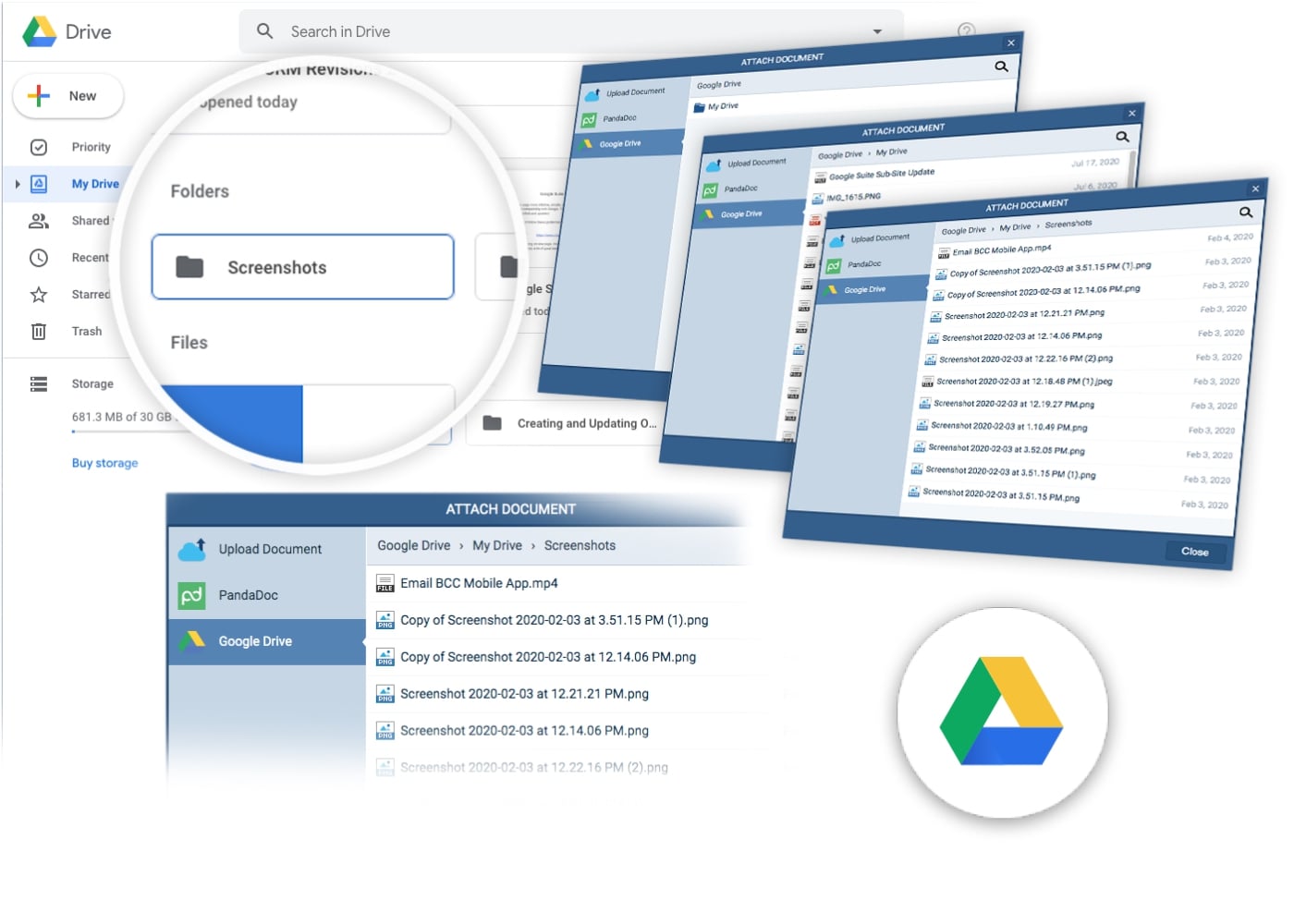 Google Drive
Google Drive allows you to store, access, and manage all your files in one place, so you can easily access them at any time, from anywhere. With this integration, you can attach Google Drive files directly to any LeadLead Lead refers to a prospect or potential customer (who can be an individual or organization) that exhibits interest in your service or product; or any additional information about such entity., Sales Opportunity, Contact, or AccountAccount Account refers to a record of primary and background information about an individual or corporate customer, including contact data, preferred services, and transactions with your company. right inside Pipeliner CRM. Anywhere you can attach a file to a record in Pipeliner CRM, you can access Google Drive and upload saved files.
All of your Google Drive files are always accessible from the Documents section in Pipeliner CRM.

Work both online and offline using the Google Drive Apps for Mac, Windows PC, and Android mobile devices.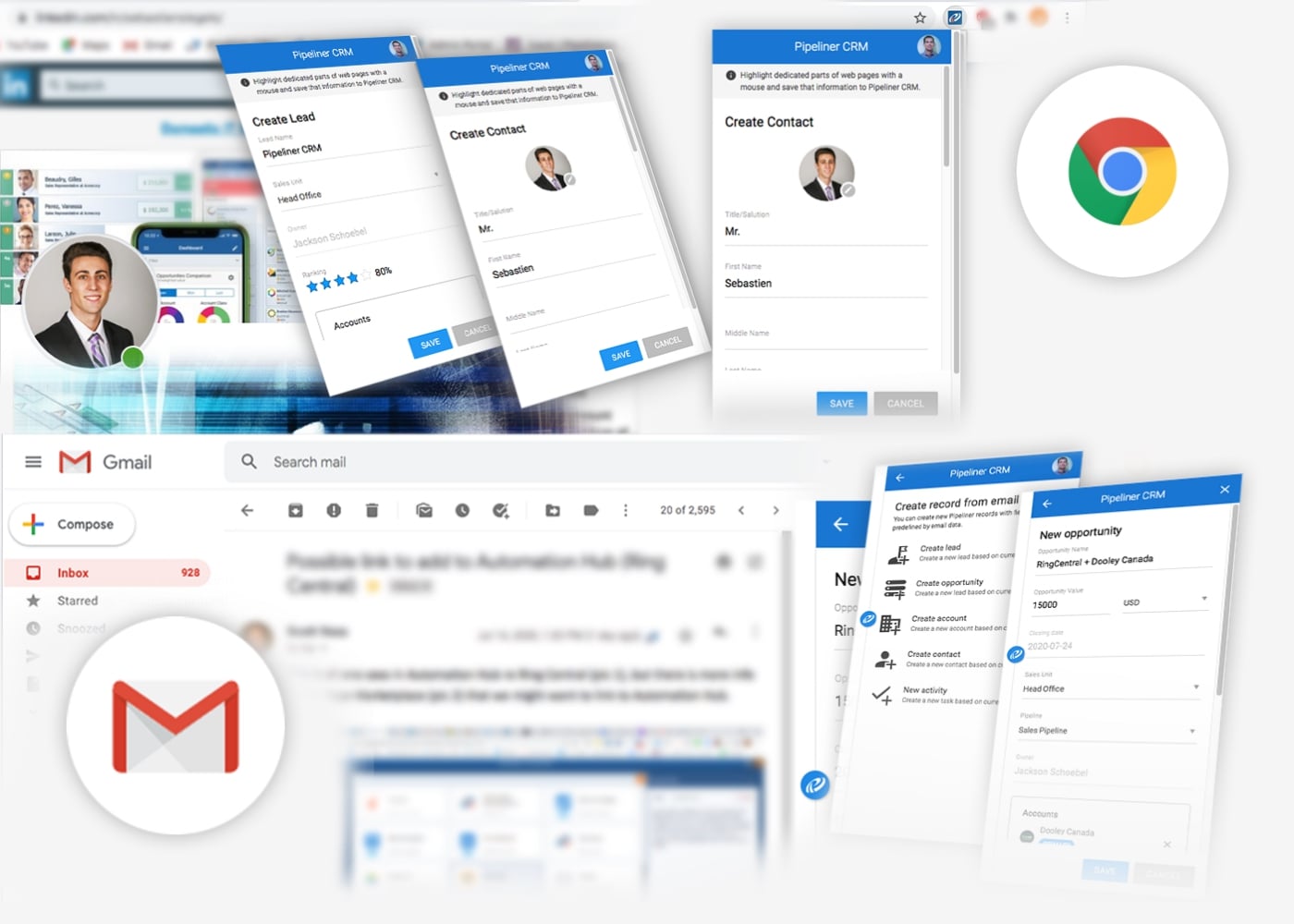 Google Chrome Extension
The Google Chrome Extension for Pipeliner CRM is a fully customized tool, allowing you to save records from within Gmail and anywhere on the web. Once added, the extension will pop-up in your Gmail inbox where you can create and edit new Pipeliner CRM records from email data.
Additionally, the extension functions as a Web Clipper, enabling you to easily clip web pages and save them into Pipeliner CRM as Contacts, Accounts, Leads, or even Tasks.
Gmail Inbox Add-In & Web Clipper
Efficiently manage customerCustomer Customer is an individual or an organization that purchases a product or signs up for a service offered by a business. relationships by utilizing the Gmail Add-In as an integrated part of your workflow in Pipeliner CRM.
Google Docs & Google Sheets
The Google Docs and Google Sheets Add-In allow you to populate your documents with data from Pipeliner CRM. This means you can create Business Contracts, Sales Proposals, or Project Outlines and link Pipeliner CRM fields from Leads, Opportunities, Accounts or Contacts directly into those documents.
Easily populate your Google Docs and Sheets with data — such as an email address, phone number, street address or any other field from Pipeliner CRM.

Store populated documents in your company Google drive folders, link them to records in Pipeliner CRM, or save them as PDF files to your local computer.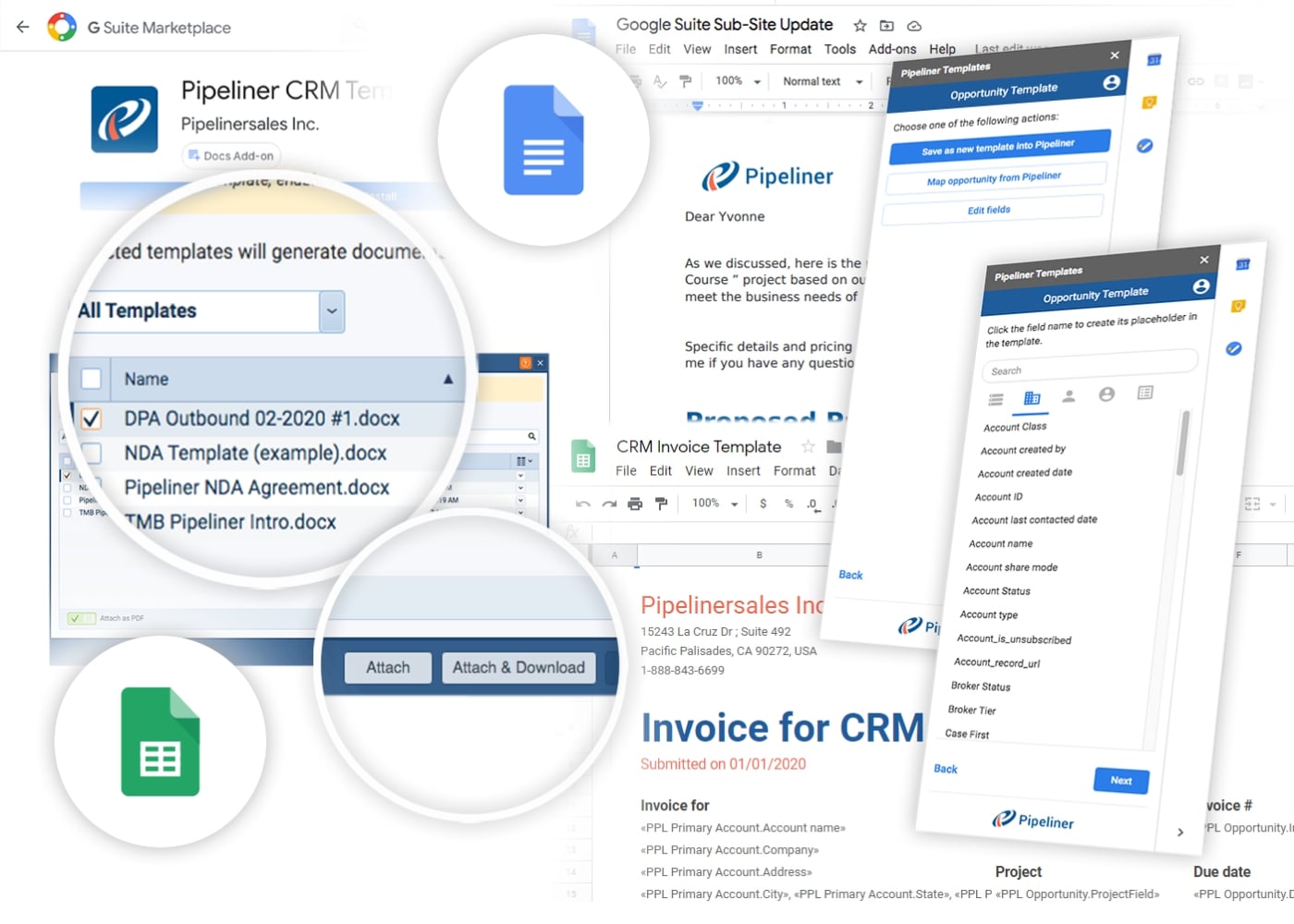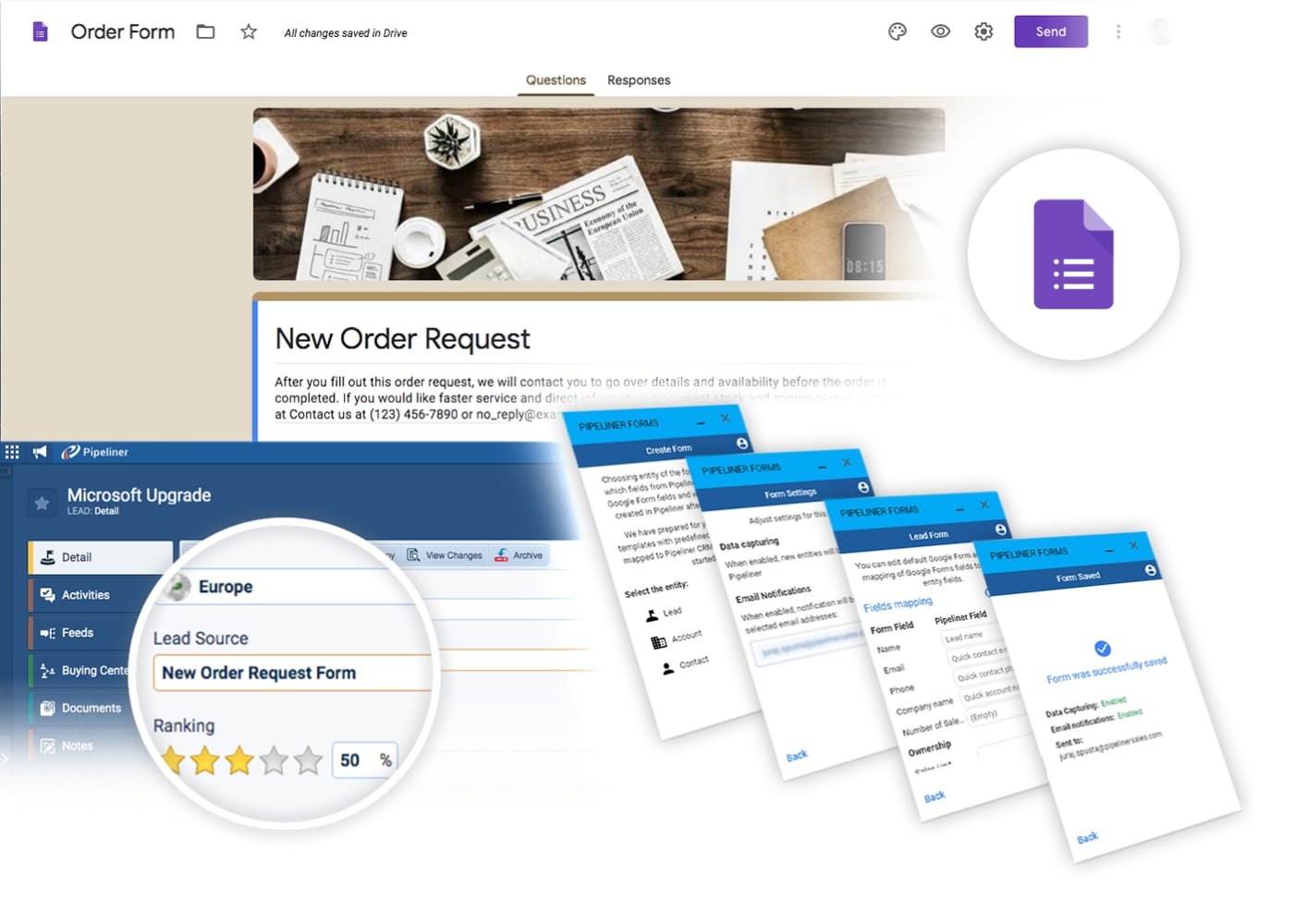 Google Forms Add-In
Pipeliner CRM integrates with Google Forms so that you can directly capture lead data from lead forms, and create document templates that are automatically populated with data from Pipeliner CRM. You can use your Google form attached to your website as a lead generationLead Generation Lead Generation is a set of activities aimed at generating interest around a product or service through methods such as 1. content marketing (blogging, podcasts, free downloads); 2. advertising (PPC, banner ads, Yellow Pages, sponsoring an event); 3. referrals (recommendations from existing customers and other people); 4. outbound marketing (cold email, cold calling), and 5. partnerships (joint ventures, affiliate marketing). tool for Pipeliner CRM.
This feature can greatly simplify the lead capture process for any company.
Google Forms gives you the ability to create beautiful online web forms that are sent out via email or attached to your websites, such as new order requests, registration forms, or website trials.

When a website visitor fills in the Google form and submits the data, the Google Forms Add-In auto-creates the new lead, opportunity, account, or contact right in Pipeliner CRM.
Google Geolocation
Pipeliner's Map View uses Google's Geolocation to provide global insight of your Accounts, Contacts, Leads, and Opportunities. Instantly check out where all your business Opportunities and contacts are positioned all over the world. Google's Geolocation automatically maps the precise location when you enter the address of an Account or Contact, delivering a truly unique look to help you make strategic decisions.
Map View displays up to 5000 records at one time.

When you turn on Google Geolocation from the Automation Hub, it works in both the desktop version and Mobile App.