Microsoft Suite for Pipeliner CRM


Our Microsoft suite of integrations delivers a wide range of compatibility with some of the most advanced apps and tools available.
Our Microsoft Suite of Product

Product

Product refers to anything (an idea, item, service, process or information) that meets a need or a desire and is offered to a market, usually but not always at a price.

Integrations includes ⤵
Microsoft 365 & Exchange Email Integrations
When you activate the Microsoft 365 or Microsoft Exchange email integration, Pipeliner will automatically track email communications to and from your Accounts and Contacts. Anytime you send an email from Outlook and the address matches in Pipeliner, it will attach it to the Feeds section. Choose whether to automatically link emails to Accounts and/or Contacts, in addition to which mailboxes you want to utilize for the integration.
All emails are tracked in Pipeliner CRM, so the history with the AccountAccount Account refers to a record of primary and background information about an individual or corporate customer, including contact data, preferred services, and transactions with your company. or Contact is always available to your entire team.

The Microsoft 365 integration allows you to send emails directly from within Pipeliner CRM, including mass emails that can be customized using Pipeliner fields.

Additionally, add email signatures, include an unsubscribe link, and create custom email templates to send to clients.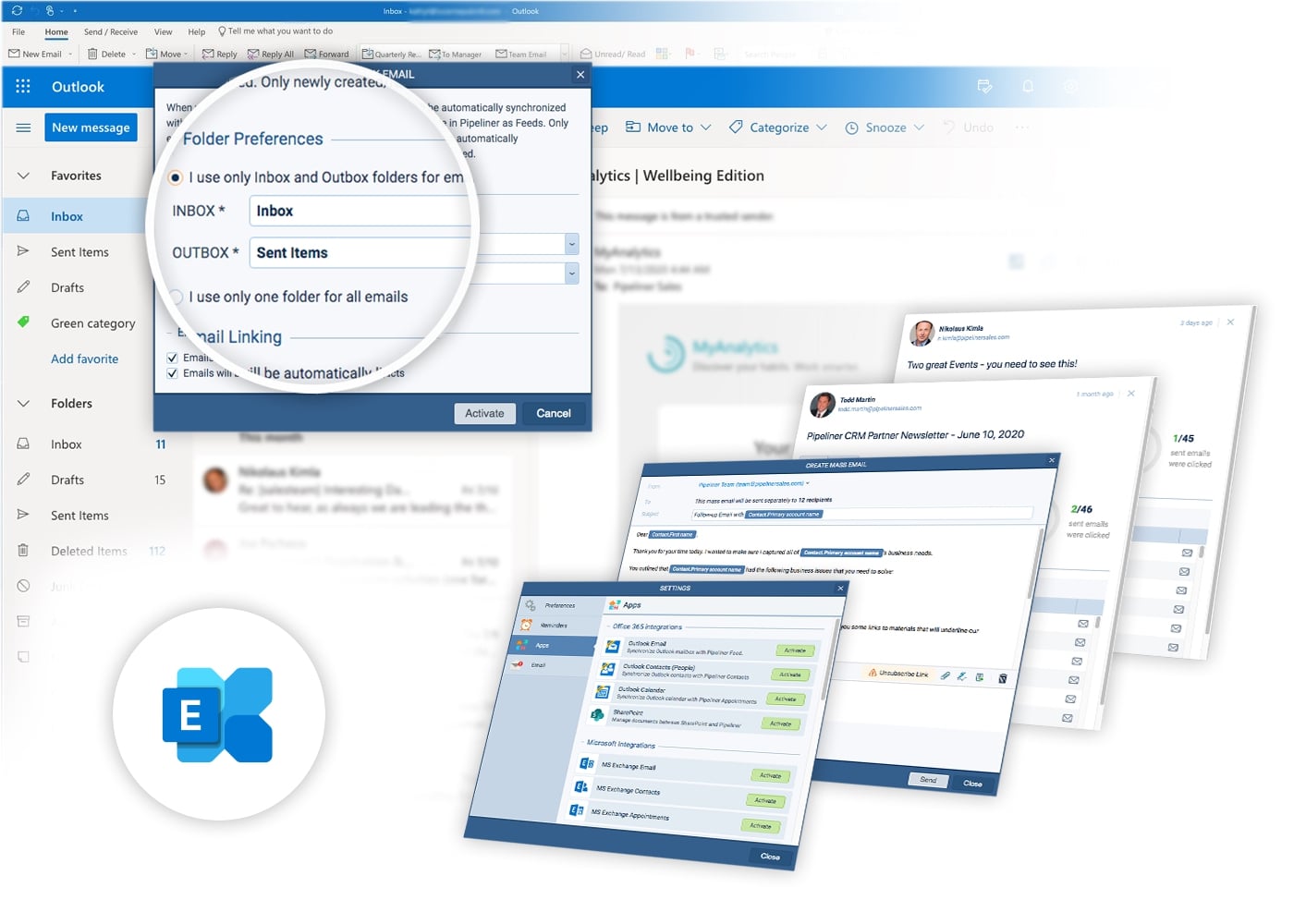 Microsoft 365 & Exchange Contacts
The Microsoft Contacts integrations allow you to easily add contacts between Pipeliner CRM and Microsoft 365 or Microsoft Exchange. When you set up the integration, select which folders you would like to synchronize your contacts. Additionally, you will have a variety of synchronization options to choose from for which way you want Contacts to be updated.
Customize whether you want Contacts synced that you own, or that you can access, and create an entirely new Pipeliner folder to sync within your Outlook Contacts.

Pick from multiple different synchronization options to customize how you want Contacts to be sent back and forth between Pipeliner and Outlook:

Pipeliner → Outlook
Pipeliner ↔ Outlook
Pipeliner ← Outlook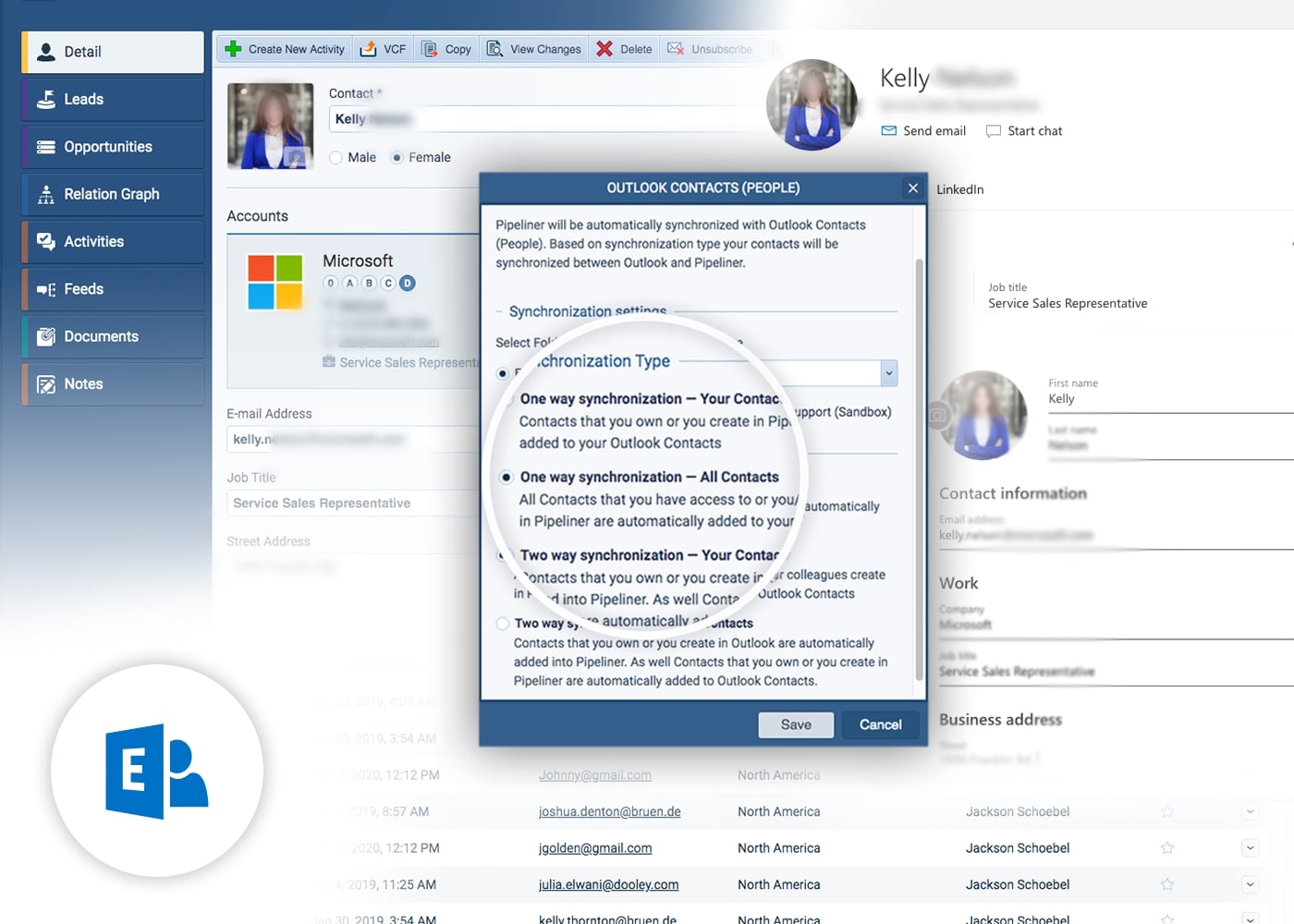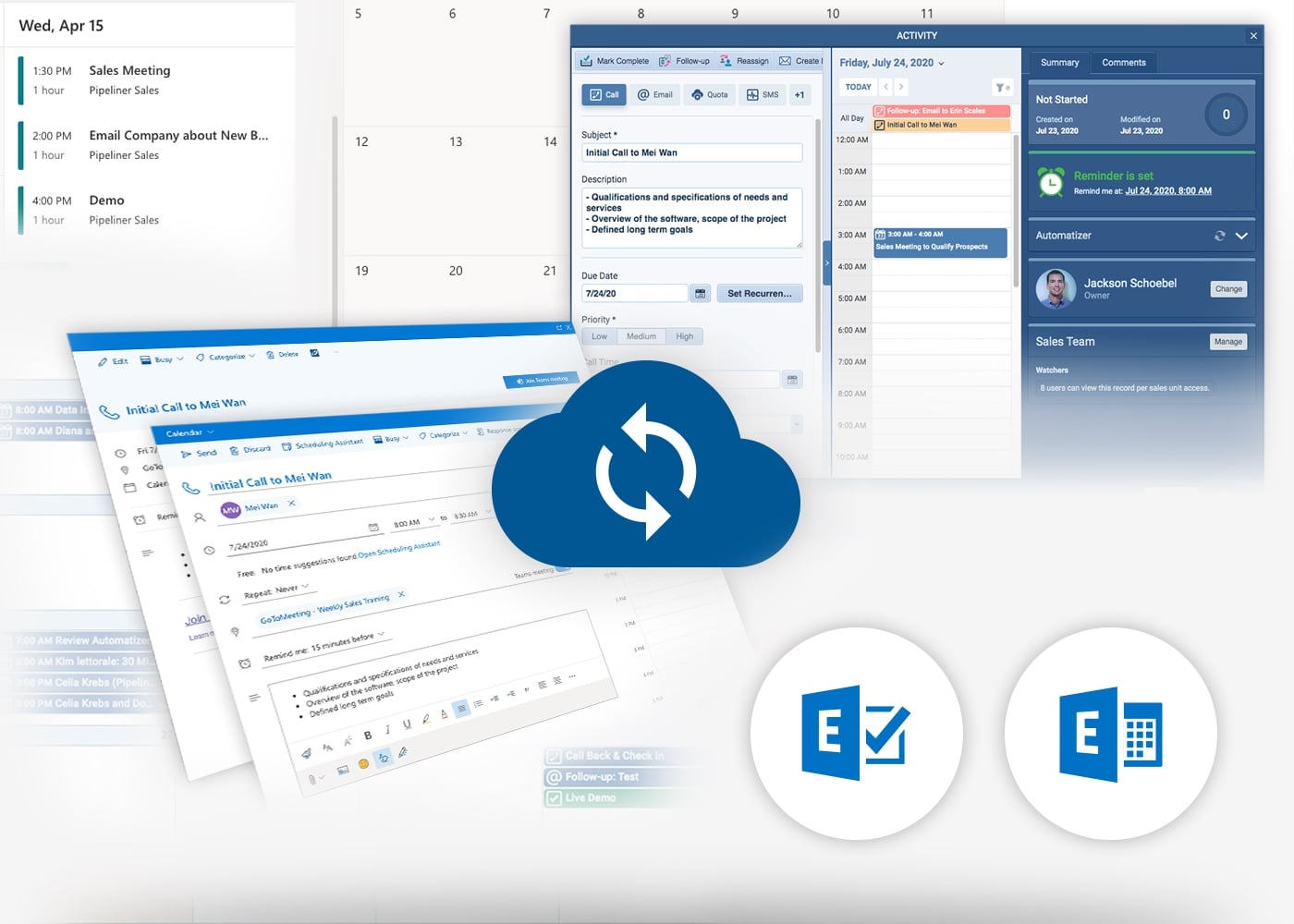 Microsoft 365 Package
Instantly synchronize all of your appointments, meetings, and tasks in real-time by using Microsoft 365 Calendar, Exchange Appointments, or Exchange Tasks. All of your scheduled activities will automatically synchronize both ways, meaning whether you are working in Outlook or Pipeliner, your calendar always stays up to date. Say goodbye to losing track of scheduled appointments!
Calendar, Exchange Appointments & Exchange Tasks
Appointments you create in Outlook Calendar will appear in Pipeliner's Activities menu. Also, appointments you create in Pipeliner will sync to your Outlook Calendar.

Create a new Pipeliner Calendar in Outlook so only appointments added to this calendar will be synced to and from Pipeliner.

Exchange Tasks enables you to synchronize tasks back and forth (Pipeliner ↔ Microsoft) where you are the owner or editor.
When I came across an issue that I wasn't able to handle, support was really fast. Support has been second to none.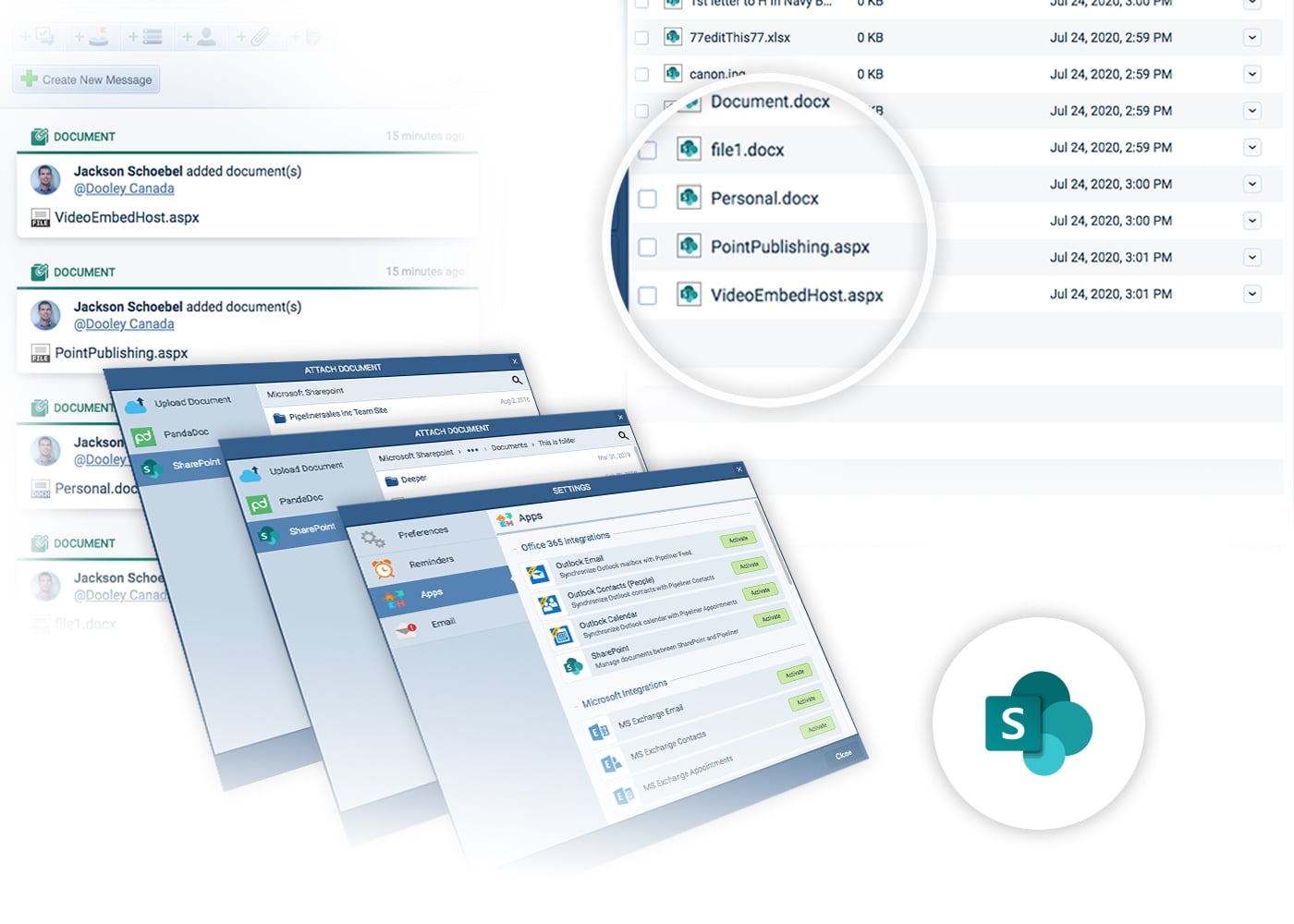 Microsoft 365 SharePoint
Microsoft Office 365 SharePoint enables you to use the document management capabilities of SharePoint from within Pipeliner CRM. Fully integrated with Microsoft Office 365, you can easily share your office documents with your sales colleagues on the cloud, making it possible for sales teams to collaborate effectively on common sales goals.
SharePoint + Pipeliner CRM helps improve team collaboration, productivity, and will make your sales organizationOrganization Organization is a cohesive group of people working together and formally bound by a shared identity (e.g., one team, company, club, etc.) and a common purpose (e.g., business growth, athletic victory, etc.). more agile.

Share all of your files from SharePoint straight into PipelinerCRM, so you always have access to important documents.

Deploy your most important sales documents by attaching them to leads and opportunities.
Need help with Microsoft Suite for Pipeliner CRM?