Pipeliner CRM: Bringing Sales Enablement Strategy Alive!
Sales Enablement is supplying salespeople with the right tools, assets & guidance to support their interaction with prospects & customers at each stage of the selling/buying process to drive better sales results…
Pipeliner CRM › The Sales Enablement Tool
Suggested or mandatory actions embedded within each stage of the sales process.

Sales Stage-specific Marketing collateral & other assets available in each stage of the process.

Targeted workflows triggered by salesperson.
It doesn't make sense from a financial or any other standpoint to have a "Sales Enablement Platform" (SEP) in addition to CRM. Promoting the misconception that companies must have a whole other tool in addition to CRM creates confusion and uncertainty. This is why Pipeliner encompasses both – CRM with Sales Enablement built-in!
Due to the dynamic nature of an effective sales process, we created a functionality called the Buyer's Action & Seller's Activity.

This functionality means that a seller only proceeds with various activities based on the buyer's actions.

The combination of this feature with the capacity to attach stage-specific documents to each stage of a sales process, along with our Automatizer feature which automates workflows, provides real sales enablement.
Collateral at Point of Greatest Impact
Sales Stage-specific Marketing collateral & other assets available in each stage of the process.

Pipeliner makes it exceptionally easy to embed the right document or piece of collateral into the correct stage of the sales process.

Ensures that the right information is shared at the right time.

Can be used in combination with stage-specific Automated eMails and Workflows.
Real insight comes about in assisting salespeople in the specific actions of each step, what they should and shouldn't do. These actions need to be made part and parcel of the technology involved. Plus it's not just a matter of pulling documents together, it is a matter of gathering and applying intelligence.
It is not about the volume of data generated, rather sales enablement is about what the data reveals.

For example, in Pipeliner a simple mouse over on a sales stage will show:

Value of Won Opportunities

Value of Lost Opportunities

Time Opportunity has spent in sales stage

Whether the Opportunity is tracking ahead or lagging

This allows a user to calculate win/loss rates within a stage as well percentage of opportunities that move to the next stage – instant insight for increased impact!
The complexity of selling continues to increase and the number of variables, date points and inefficient processes can really slow down and negatively impact sales cycles.

The antidote to this is automation which increases efficiency and decreases points of failure.

Pipeliner's unique Automatizer enables you to:

Scheduled Tasks
Trigger Alerts
Automate email
Reduce errors
Only Pipeliner CRM has this powerful combination of benefits: the required activities for each stage, the capacity to attach needed documents to each stage, the detailed but important analysis points for each stage, and the ability to automate and create manual triggers for sales tasks.
Salesperson Triggered Workflows
Salespeople can choose when to trigger an automated process.

The power to activate the right process at exactly the right moment.

Greater flexibility & options for Salesperson.

Easily accessible & always available.
Sales-specific Email Automation
Easy to build & execute email outreach campaigns

Instant visual tracking & analysis

Simple text or visually-rich HTML

Salesperson or Marketing can build templates

Micro-marketing features embedded in the CRM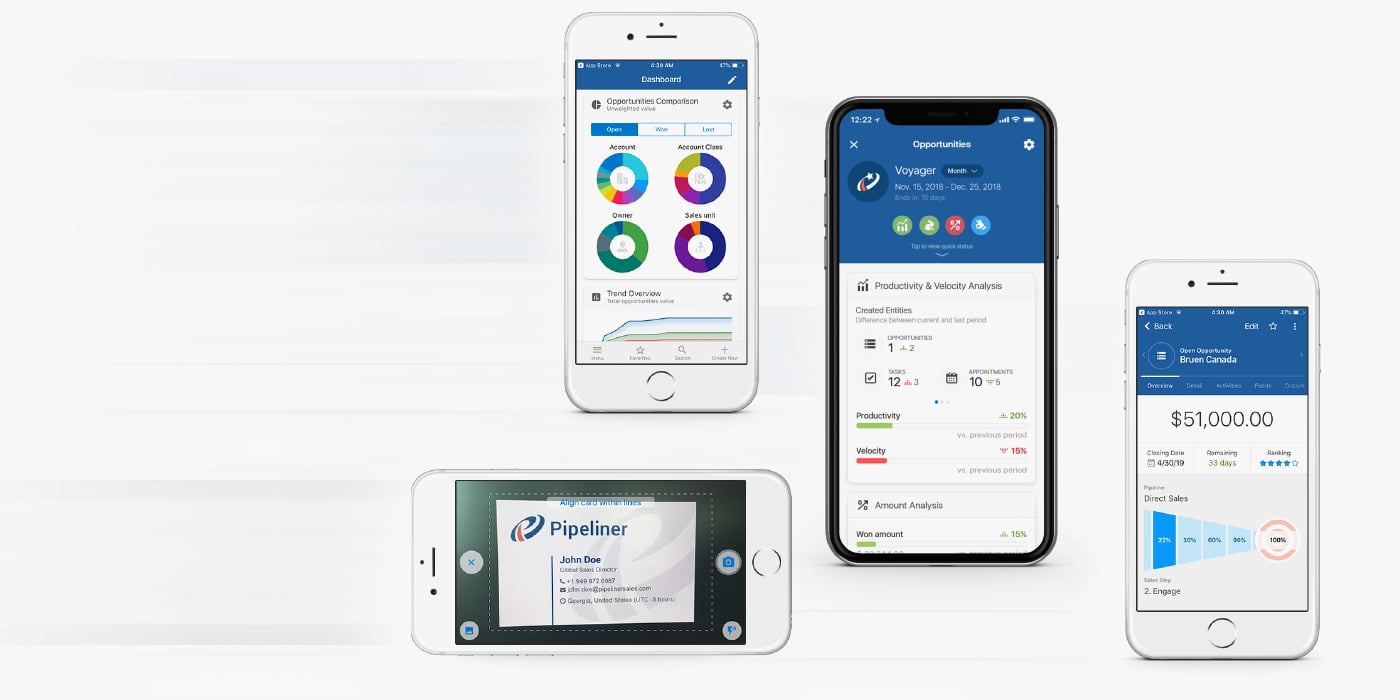 Mobile CRM › Selling On-The-Go!
AI Sales Navigator keeps salespeople focused on what is critical

Opportunities are visually labeled: Focus, Hot, or Stalled

Embedded Guided Selling: Buyer Actions & Seller Activities

Visual Productivity: Winning Percentages, Efficiency, Sales Velocity & more

In-built Document & Business Card Scanner

Email, Call or Text directly from inside the Mobile App
We not only label opportunities for focus, hot or stalled for immediate action, but we lay out the path for the buyer's action and the corresponding seller's activity, totally integrated into the mobile form. That means that a salesperson has, literally right in the palm of their hand, guided selling.
Contact Relationship Mapping…
…who is influencing your contacts?

Account Relationship Mapping…
…what companies are connected?

Org Chart…
…how are your accounts organized?

Buying Center…
…who is influencing the buying decision & how?

Detailed Map Views…
…see various account information displayed on a map
Pipeliner's unique exclusive Voyager AI functionality provides instant details for analyzing a salesperson's productivity—winning percentages, efficiency, sales velocity and more. Voyager encompasses opportunities, accounts, contacts and leads, as well as the calendar (Google or Outlook) and tasks. With Voyager, a salesperson can view, right on their calendar, their workload and productivity.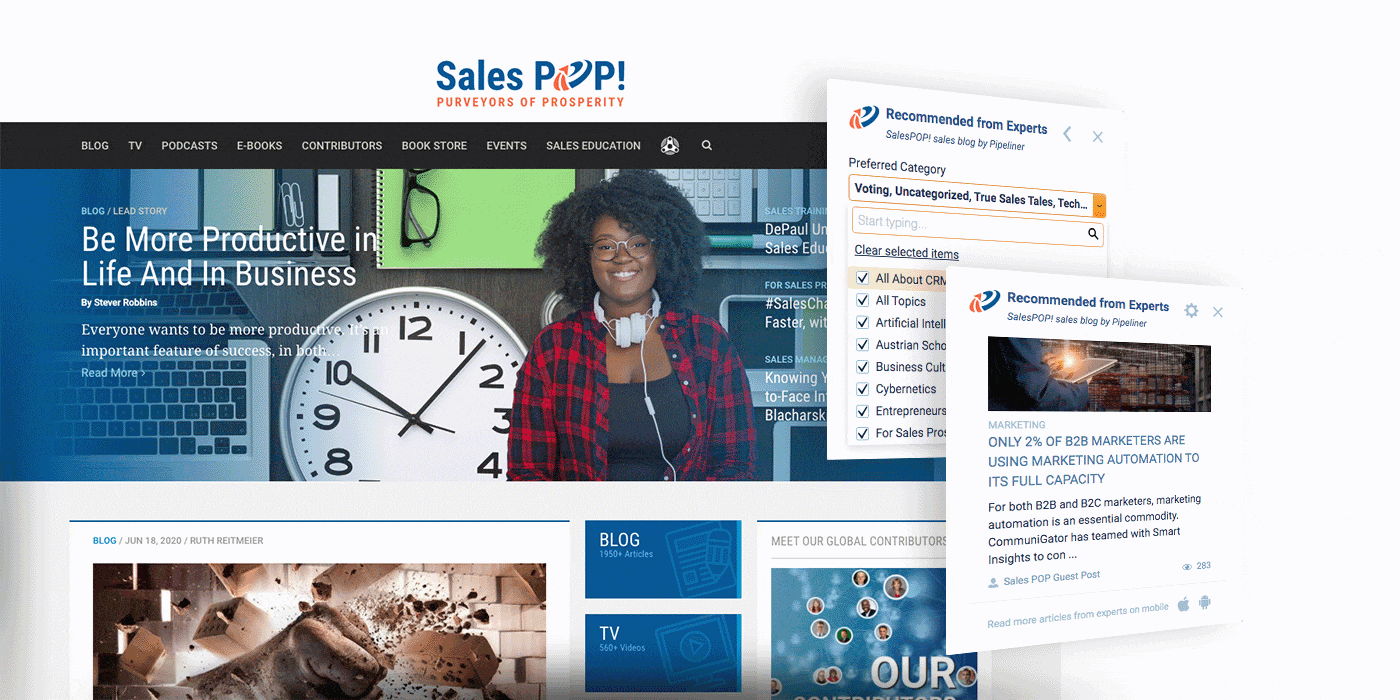 In-built Sales Education
Sales POP! Thought leadership content available directly in the CRM App

Pipeliner Academy video learning channel

Alerts, notifications & instant product news updates

Knowledgebase, guided tours & chat