May 25th, 2023
We are happy to announce our newest release of Pipeliner CRM.
This release includes another exciting batch of new features for our app as well as other improvements to existing functionality.
Please note that some of these features are only available for our Business, EnterpriseEnterprise Enterprise (in the context of sales) is a relatively large organization typically composed of multiple levels, locations, and departments which need multi-layer software systems that support collaboration across a large corporate environment., or Unlimited Tiers.
Brand New Voyager AI Email Assistant
Based on one of the most advanced OpenAI models -the DaVinci model (text-davinci-003), users can now use our "Voyager AI Assistant" to help with creating fluent and creative business emails directly from within Pipeliner itself. This feature is available for Standard and Mass Emails as well as in Email Sequences and emails sent via Automatizer.
A userUser User means a person who uses or consumes a product or a service, usually a digital device or an online service. can type a main topic for the email and click on the AI icon to create a new, polished email to send out. ⤵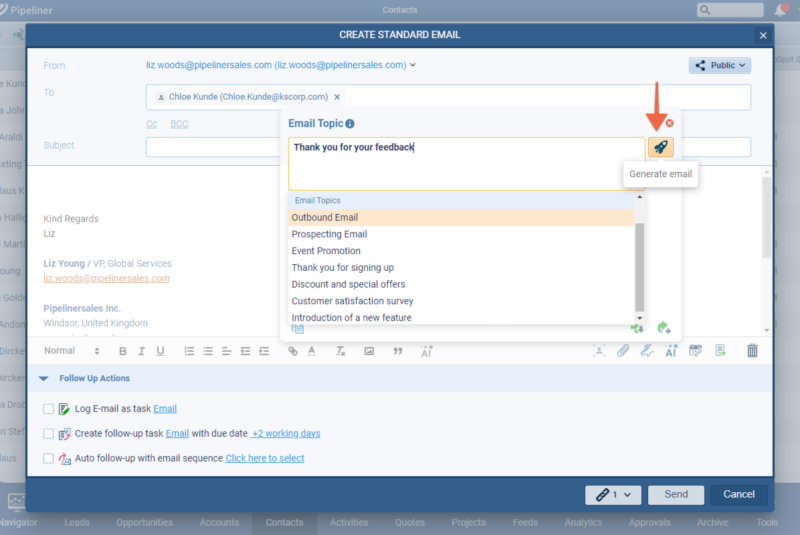 Options are available to change the tone of the email ⤵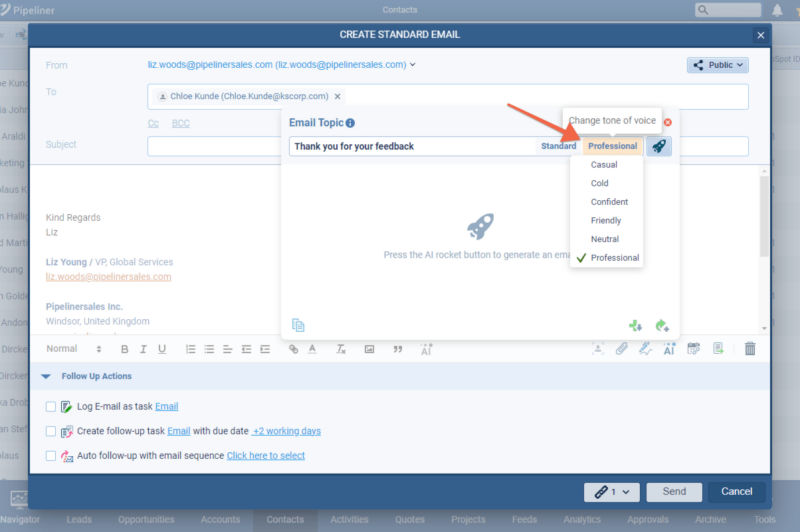 and the preferred email length. ⤵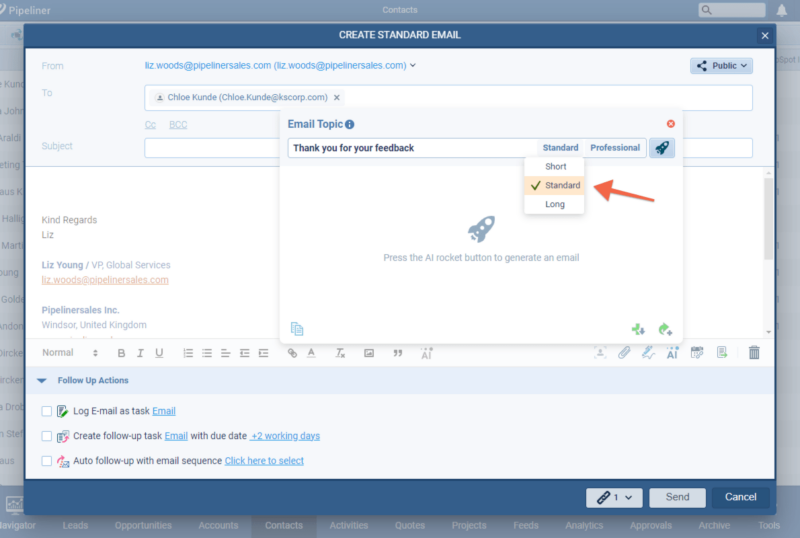 The email contentContent Content refers to a material or document released in various forms (such as text, image, audio, and video) and created to inform, engage or influence specific audiences. can be copied to the clipboard or can be appended to — or replace — any existing content. Using "Refresh Request" will prompt the AI to recreate content based on the same topic. Based on the AI model settings, the user will get a different response from Voyager AI.
Users can also use AI to enhance existing email content. The Voyager AI Email Assistant will turn it into a fully finished and ready-to-send email using "Enhance & Complete" or "Rephrase". Other options can "Make Shorter" or "Make Longer" or change the tone of the content. ⤵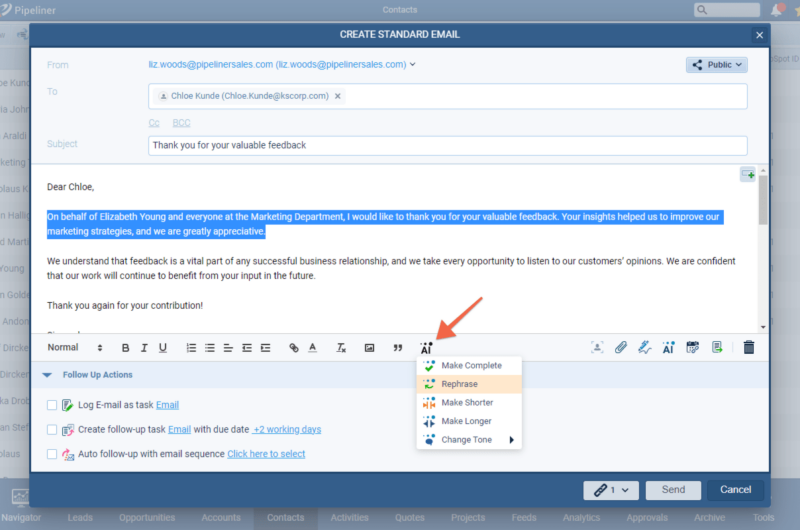 To get started and learn more about the benefits of Voyager, users can select one of our ready-to-use templates in the "Email Topic" list. ⤵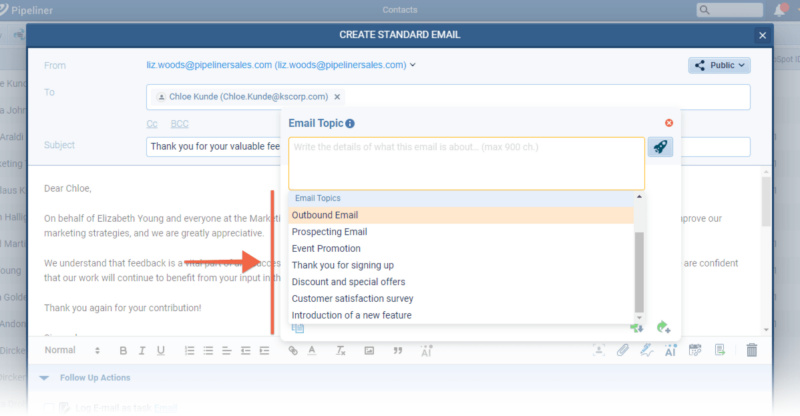 This new feature is available free-of-charge to all customers. One of your Pipeliner Admins will need to enable it from the Automation Hub and will need to agree to the OpenAI Terms and Conditions before it will be activated. ⤵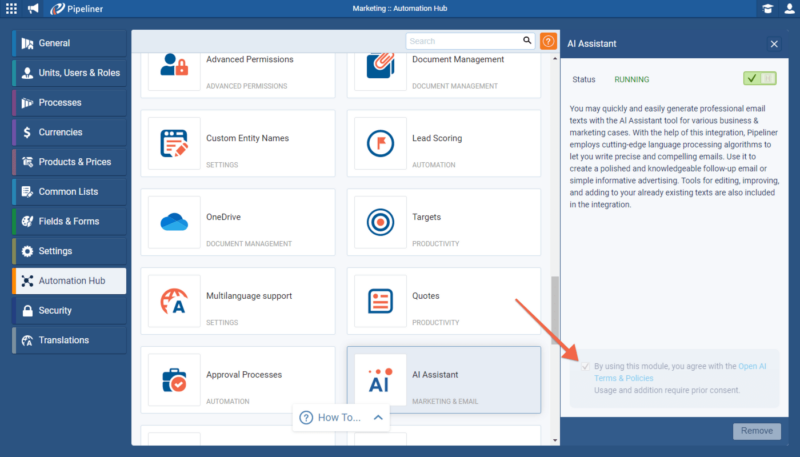 Check our Knowledge Base article to get more information about Voyager AI Email Assistant ›
As part of our ongoing usability enhancement program, we've updated the following features.
Various Improvements
Working with Mass Email Recipients
We've added a drilldown option to the Mass Email Statistics report tabs. You can now use "Drilldown" to open a list of those recipients who have opened, clicked or unsubscribed from a Mass Email. From the list, you can select the columns to view as well as export, bulk update, tag or trigger an Automatizer process. ⤵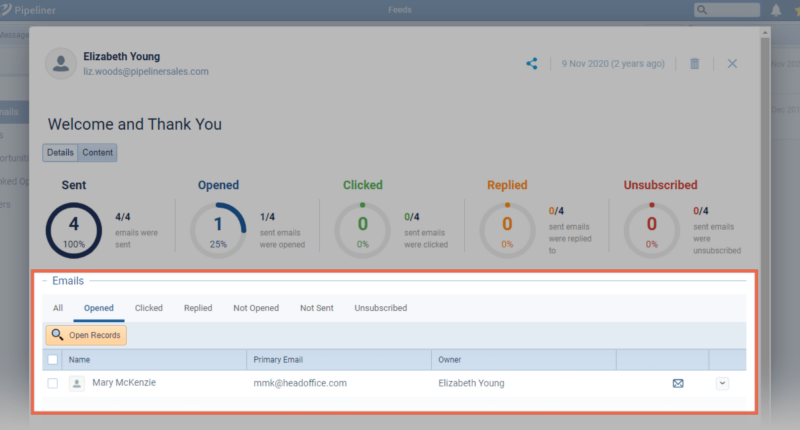 Check our Knowledge Base article to get more information about Mass Email Recipients ›
Email Personalization Enhancement
We've made some additional improvements to display the status of all personalization fields within any email. As well as being able to change which record to use to personalize an email, when an email is fully personalized, the user sees that all values are valid and the email can be immediately sent without a prompt whereas, when a record is missing a field value for personalization, the user can immediately see the problem field(s) and and will also get a prompt to fix before sending. ⤵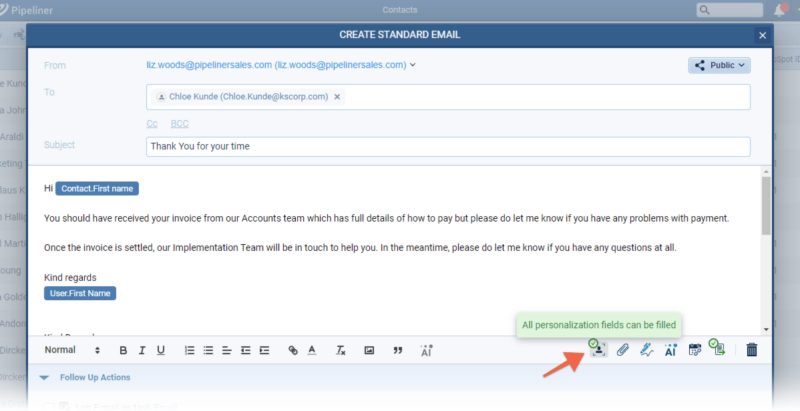 Check our Knowledge Base article to get more information about Email Personalization Enhancement ›
Notifications
Additional Activity Notification Options
As a direct response to customerCustomer Customer is an individual or an organization that purchases a product or signs up for a service offered by a business. feedback, we've added additional options to trigger both In App and Email Notifications when an "Activity" is scheduled for a user — or when one of their Activities is updated by another user. Notifications can now be triggered by a change of "Ownership", a change in "Status", when the user is included in an Invitation or when another user adds a "Comment" to an Activity that the user is the "Owner" of or is watching. ⤵
Document Notifications
When new document is linked to a record "Owned" by the user or that they are "Watching", the user will now receive a "Document Notification" which includes a direct link to the document so that they can open it immediately.
Opportunity and Quote › New Fields
Two new fields — "ProductProduct Product refers to anything (an idea, item, service, process or information) that meets a need or a desire and is offered to a market, usually but not always at a price. Price List" and "Product Currency" — are now available and can be used in List Views, Reports, Filters, Exports and Document Templates. ⤵

Gallery of all improvements
Administration / Backend
Account

Account

Account refers to a record of primary and background information about an individual or corporate customer, including contact data, preferred services, and transactions with your company.

and Contact Type › Role Based Permissions
For customers using the multiple Account or Contact types, Admins can now add access to only specific Accounts & Contact Types by User Role. ⤵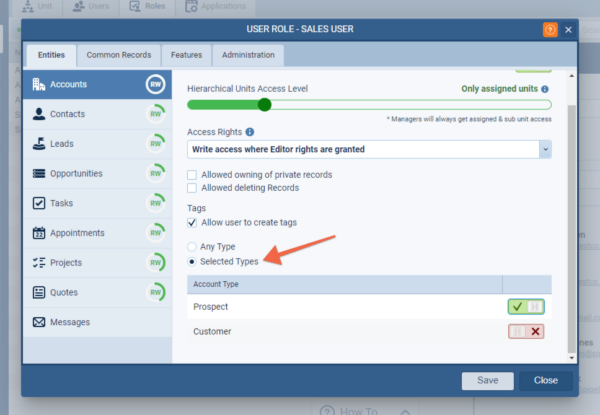 Gallery of all improvements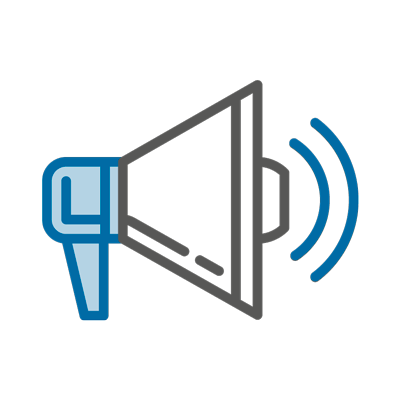 Pipeliner CRM is getting better and better with each new release. If you're curious, about what other releases we had, please visit our "Release Notes" section.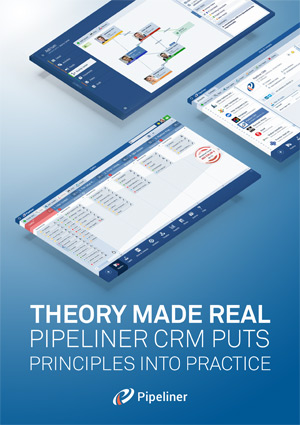 Theory Made Real
Based on proven economic principles, Pipeliner CRM is a tool for everyone. Read more