November 2nd, 2023
We are happy to announce our newest release of Pipeliner CRM.
This release includes another exciting batch of new features for our app as well as other improvements to existing functionality.
Please note that some of these features are only available for our Business, EnterpriseEnterprise Enterprise (in the context of sales) is a relatively large organization typically composed of multiple levels, locations, and departments which need multi-layer software systems that support collaboration across a large corporate environment., or Unlimited Tiers.
New & Enhanced Custom Entities Reporting and Filtering
Lookup field creation has been updated so that a "Related Entities" tab is always created on the "Linked Entity" record. Admins can choose whether to add the Lookup field to the Linked Entity form or just use the new tab to display related dataData Data is a set of quantitative and qualitative facts that can be used as reference or inputs for computations, analyses, descriptions, predictions, reasoning and planning.. ⤵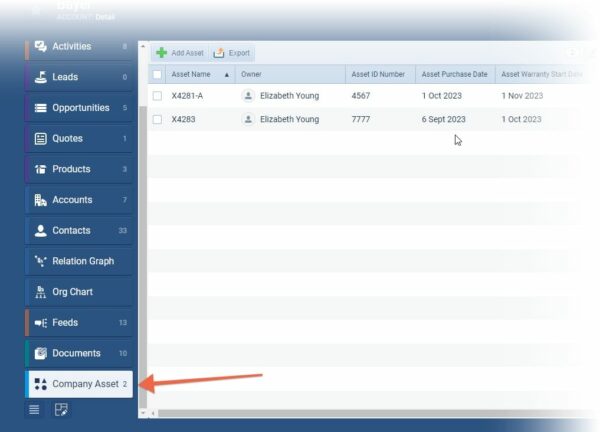 "Reports" and "Filters" based on "Custom Entities" can now include fields belonging to "Linked Entities" — examples would be the ability to filter a list of Accounts based on them having particular Assets (where "Assets" is a "Custom Entity") or to create an AccountAccount Account refers to a record of primary and background information about an individual or corporate customer, including contact data, preferred services, and transactions with your company. report and include columns for all information related to that Account's Assets. ⤵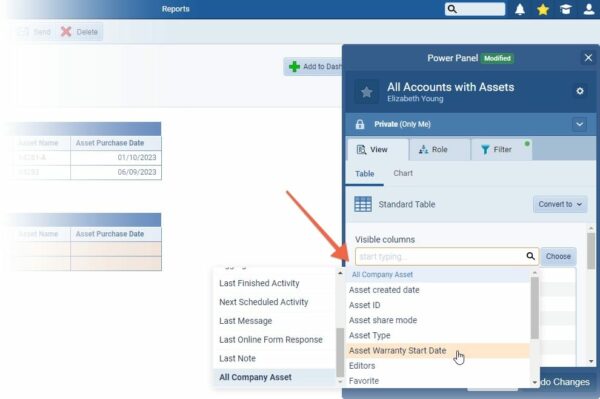 Fullsize Screenshots ⤵
Archiving of Accounts and Contacts
It is now possible to Archive inactive "Accounts" and "Contacts". This is a really useful way of removing currently inactive Accounts and Contacts from the "Active" views in the Accounts and Contacts menus without having to delete them. Archived Accounts and Contacts will only be visible from the Archive menu and can be reactivated if their relationship status changes back to active.
Accounts and Contacts must now be Archived first before any userUser User means a person who uses or consumes a product or a service, usually a digital device or an online service. will be able to delete them. ⤵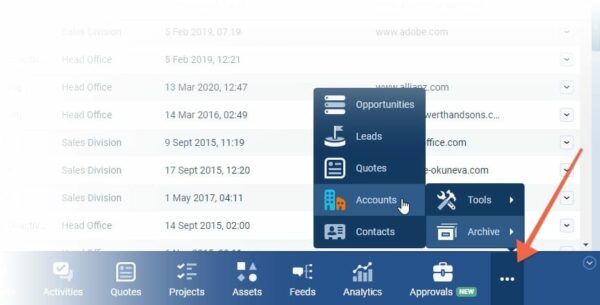 Users can archive Accounts and Contacts manually or Admins can set up Automatizer processes to auto-archive records — for example, if there has been no contact for 6 months.
When archiving an Account or Contact, the user is also prompted whether to also Archive (or Complete) related records. If there are related Leads, Opportunities, Contacts or Quotes, the prompt will be to Archive these whereas if there are linked Activities or Projects, the prompt will be to complete them. ⤵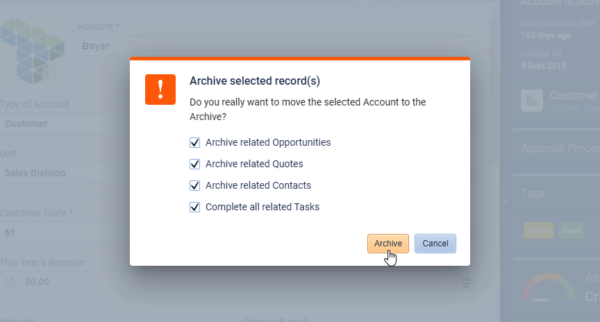 For Reporting purposes, we've added a new field "Is Archived" to both Accounts and Contacts. "Account Is Archived" is "Yes" will show all archived Accounts, for example.
Fullsize Screenshots ⤵
Speech to Text
After our AI Email Assistant, our next user-focused productivity enhancement is Speech to Text. Users can write emails, notes or update any rich text-enabled field in Pipeliner simply by speaking! ⤵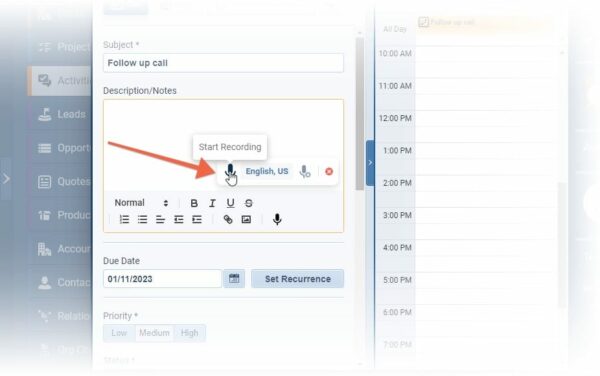 Users are able to select their preferred language and input device (it will auto-select the default headset/microphone) and then Start (and Stop) Recording and also to switch Speech to Text "ON" or "OFF".
This feature is enabled by default for all users for all customers. Each user is limited to 100 minutes per day and will be alerted when they are reaching that threshold. We're using the Amazon Transcribe service to allow us to stream the user's voice and display the recognized text in real-time.
Speech to Text is available in any rich text field in our App, including Automatizer, online forms, email sequences, etc.
We support all languages supported by Amazon Transcribe. This link has more details.
Fullsize Screenshots ⤵
Adding Related Records (Quick Add)
We've improved the user experience for linking related records by creating "Quick Add" and "Advanced Add" options. Users can still quickly add a single record using the "+" icon. Clicking on the three dots allows users to choose to "Add New" to create a new record, "Add Existing" to access a list view of existing records and "Show All" to drilldown into linked records. ⤵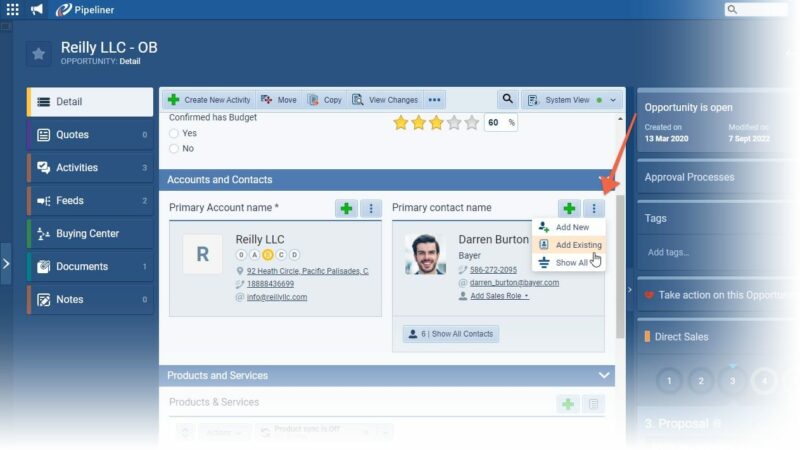 Add Existing for a Single Entity
The new "Add Existing List View" option applies to all existing "Related Card Fields" — such as adding a new Account or new Contact to an Opportunity — as well as adding "Products & Services" to an Opportunity and also to all "Custom Lookup fields".
When the selected record has more than one "Category" (when using Products & Services) or "Types" (when using other entities), the left hand panel will allow you to select from a single Category or Type. ⤵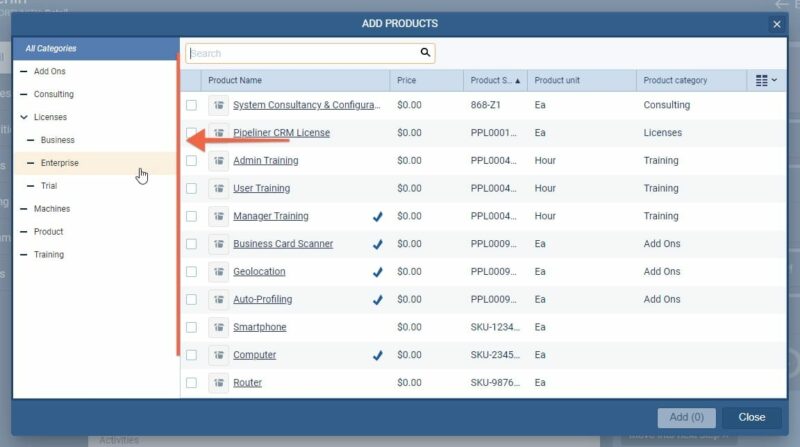 Add Existing for Multiple Entities
When it's possible to add multiple entities of different types — e.g. when adding multiple Linked Items to an "Activity" — the left hand panel will display all Entities and also all "Types" (Types of Contact, Opportunity Pipelines, LeadLead Lead refers to a prospect or potential customer (who can be an individual or organization) that exhibits interest in your service or product; or any additional information about such entity. Forms, for example). Users can select multiple records of different types at once. ⤵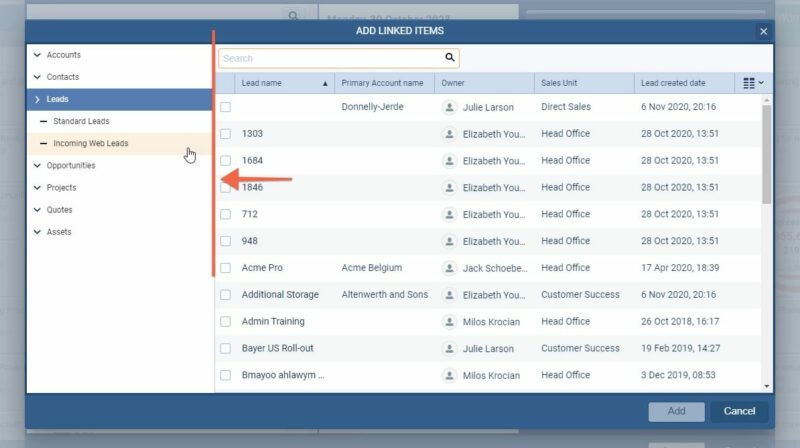 When working with "Leads", for example, when confirmed data might not be known yet, the "Quick Name" options are still available to capture unverified information which you want to check prior to creating an Account or Contact. ⤵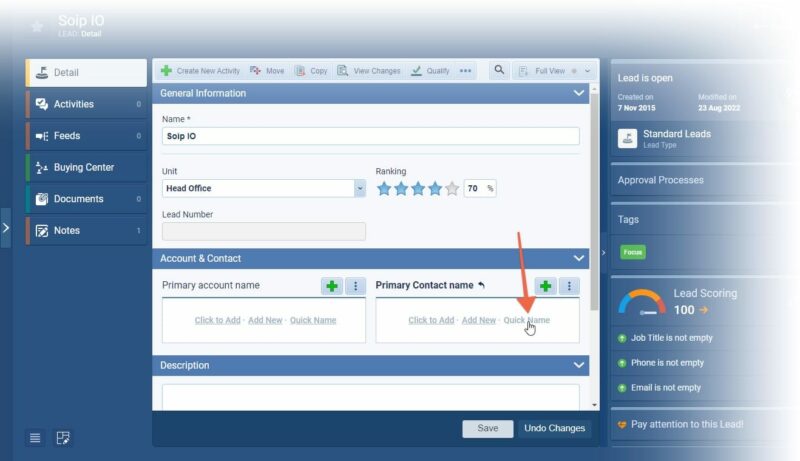 Fullsize Screenshots ⤵
As part of our ongoing usability enhancement program, we've updated the following features.
Various Improvements
Emails › Attaching record documents to emails
We've added "Record Documents" to the options available when attaching files to emails so users can access any file related to their selected record and click on it to attach directly to the email they are composing. ⤵

Also for Emails, longer emails in email threads can be viewed without scrolling which helps with visibility.
Tags
12 new colours are now supported when creating (or updating) Tags. ⤵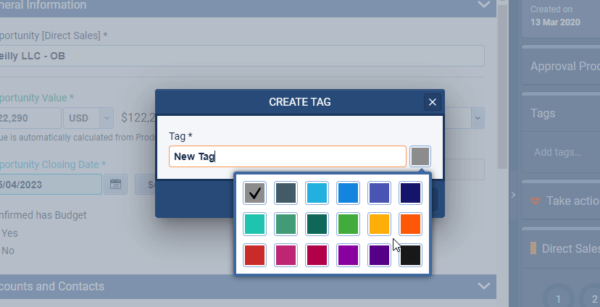 Last Contacted Date for Accounts and Contacts
When a user completes a "Task of Type" Email (one of the system Task Types) and links the task directly to an Account and/or a Contact, the "Last Contacted Date" is now updated to reflect the date of the completed task.
Rename Projects Entity
Projects can now be renamed from the "Settings" tab in the same way as other "Entities".
Fullsize Screenshots ⤵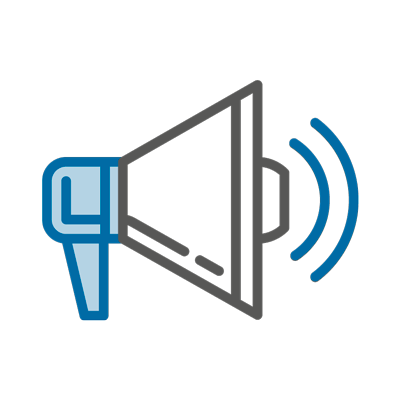 Pipeliner CRM is getting better and better with each new release. If you're curious, about what other releases we had, please visit our "Release Notes" section.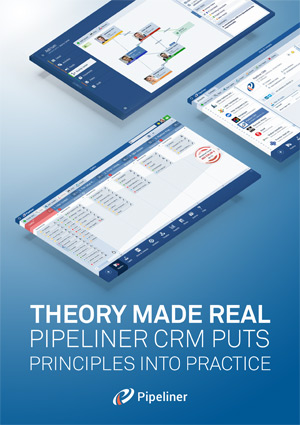 Theory Made Real
Based on proven economic principles, Pipeliner CRM is a tool for everyone. Read more