September 30th, 2021
We are happy to announce our newest release of Pipeliner CRM.
This release includes another exciting batch of new features for our app as well as other improvements to existing functionality.
Please note that some of these features are only available for our Business or EnterpriseEnterprise Enterprise (in the context of sales) is a relatively large organization typically composed of multiple levels, locations, and departments which need multi-layer software systems that support collaboration across a large corporate environment. Tiers.
Account

Account

Account refers to a record of primary and background information about an individual or corporate customer, including contact data, preferred services, and transactions with your company.

Health

The new, "at a glance" Account Health helps you instantly understand the status of the relationship with Accounts in Pipeliner. You can view Account Health by using the widget in the right-hand panel for each individual company record ⤵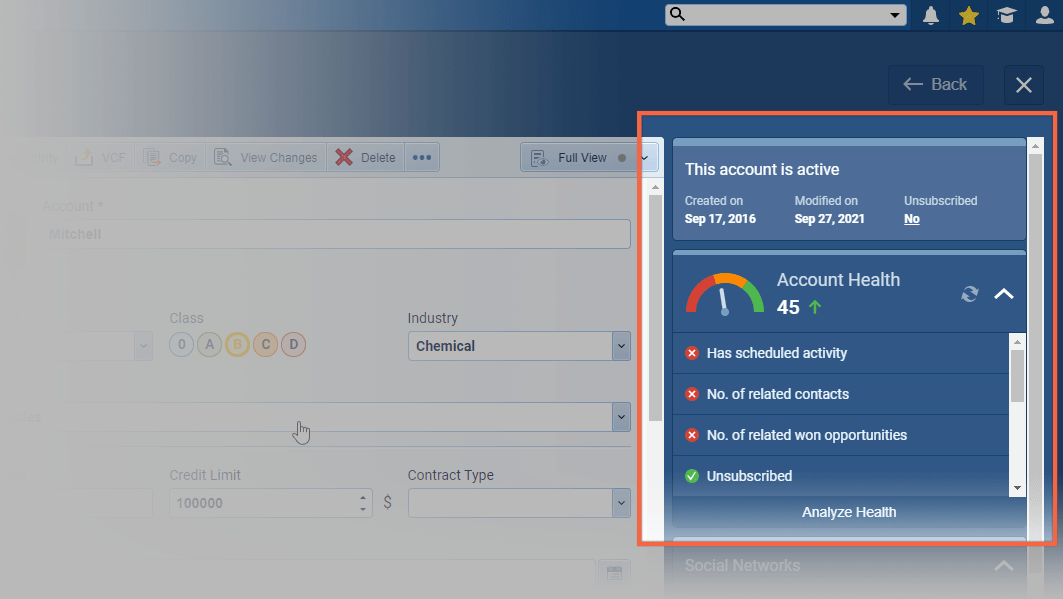 And can analyze health over a period using the "Analyze Health" button ⤵

Users can also visualise Account Health using charts in Reports and Dashboards ⤵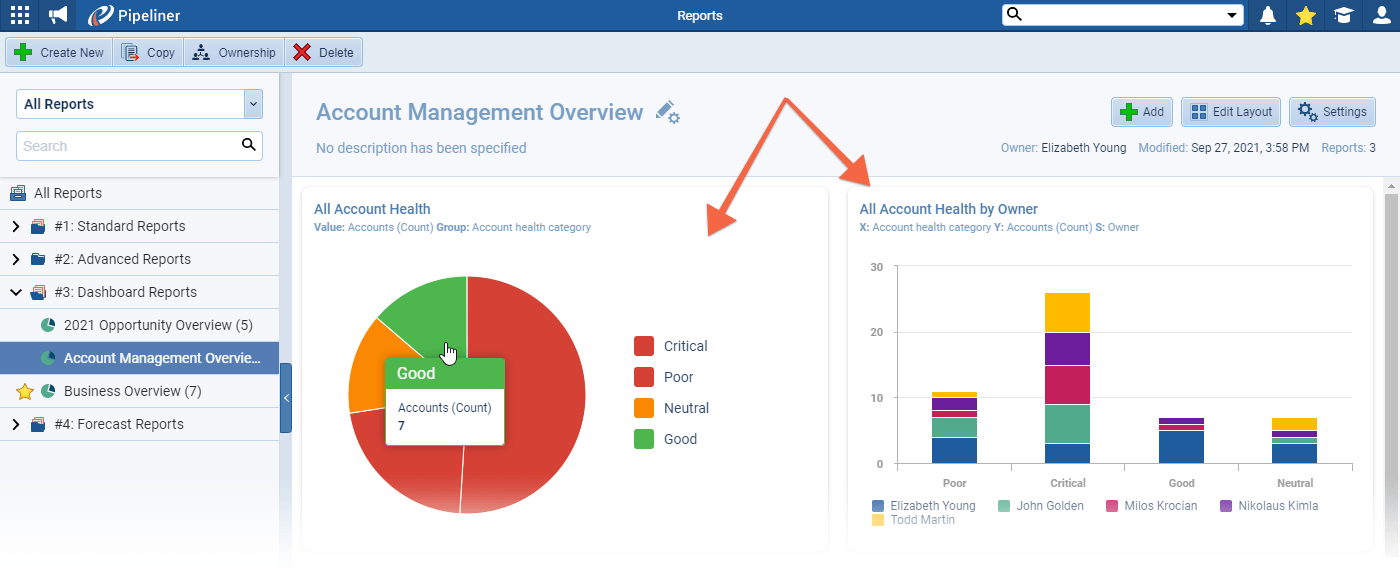 Or even by adding as a column to the "Account List View" ⤵

Pipeliner Admins can switch on and then customise the indicators used to calculate Account Health in the Admin Module using the new "Account Health" tab ⤵

There are 4 Health Categories › "Critical" (default, unmodifiable, system category) and 3 other categories that can be modified by changing the name and the scoring range.
Select "Account health indicators" by adding fields to your set-up. These indicators (or field values) are used to produce the Health score. Each one is weighted according to the calculation formula that you apply — either by "Priority order" or "Manual".
Critical health indicators are used for labelling Account Health as "Critical" if one (or more) of them is met.
Click on the "Preview Account Health" button to view how your newly added/modified account health indicators influence the results in Account health. Select a profile and, if the condition is met for the indicator, you can immediately see it in the list view ⤵

Technical information
Account Health is automatically re-calculated overnight and the Last Recalculation date/time is visible in Admin in Account Health.
When a user

User

User means a person who uses or consumes a product or a service, usually a digital device or an online service.

creates or updates a record, Account Health is calculated in real-time. However when the user updates related records that are only linked to this Account, the user will need to manually refresh Account Health through the Account Health widget — for example, if a user completes an activity that will impact "Last Contacted Date", they will need to refresh Account Health manually to see the effect.
There are two new fields added to Pipeliner with Account Health:

Account Health › this field represents the score/value of account health. On list view & in reports, this field is visualized as (score + Category).
Account Health Category › displays the name of the Category of Account Health.
Check our Knowledge Base article to get more information about New Account Health ›
Email Template

Template

Template is a generic file with a framework showing the standard sections or features of a specific kind of document, used to create a new document of the same type faster and easier.

Statistics

From this release, whenever your users use an email template when sending an Email or a Mass Email, the template is "linked" to the email itself and this allows tracking of the statistics for each template — the total number of times it has been sent, opened, links clicked, replied to or where the recipient unsubscribed ⤵

It is now also possible to compare these statistics for multiple templates — those within a specific folder or all or by type — text, HTML. If you save all your Outbound LeadLead Lead refers to a prospect or potential customer (who can be an individual or organization) that exhibits interest in your service or product; or any additional information about such entity. emails in a folder, you'll be able to use the "Show Statistics" button, select your folder, and compare the statistics for each template so you can evaluate which one is performing best for you ⤵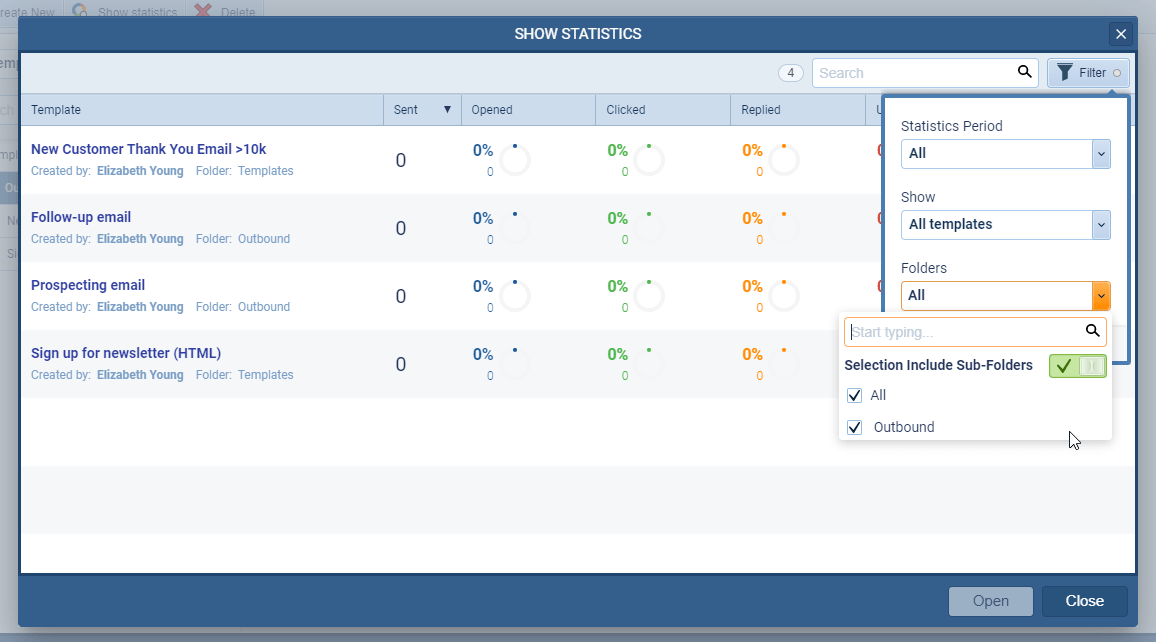 NOTE: In order to facilitate this tracking, users will no longer be able to modify the contentContent Content refers to a material or document released in various forms (such as text, image, audio, and video) and created to inform, engage or influence specific audiences. of the email "on the fly" has selected a template. This is because the template and emails sent using it are linked together. You can see this from the email when you've used a template ⤵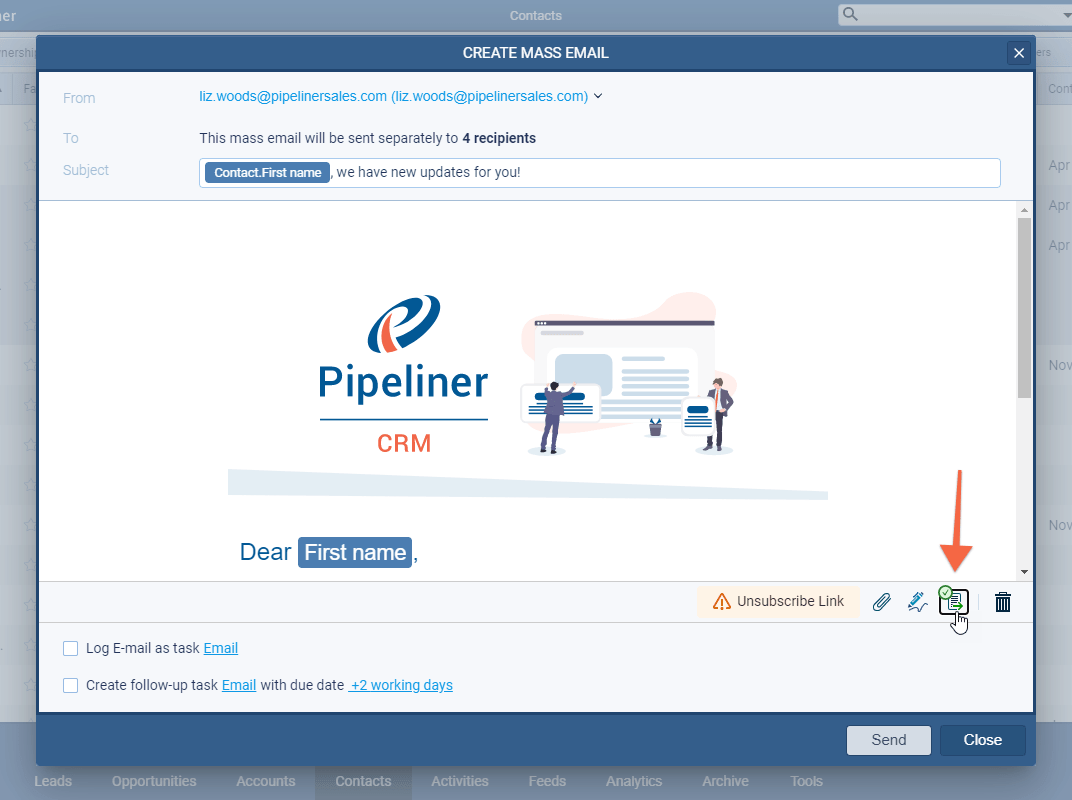 If users change the content, the link to the original template is broken and the tracking statistics for that particular sent email will not be included in the overall performance.
If you're updating the content of a template and have used it, for example, in an Automatizer process, you'll receive a warning that the content is being changed so you review the impact of your changes ⤵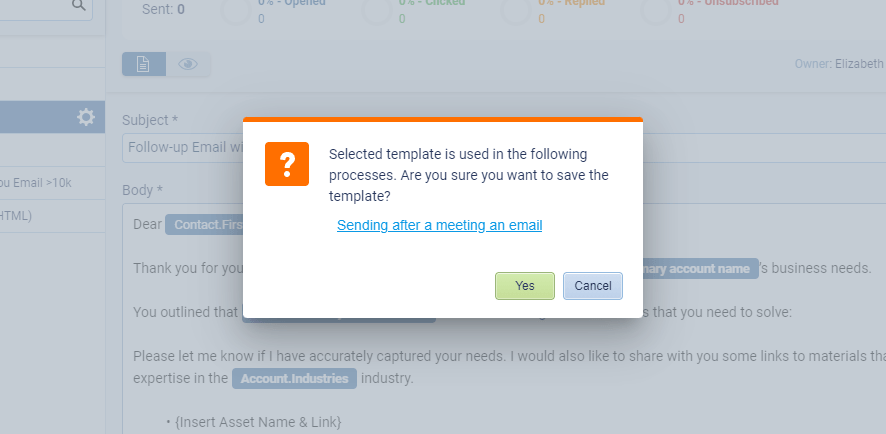 Check our Knowledge Base article to get more information about New Email Template Statistics ›
As part of our ongoing useability enhancement program, we've updated the following features.
Various Improvements
Managing Inactive Users
It's now possible for you to Remove, Reassign or "Hide" reports, dashboards, profiles, email templates etc for your Inactive Users! ⤵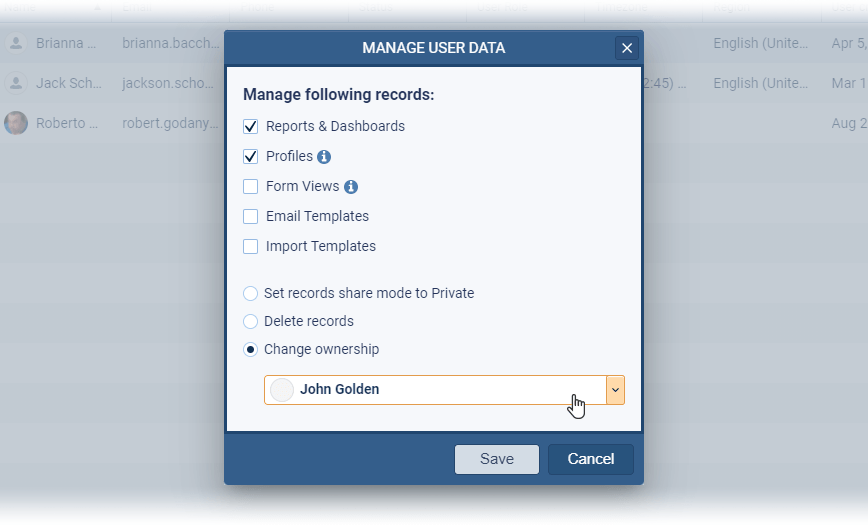 Working with Leads
When archiving a Lead, you can now auto-complete all Tasks linked to it ⤵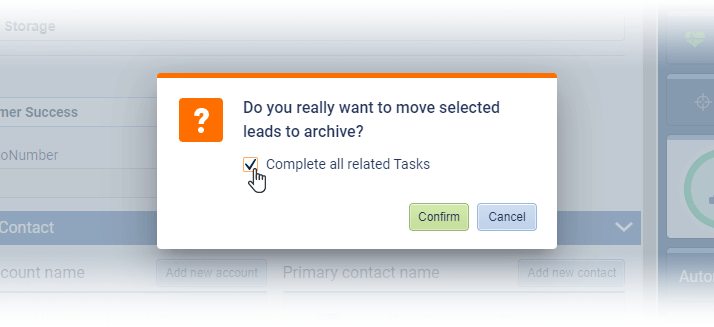 Navigator — using the Target Graph
The Navigator target graph now includes a line for Unweighted and for Won values making it easier to track performance against your Target Goal ⤵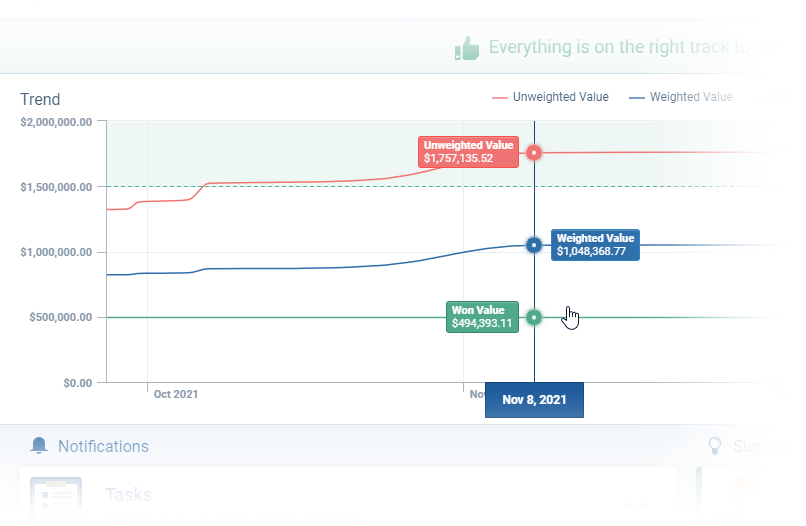 Automatizer — using Product

Product

Product refers to anything (an idea, item, service, process or information) that meets a need or a desire and is offered to a market, usually but not always at a price.

Line Items as a Trigger
In Automatizer there is a new option to trigger a Process from a Product Line Item. So when a product is added to or update on (or deleted from) an Opportunity, your process could create a task or send an email etc ⤵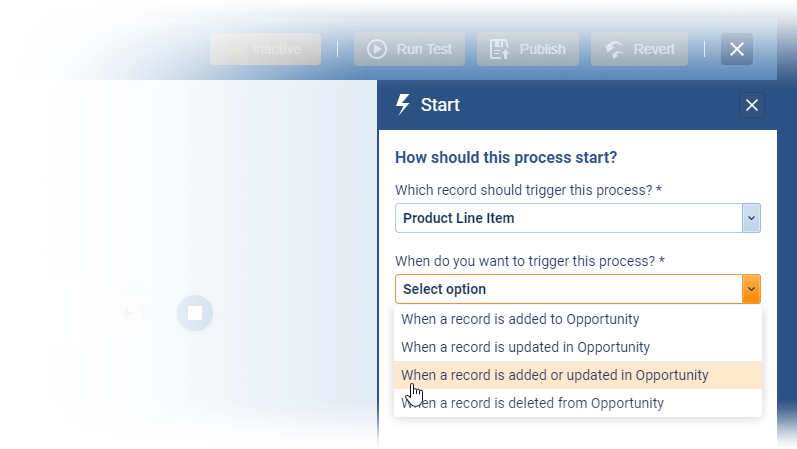 Automatizer — Sending Product Table using Webhooks
When the trigger in an Automatizer process is an Opportunity, you now have an option to send the whole Product table to your external system through a webhook. For example, when an Opportunity is Won, send all Products linked to the Opportunity to your ERP system ⤵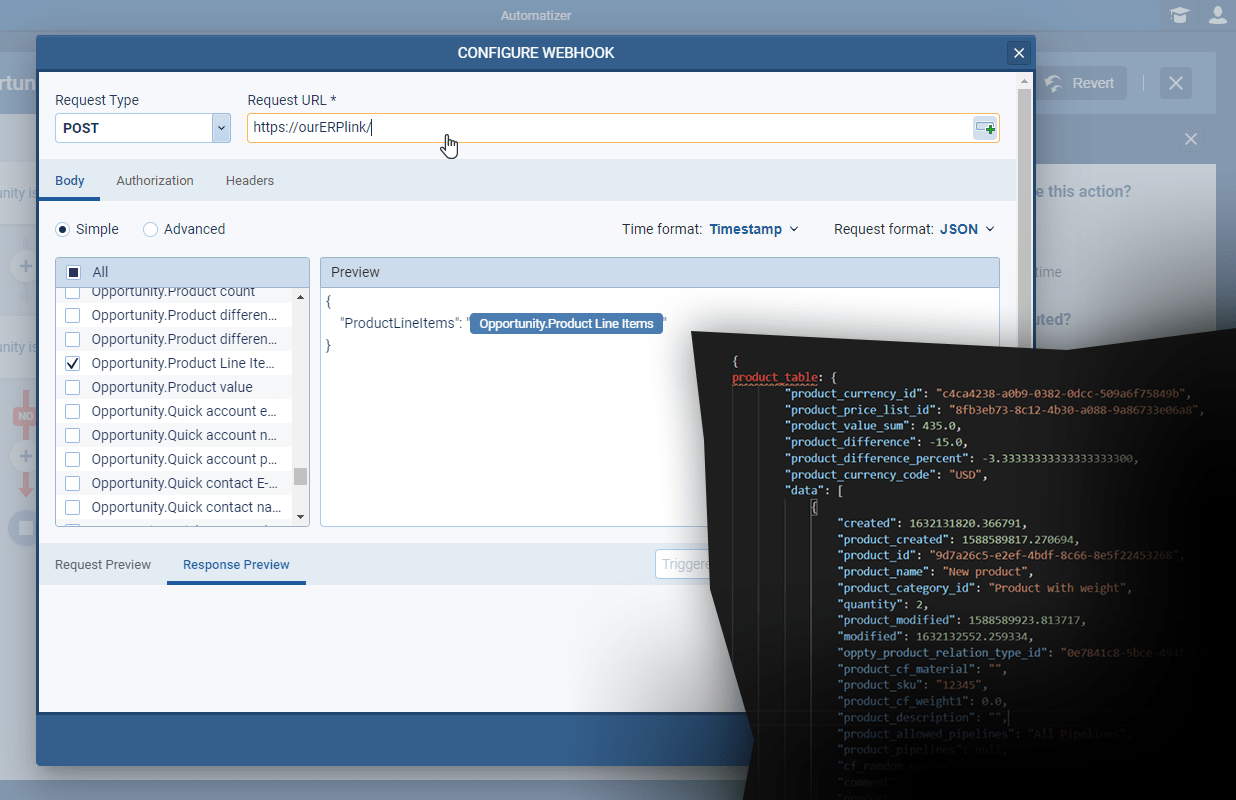 Gallery of all improvements

Release Notes
Pipeliner CRM is getting better and better with each new release. If you´re curious, what other releases we had, please visit our "Release Notes" section.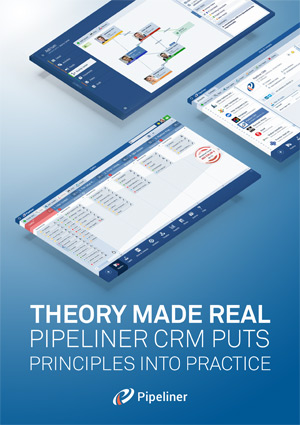 Theory Made Real
Based on proven economic principles, Pipeliner CRM is a tool for everyone.