27 Sep 2018
We are happy to announce the Pipeliner CRM App v1.1.0 release of Pipeliner CRM. This release includes even more features from the desktop version, many mobile-related features, and stability fixes.
New Features and Small Enhancements
General Improvements
Working with recently opened records is here. We updated the Global Search panel so you can now see the recently open records (Leads, Opportunities, Contacts, Accounts, Activities) after you click on the input display.
Within each list view (for leads, opportunities, accounts and contacts) we have updated the width of the "Favorite" column to better fit the view.
As a user

User

User means a person who uses or consumes a product or a service, usually a digital device or an online service.

, you can now collapse menu in Leads, Opportunities, Accounts and Contacts Detail by clicking on the arrow on the left side.
You can now initiate a mobile call when you click on the phone field throughout the application.
If you have any unassigned leads, a notification badge will be shown in the bottom menu.
You can now set a custom work week in the User Settings. Your work week will then be shown in the Activities Calendar View.
As a user, after sending an email, you now have an option to log it as Email type Activity.
We optimized the application to perform faster with the small changes under the hoot with the big impact on the speed performance.
Accounts and Contacts Improvements
We update the Compact View:
With the ability to click on the "Location" to view the record on the interactive map.
With the ability to see the information about last Customer

Customer

Customer is an individual or an organization that purchases a product or signs up for a service offered by a business.

Email, Appointment or Call.
When editing contact detail, you can now copy Account

Account

Account refers to a record of primary and background information about an individual or corporate customer, including contact data, preferred services, and transactions with your company.

address to your Contact details.
Leads and Opportunities Improvements
With Pipeliner CRM, you can track opportunity sales velocities and sales activities. Within Pipeline

Pipeline

Sales pipelineis a visual representation of the stage prospects are in the sales process.

and Bubble Chart view you can now see the velocity and sales activities notification badge icons. Just click on the badge icon to review all sales velocity and sales activity notifications.
You can now display Quick View information upon hover over individual Sales Stages/Stage Extracts.
In Compact View, you can now hover over the heart icon to see the detail Fitness information.
We updated Bubble Chart sidebar and Pipeline View header. Upon hover you can view tooltip that indicates the type of target value.
Reports Improvements
We updated the Reports Power Panel, particularly "View Settings":
With the ability to choose fields as columns you want to add to the reports over dedicated fields window.
With the ability to drag and drop individual fields in Reports Power Panel in order to reorder columns within the report itself.
With the ability to expand long descriptive fields directly in the report without having to open the record detail.

Release Notes
Pipeliner CRM is getting better and better with each new release. If you´re curious, what other releases we had, please visit our "Release Notes" section.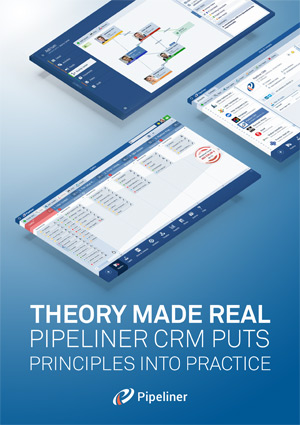 Theory Made Real
Based on proven economic principles, Pipeliner CRM is a tool for everyone.