6 Dec 2018
We are happy to announce the Pipeliner CRM App v1.5.0 release of Pipeliner CRM Cloud. This release includes even more features from the desktop version, many mobile-related features, and stability fixes.
New Features and Small Enhancements
General Improvements
Merge functionality for Accounts and Contacts is here! As a user

User

User means a person who uses or consumes a product or a service, usually a digital device or an online service.

, you can now select one or more Accounts/Contacts and merge them into one "Master Record". This record will have all the fields and linked items of all the merged records, while the other will be deleted.
Global Search now has a new feature – Filter by Owner! Just click on the small arrow within the Global Search, select Owner and find every record that has been assigned to that owner.
If you are having any trouble within the Pipeliner application, we´ve added the Build-In Contact Support form that will help you write us a support request. To contact our support team, click on the Question mark icon › Contact Support in the top panel.
We have updated the Product

Product

Product refers to anything (an idea, item, service, process or information) that meets a need or a desire and is offered to a market, usually but not always at a price.

and Service element within the Opportunity detail to be more visually pleasing and simple to understand.
For better navigation between Pipeliner App and Admin section we added a new functionality – Application Switcher! Click on the "Grid" icon in the top panel to quickly select App or Admin section. You can also visit our websites – SalesPOP! and Go-Ahead!
If you need help, we are there for you! In Admin section, we added Build-In Live Chat button to the bottom left corner. In case you have any trouble, just write us over chat to get instant answers.
When creating tasks or appointments you can now set reminders, owner and sharing.
In Accounts/Contacts Compact View we added the information about Last Customer

Customer

Customer is an individual or an organization that purchases a product or signs up for a service offered by a business.

Email/Appointment/Call.
In Pipeline

Pipeline

Sales pipelineis a visual representation of the stage prospects are in the sales process.

view, for better user experience, after you hover over the Opportunity you can now see the percentage to Ranking.
Minor visual fix – in Opportunity/Lead

Lead

Lead refers to a prospect or potential customer (who can be an individual or organization) that exhibits interest in your service or product; or any additional information about such entity.

detail, we fixed the height of Account

Account

Account refers to a record of primary and background information about an individual or corporate customer, including contact data, preferred services, and transactions with your company.

& Contact card.
Reports Improvements
Introducing Forecast Reports for Pipeliner Cloud! Forecast reports allow you to set, track and manage forecast for people, territories or pipelines. Once quotas are set, the report is constantly updated to show progress of team members against their individual quotas.
Activities Improvements
We have updated the Reminder functionality! When setting up a reminder, you now have the ability to choose between "AM/PM" time view. We also added the Year Selector to the Reminder calendar. Click on the Month/Year in the top and easily select the specific year you are looking for.
Import Functionality Improvements
In Pipeliner, you can now download a sample file and Import it to the app. Just click on Import › Download Sample File in the top panel.
We´ve also implemented "Account and Contact Card" during Lead/Opportunity import process and "Parent Account Card" during Account import process.
We added the ability to map owner during import process.
We speed up and optimized Import capacity.

Release Notes
Pipeliner CRM is getting better and better with each new release. If you´re curious, what other releases we had, please visit our "Release Notes" section.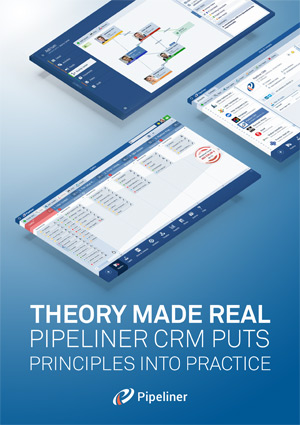 Theory Made Real
Based on proven economic principles, Pipeliner CRM is a tool for everyone.