19 Dec 2018
We are happy to announce the Pipeliner CRM App v1.6.0 release of Pipeliner CRM Cloud. This release includes even more features from the desktop version, many mobile-related features, and stability fixes.
New Features and Small Enhancements
General Improvements
All List Views now have Record Preview even in Details! We have implemented a record Preview for Leads, Opportunities, Contacts, Account

Account

Account refers to a record of primary and background information about an individual or corporate customer, including contact data, preferred services, and transactions with your company.

, and also Activities.
We fixed the width of the creation window for Account, Contact, Lead

Lead

Lead refers to a prospect or potential customer (who can be an individual or organization) that exhibits interest in your service or product; or any additional information about such entity.

, Opportunity, Task, and Appointment to resemble your admin configuration of the forms. We have updated the sidebar, so when you creating Leads, Opportunities, Contacts or Accounts you can choose Owner and edit Sharing options.
For better user

User

User means a person who uses or consumes a product or a service, usually a digital device or an online service.

experience, in record Detail, if you select Lead, Opportunity, or Activity, you can now see Pie Chart on the side and Statistical info on the bottom of the window.
Field Validation on Calculated Field is here! You can now validate the value on the calculated field e.g. you define the calculated field to be a calculation of two other fields. You can now set the field validation that shows you a validated message if the final value is wrong.
Localization is here! You can now switch the date, currency, number, and weekly days according to your locality. Localization is the process of adapting internationalized software for a specific region adding locale-specific components.
In Lead/Opportunity Preview we added percentage information to Ranking for better understandability.
Updated the "About Pipeliner" information within the top menu question mark icon.
We have fixed the problem with dropdown/pop-up stretching the application.
Other speed improvements and bug fixes.
Administration Improvements
We speed up the loading experience of the users, units and roles 10-times.
You now have the ability to hide Leads from bottom menu, Pipeline

Pipeline

Sales pipelineis a visual representation of the stage prospects are in the sales process.

View and Archive. Simply go to Administration › Units, Users and Roles select Roles. Click on Edit Role › Features and turn off "Leads" for Pipeliner Menu.
In admin section you can now copy existing Opportunity forms! Go to Fields and Forms › Opportunities, select Edit Form and click on Reuse button.
Reports Improvements
Creating Archive Reports is here! You can now create reports – Report or Dashboard, from archived Leads and Opportunities.
You now have the ability to reorder columns directly in the report by simple Drag-and-drop! This functionality is available for standard Reports and first level within Advanced reports.
In Reports, when searching for a specific report that is in folder, this folder will expand for better navigation.
We have rearranged the order of items within Reports "Create New" button.
We have fixed the problem with the Forecast exporting.

Release Notes
Pipeliner CRM is getting better and better with each new release. If you´re curious, what other releases we had, please visit our "Release Notes" section.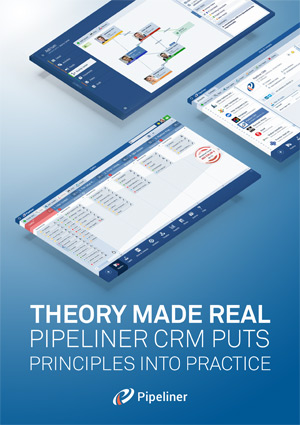 Theory Made Real
Based on proven economic principles, Pipeliner CRM is a tool for everyone.