24 Jan 2019
We are happy to announce the Pipeliner CRM App v1.7.0 release of Pipeliner CRM Cloud. This release includes even more features from the desktop version, many mobile-related features, and stability fixes.
New Features and Small Enhancements
General Improvements
We've updated our Document Management upload feature so it's easier and visually pleasing. You also now have the ability to Download documents from the app! Simply click on the arrow dropdown on the right side.
In Navigator, Calendar, and Task Board Agenda sidebar, you will now get Quick View information upon hovering over Opportunities, Tasks, and Appointments!
We've added the Fitness functionality to the Lead

Lead

Lead refers to a prospect or potential customer (who can be an individual or organization) that exhibits interest in your service or product; or any additional information about such entity.

and Opportunity detail! Within the detail you can now view and edit the Fitness status, if needed create Activities and update the Closing date.
We have updated the visuals of the Activities Calendar (font, colors, paddings, etc.) so it's easier to read.
The Contact Support window has been updated with a new picture and new priority options: Low, Normal, High, Urgent. You can access the Contact Support window in the top panel by clicking on the Question mark icon ➝ Contact Support.
Activities Tasks have been visually updated! The design for choosing priority for the task has been improved from the dropdown to Tabs.
We've added a tool-tip explanation within the App Switcher for Go-Ahead and SalesPOP! pages. You can find the App Switcher on the left side of the top panel.
Small improvements have been done to the loading speed of the menu items.
We've upgraded Pipeliner CRM under the hood, alongside some general bug fixes that improve the Apps performance.
New Integrations
PandaDoc integration with Pipeliner is here! PandaDoc enables you to send documents online, on your phone, and on the tablet. It's widely used by salespeople to send out sales proposals, sales quotas, and invoices to be signed. Sync PandaDoc with Pipeliner and try it now!
And we are introducing the update of our Pipeliner CRM Developers Page with the API documentation.
We added support for Webhooks
Compact View Improvements
We have updated and improved the Compact View: added loading animation, Account

Account

Account refers to a record of primary and background information about an individual or corporate customer, including contact data, preferred services, and transactions with your company.

Industry info, Contact Job Title, and link to Account.
Visual improvements to Preview and Compact View so they are more visually friendly.
Reports Improvements
For better navigation, in Reports power panel sidebar we've updated the Columns component with new visuals. It is now more clear for users to see the tree structure.
In Forecast Reports users now have the ability to reorder Columns directly in the report with simple drag-and-drop!
Admin section Improvements
You can now get API Access detail in Admin section! We've added the possibility for users to use general API access in General tab of the Admin section. Please note that the API access is restricted only to business and enterprise

Enterprise

Enterprise (in the context of sales) is a relatively large organization typically composed of multiple levels, locations, and departments which need multi-layer software systems that support collaboration across a large corporate environment.

versions.
Contextual Help Tours are now available in Admin section! You can now start Pipeliner Admin tours by clicking on the Question mark icon ➝ Help button.

Release Notes
Pipeliner CRM is getting better and better with each new release. If you´re curious, what other releases we had, please visit our "Release Notes" section.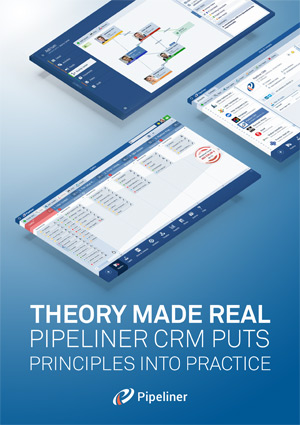 Theory Made Real
Based on proven economic principles, Pipeliner CRM is a tool for everyone.