14 Feb 2019
We are happy to announce the Pipeliner  CRM App v1.8.0 release of Pipeliner CRM Cloud. This release includes even more features from the desktop version, many mobile-related features, and stability fixes.
New Features and Small Enhancements
General Improvements
We have updated the Target functionality in Pipeline

Pipeline

Sales pipelineis a visual representation of the stage prospects are in the sales process.

and Bubble chart view. You can now switch the Target Type and Goal directly on the target! Simply click on the target and the dropdown menu will show up.
You can now create a follow-up Task or Appointment after you complete any Activity! Click on the "Mark Complete" button and Follow up dialog window will show in the top panel.
You can now create a new Record from the Detail page (Lead

Lead

Lead refers to a prospect or potential customer (who can be an individual or organization) that exhibits interest in your service or product; or any additional information about such entity.

, Opportunity, Account

Account

Account refers to a record of primary and background information about an individual or corporate customer, including contact data, preferred services, and transactions with your company.

, and Contact). On the Detail page, simply click on the small arrow on the left › click on the "+" button on the bottom of the sidebar.
With Pipeliner CRM you now have the ability to easily upload logo/image to the app by simple Drag and Drop functionality! You can use this functionality to upload:

Account Logo
Contact Image
Space Logo (within Admin section)
Unit Logo (within Admin section)
Profile Image

Don´t want to see your Leads in Opportunities Pipeline View? You now have the ability to collapse the Lead Stage and hide it from the view! Simply click on the small arrow on the left side of the Pipeline view.
We have improved the design for choosing Status inside the Activities Tasks. We´ve replaced the dropdown with Tabs and also added the colors to different status tabs for better visualization.
We´ve updated the "Watchers" information in Leads, Opportunities, Accounts, Contacts, and Task. You can find this info on the right sidebar of any record. Also, when you click on the Watchers, dialog window it will show all the users that have access to this record.
For better user

User

User means a person who uses or consumes a product or a service, usually a digital device or an online service.

experience we are introducing Duplicate Checker! This functionality will let you know if there are any duplicate records when you are creating new Accounts, Contacts, Leads, or Opportunities. You will see the duplicates listed on the right side of the detail window.
If you don´t want to see the Preview record information you can now close it! Simply click on the blue arrow next to the Preview window and it will collapse. You can also open it again by clicking on the same arrow.
We have merged the User Settings and Space Settings into one window. To access these settings simply click on the User Profile picture. From here you can now Edit Profile, Settings, Switch Space or Sign Out.
For better visual support, if you delete a record that is still linked with another record, it will now be marked. You can then change it by clicking the "Reassign" button.
In the accounts and contacts details, you can now see the alphabet in the context list to better navigate throughout the data

Data

Data is a set of quantitative and qualitative facts that can be used as reference or inputs for computations, analyses, descriptions, predictions, reasoning and planning.

.
In the leads and opportunities details, you can now see pipeline steps in the context list to better navigate throughout the data.
We now support SAML 2.0 for SSO with Pipeliner CRM.
We improve data and feature role management to better work with the data.
Admin Section Improvements
In Admin section you can now find brand new Automation Hub! Here you can integrate any Best of Breed system with Pipeliner CRM. Hover over any Integration to see if it´s up and running. If you click on any integration, it will open detail window where you can read more about it and activate/deactivate it. If you can´t find your favorite integration and need more functionality, click on the "Request Custom Solution

Solution

Solution is a combination of ideas, strategies, processes, technologies and services that effectively helps an organization achieve its goals or hurdle its challenges.

" button on the bottom. Try our Automation Hub now!
Introducing new explanation help for admin section – Admin Hacks! In each tab of the admin section you will now find a top banner that will take you to our support page. Just click on the "Click Here" button and you will find what you need.
In Admins Users Tab we replaced the top header component with the Avatar component! After you click on the user, you can now see the user image.
Reports Improvements
We have graphically improved the Reports Folders so you can now visually differentiate empty and non empty folders.
Within the Reports you now have the ability to Print reports into PDF format! You can find the Print button in the top panel.
NOTE: Applies for all report types except Dashboard Reports
We´ve visually updated reports sidebar list so you can now easily see which reports are shared with other users. Just look for the share icon next to the Report name.
In Reports, you are now able to align content

Content

Content refers to a material or document released in various forms (such as text, image, audio, and video) and created to inform, engage or influence specific audiences.

to the Left, Right or Center in individual columns. Open Report Settings › Column selection › select column you want to align › click on the alignment icon on the right side.
You can now access and open your favorite Reports from the Favorites List! Click on the yellow Star in the top panel › click on the favorite Report.

Release Notes
Pipeliner CRM is getting better and better with each new release. If you´re curious, what other releases we had, please visit our "Release Notes" section.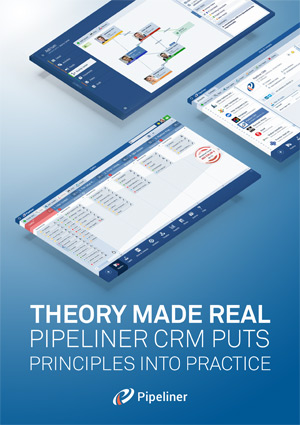 Theory Made Real
Based on proven economic principles, Pipeliner CRM is a tool for everyone.