7 Mar 2019
We are happy to announce the Pipeliner  CRM App v1.9.0 release of Pipeliner CRM Cloud. This release includes even more features from the desktop version, many mobile-related features, and stability fixes.
New Features and Small Enhancements
General Improvements
Introducing Notes 2.0 with Rich Text Editor. You can now use and format your notes by adding different headers, bold, cursive or underlined text or even create a nice bullet points.
When creating new Contacts from within an Account

Account

Account refers to a record of primary and background information about an individual or corporate customer, including contact data, preferred services, and transactions with your company.

and new Accounts from within a Contact, you now have the option to Auto-Populate the record with data

Data

Data is a set of quantitative and qualitative facts that can be used as reference or inputs for computations, analyses, descriptions, predictions, reasoning and planning.

. Simply click on the yellow "Populate" button that is shown in the top panel of the window or set as default behaviour in Settings › Preferences.
When working with accounts, beside creating new contacts that are automatically linked to the selected accounts, you can now easily link existing contacts to accounts.
For better visual experience, in Bubble Chart View you are now able to expand two or more opportunities that stacks on top of each other.
In Compact View, Extracts and Previews you can now quickly edit Unit and Owner for all record types! Simply click on the "Pencil" icon next to the Unit or Owner and the Dialog window will open.
We´ve added Job title and Account information to the Contact card! You can find the Contact card in any Opportunity detail that has linked Contact.
In Preview/Extract functionality for Leads, Opportunities, Accounts, Contacts, and Activities, you can now see the Unit logo, User

User

User means a person who uses or consumes a product or a service, usually a digital device or an online service.

picture, Status label, and Priority label. Hover over the record or click on it in the List view to show Preview.
Within our University Options, you can now find the Ideas and Knowledge base section! Click on the "University Hat" icon in the top right corner. Ideas take you to our community page where you can help us make Pipeliner CRM better, share your thoughts, ideas, and features requests with us. Within the Knowledge base you will find useful guides and tutorials about everything you need to know about Pipeliner App.
We´ve updated the Business Overview section in Navigator! You are now able to click on the individual icons and open their details.
Profiles feature has been updated! Click on the small arrow next to the Power Panel to see your existing Profiles. If you select any Profile type and than leave the page, it will be saved and stay selected when you return to the app.
Dialog window that shows after you update any record now has new options: save changes and continue, discard changes and continue or cancel the action.
Admin
We optimized the speed of the application when customizing forms and fields.
We´ve made design updates in the Admin section – Tabs now have their own icons!
Automation Hub
We bring simple way to activate Gmail Integration with Pipeliner CRM from Standard IMAP configuration to the easy-to-use Google Oauth Screen. Just click to activate Gmail Integration, enter your Google account login data and you are done.
We massively improved the sync logic for Google and MS Exchange Integration for Syncing Tasks, Appointments and Contacts.
Activities Improvements
You now have the ability to switch between List View, Task Board and Calendar View in the Activities tab in Leads, Opportunities, Account and Contact details.
We have improved the design for choosing Status inside the Activities Tasks. We´ve replaced the dropdown with Tabs and also added the colors to different status tabs for better visualisation.
Reports Improvements
Pipeliner introducing Charts for Report! Make your Reports more visual with two new Chart types: Line chart and Column chart. To enable the Chart feature click on Power Panel › enable "Show Graph" button › specify the columns to be shown in chart. After that the Chart will be shown above the data table. Try it now!
Reports now have adjustable sidebar! You can click on the sidebar line and drag it to your preferred width or click on the small arrow to hide it completely.

Release Notes
Pipeliner CRM is getting better and better with each new release. If you´re curious, what other releases we had, please visit our "Release Notes" section.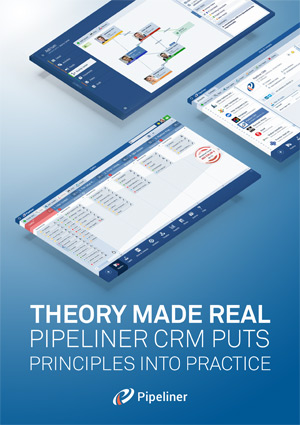 Theory Made Real
Based on proven economic principles, Pipeliner CRM is a tool for everyone.