9 Apr 2019
We are happy to announce the Pipeliner  CRM App v2.0.0 release of Pipeliner CRM. This release includes even more features from the desktop version, many mobile-related features, and stability fixes.
New Features and Small Enhancements
General Improvements
Introducing In-App Notifications! With this useful feature, you will be notified when other users make any changes made to records that you own. In-App Notifications can be found in the top panel under the Bell icon. When other users update your records, a small red badge will show on the Bell icon. Click the icon to open up a sidebar panel to see a list of updates ordered by most recent. Inside this Notification sidebar, you can also click on the Gear icon to change which notifications you would like to receive. Check it out now!
With this release, we are introducing Feeds 2.0! Feeds 2.0 is a complete update of Feeds in Pipeliner Cloud. You can now select what you want to see in the Feed for a record including all activities, org chart updates, new contacts, recently added documents as well as emails and messages. You can now also view the same options from related records – so, for example, you can now look at an Account

Account

Account refers to a record of primary and background information about an individual or corporate customer, including contact data, preferred services, and transactions with your company.

record and see all interactions with any Contacts linked to that Account as well as ongoing Opportunity and Lead

Lead

Lead refers to a prospect or potential customer (who can be an individual or organization) that exhibits interest in your service or product; or any additional information about such entity.

updates including color coding, flags, due dates, fitness and more. Check the new Feeds 2.0 now!
We have also added a new Feeds feature – Feed Streams! Streams enable you to see the Feeds for specific groups of records – your Favourites or what's going on with Hot Opportunities, for example.
You can now hide the Agenda sidebar on the right side of the Navigator, Activities Task Board and Calendar view. Simply click on the blue arrow button on the sidebar.
Inside Notes and Activities you are now able to resize the bottom Preview panel! Just click and hold the edge of the panel to resize it.
Within Buying Center you can now easily update the Job Title of the Contact. Click on the Add Job Title on the right sidebar › click on the Pencil icon next to Enter Job Position › add the job title and click Save.
Within Org Chart you can now easily update the Account Relations of the Account. Click on the Parent/Child information on the right sidebar › select the Account Relations from the available options and click Save.
We have optimized the application to perform faster.
Screenshots
Automation Hub Updates
We have added new integrations to the Pipeliner Cloud! You can now integrate Pipeliner with:

MS Sharepoint – Work with your MS SharePoint documents directly inside Pipeliner CRM. This version works with MS Office365.
Slack – choose to get instant Lead and/or Opportunity updates into a dedicated Slack channel.
Intercom – Automatically create new contacts in Pipeliner when a new User

User

User means a person who uses or consumes a product or a service, usually a digital device or an online service.

is added to Intercom.
Phone Number Helper – Automatically correct the phone number you enter into Pipeliner CRM according to the U.S. international standard.
and ActiveCampaign – Updates from ActiveCampaign campaigns can now be created in Pipeliner as Feed messages and viewed against Contacts.

MS Exchange Sync Update

When connecting your MS Exchange account to sync Tasks, Appointments and Contacts, you can now choose the folder you would like to sync to Outlook.
When setting up the sync preferences for MS Exchange Contacts sync, when using Unidirectional Synchronization from Pipeliner to Exchange, you can select an option to sync all contacts you have access to.
Reports Improvements
You now have the ability to sort your Pivot Reports columns. Simply open any cell within the Pivot Report and click on the column header to sort it.
We have fixed the problem with drag-and-drop columns feature within Pivot Reports.
Screenshots

Release Notes
Pipeliner CRM is getting better and better with each new release. If you´re curious, what other releases we had, please visit our "Release Notes" section.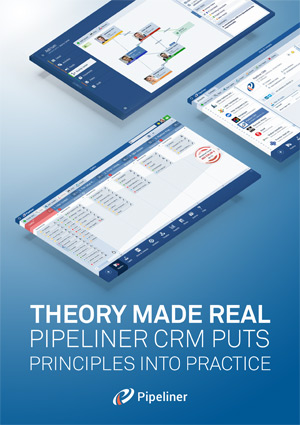 Theory Made Real
Based on proven economic principles, Pipeliner CRM is a tool for everyone.