2 May 2019
We are happy to announce the Pipeliner  CRM App v2.1.0 release of Pipeliner CRM. This release includes even more features from desktop version, many mobile related features and stability fixes.
New Features and Small Enhancements
General Improvements
You can now use the Pie Chart in the Opportunities tab of an open Account

Account

Account refers to a record of primary and background information about an individual or corporate customer, including contact data, preferred services, and transactions with your company.

to quickly filter Won, Open and Lost Opportunities connected to the Account.
Pipeliner can now help you auto-populate data

Data

Data is a set of quantitative and qualitative facts that can be used as reference or inputs for computations, analyses, descriptions, predictions, reasoning and planning.

to a new Contact or Account when adding them from within a Lead

Lead

Lead refers to a prospect or potential customer (who can be an individual or organization) that exhibits interest in your service or product; or any additional information about such entity.

or Opportunity. You can also use this feature when creating a new 'sub' Account under a Parent Account.
From within an open Account, you can now unlink Leads, Opportunities or Contacts from that Account. For example, select the Opportunities tab in an Account record, pick an Opportunity and click on the dropdown button on the far right and select Unlink.
We have added a message to warn you during a data import in case your file has too many records. If you get this message, simply split your csv file into 2 (or more) smaller csv files before importing.
Screenshots
Automation Hub Updates
We have added new integrations to the Pipeliner Cloud! You can now integrate Pipeliner with:

Dropbox – Use Dropbox to instantly share important documents with your sales team. Access your Dropbox from Pipeliner Opportunities, Accounts and other entities.
Mailchimp – Harmonize your Sales and Marketing

Marketing

Marketing is the field, set of actions, or practice of making a product or service desirable to a target consumer segment, with the ultimate aim of effecting a purchase.

. Mailchimp integration allows you to track emails sent to your Leads, sync your Contacts and assign your Mailchimp campaigns to prospects, directly in Pipeliner CRM.
Zendesk – Streamline your customer

Customer

Customer is an individual or an organization that purchases a product or signs up for a service offered by a business.

satisfaction Pipeline

Pipeline

Sales pipelineis a visual representation of the stage prospects are in the sales process.

. You can have your Zendesk contacts synced with Pipeliner and check any new Zendesk tickets in Pipeliner Activity feed.
Shopify – Every finished sale in Shopify will create a won Opportunity in Pipeliner, giving you a complete overview of your customer purchase history.

PandaDoc Integration Update

Forget "copy and paste". We have updated our PandaDoc integration to have all contacts related to the entity you are working on passed into PandaDoc seamlessly.
Activities Improvements
We have added Comments in the Activity detail, so you can now share updates between your sales team for individual tasks,calls or meetings. Open a saved activity and add Comments in the right hand panel.
We have enhanced the Activity Preview in the Activities menu or from the Activities tab of a record. You can now add comments, documents, set a Reminder, set up a follow up and Mark the Activity as Complete directly in the Activity Preview.
Reports Improvements
We have unified Drag & Drop for all report settings.
Open up the new Context Panel on the left hand side when drilling down into individual records from a report as an easy way of "scrolling through" the rest of the report data.

Release Notes
Pipeliner CRM is getting better and better with each new release. If you´re curious, what other releases we had, please visit our "Release Notes" section.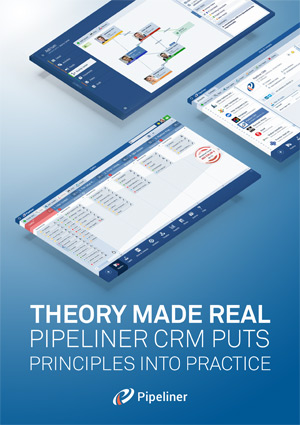 Theory Made Real
Based on proven economic principles, Pipeliner CRM is a tool for everyone.