23 May 2019
We are happy to announce the v2.2.0 release of Pipeliner CRM. This release includes even more new features for the desktop app as well as other improvements to existing functionality.
New Features
Welcome to EMAIL NOTIFICATIONS! You can now choose to receive notifications via email about recent changes to your Pipeliner data

Data

Data is a set of quantitative and qualitative facts that can be used as reference or inputs for computations, analyses, descriptions, predictions, reasoning and planning.

. User

User

User means a person who uses or consumes a product or a service, usually a digital device or an online service.

Settings allows individual choices about what notifications to receive (just like for In App Notifications) and you can click through to the Pipeliner record straight from the notification email.
Introducing THUMBNAIL for Documents management. In the Documents tab for Lead

Lead

Lead refers to a prospect or potential customer (who can be an individual or organization) that exhibits interest in your service or product; or any additional information about such entity.

, Opportunity, Account

Account

Account refers to a record of primary and background information about an individual or corporate customer, including contact data, preferred services, and transactions with your company.

and Contact, you can now switch to the Thumbnail view and see a preview of the attached document without needing to open it.
CHILD RECORD OPTIONS. For customers taking advantage of our Account Hierarchy/Account Relations features, we've further enriched the options to enable you to roll-up "child" data to the parent account i.e. to show Leads, Opportunities and Contacts associated with Child Accounts from the associated tabs on the Parent Account. From the Parent Account, click the Options button in the Opportunities, Leads or Contacts tab to switch on the ability to see related child data.
OPEN EMAIL IN NEW TAB option. When using a browser email client

Client

A client is an entity who pays another entity for products purchased or services rendered. Also called a customer.

, we have added an option to have Pipeliner CRM open a new browser tab after clicking on the email icon in any entity. This will keep Pipeliner CRM open and active while you write an email.
Please note that some of these features are only available for our Business and/or EnterpriseEnterprise Enterprise (in the context of sales) is a relatively large organization typically composed of multiple levels, locations, and departments which need multi-layer software systems that support collaboration across a large corporate environment. Tiers.
Screenshots
Activities Improvements
Create new task by double-clicking on Task Board background to save time and improve productivity.
Winning an Opportunity now automatically completes all open Activities linked to the Opportunity at the same time.
We have changed the color coding of completed Activities in the list view so you can easily see what's already been completed.
Reports Improvements
Filter your Reports based on Last Contacted Date for the current Account or Contact.
You can now build a report of Unassigned Leads, giving you more insight into how to set up a strategy with your sales team.
Miscellaneous Improvements
We've fined-tuned the Save mechanism to make Pipeliner CRM even faster.
Fixed the issue of a delay in visibility of data after saving a record on the users side.
Fixed the issue of missing "Close" button when viewing an item from the Feed.

Release Notes
Pipeliner CRM is getting better and better with each new release. If you´re curious, what other releases we had, please visit our "Release Notes" section.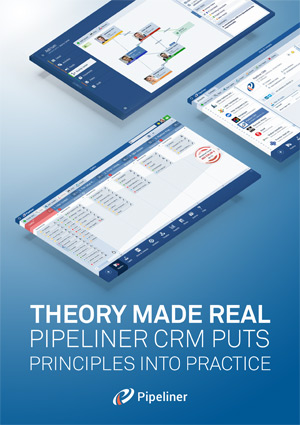 Theory Made Real
Based on proven economic principles, Pipeliner CRM is a tool for everyone.