25 July 2019
We are happy to announce the v2.4.0 release of Pipeliner CRM. This release includes even more new features for the desktop app as well as other improvements to existing functionality.
New Features and Small Enhancements
General Improvements
Welcome to the newly enhanced Map View for Contacts, Accounts, and now also for Opportunities, Leads, and Archive! By switching to Map View in the top-right corner you can see all of your entities on an interactive World map which includes drill-down and Legend options. This view also provides you with powerful filtering, as well as direct editing capabilities using the Detail pane on the right when you select any record.
Introducing the new Relation Graph for Accounts and Contacts. This interactive Relationship Mapping tool allows you to visualize a broad view of the connections and relationships between Accounts and child Accounts and between Contacts in the same way as the Buying Center does for Contacts linked to an Opportunity. In the Admin Module, you can create custom relationships to define the connections between your Accounts and your Contacts. Find the Relation Graph tab in the Account

Account

Account refers to a record of primary and background information about an individual or corporate customer, including contact data, preferred services, and transactions with your company.

detail and the Contact detail.
You can now use the Detail panel on the right to improve productivity by working directly with the selected record – from the List or Map View, select a record and, for example, create a Task using the new Add button.
You can preview every PDF image directly in Pipeliner CRM without downloading it to a local PC.
Navigator data

Data

Data is a set of quantitative and qualitative facts that can be used as reference or inputs for computations, analyses, descriptions, predictions, reasoning and planning.

load enhancement. Navigator now loads data from your space 5-10 times faster.
Please note that some of these features are only available for our Business and/or EnterpriseEnterprise Enterprise (in the context of sales) is a relatively large organization typically composed of multiple levels, locations, and departments which need multi-layer software systems that support collaboration across a large corporate environment. Tiers.
Screenshots
Automation Hub Updates
We have added new integrations into Pipeliner Cloud and included a few enhancements:
Google Drive Integration – You can now connect your Google Drive in the Automation Hub and have your team collaborate, share and sync documents between Pipeliner CRM and Google Drive platform. Upon activation, Google Drive will be available in any documents section within Pipeliner CRM Cloud.
MS Office 365 Enhancements

Easier activation. We have made access to the Office 365 services much easier. No need to fill out technical details to activate the integration.
Fast real-time sync. We have enhanced the synchronization between Pipeliner CRM and Office 365. Now the data will be sync in near real-time.
Services Upgrade. We have upgraded Office 365 services like Contacts, Emails, Tasks and Appointments.
Fixed performance issues with synchronization of Tasks/Appointments.
Products/Pricing Enhancements
Multiple Named Price Lists. You can now create multiple named price lists for the same date range so you can add this year's Retail price list and Not for Profit price list, for example.
You can now update prices for all of your products within a price list using a single button. In the Admin Module, select the price list you would like to update and click on Edit Price List. You can now find an Update Price button in the top-right which allows you to increase or decrease all prices at once.

Release Notes
Pipeliner CRM is getting better and better with each new release. If you´re curious, what other releases we had, please visit our "Release Notes" section.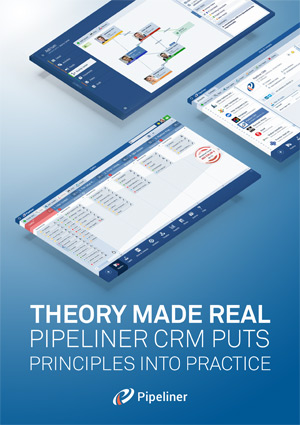 Theory Made Real
Based on proven economic principles, Pipeliner CRM is a tool for everyone.