October 30th, 2019
We are happy to announce the v2.6.0 release of Pipeliner CRM.
This release includes even more new features for our cloud app as well as other improvements to existing functionality.
New Features and Small Enhancements
Bulk Update Activities
We've updated our incredibly useful Bulk Update and Ownership features to now include the ability to update Activity records as well as Leads, Opportunities, Accounts, and Contacts.
Use the ListView in the main Activities menu and then filter the activities you want to update.
Select Ownership to change the Owner of the selected Activities or

Bulk Update to change any other fields

 — e.g. to update the Activity Date or to add Editors.
Advanced global search
Our new Advanced Search option in the Global Search gives you a clear and immediate overview of your searched records and direct access to the Search Options to help you find what you need faster!

Administrators can now enable certain custom fields

for inclusion

in the Global Search

! When adding custom Single-line text, Long text, Email, Phone or URL fields, Administrators can check the "Use in Global Search" box to enable the field for searching.
Sending emails through Gmail
Gmail users can now also use our

Create Email

option to send emails directly from Pipeliner choosing a single recipient or a group. You can send mass emails to a selected list of contacts as well as single emails:

"Standard" Emails send a single email

to one or more recipients

"Mass" Emails send a single email

to each individual recipient

You can compose your emails using rich text formatting and can attach files and insert embedded links. Once you've sent your emails, you can streamline your activity management

by planning your follow-ups

and logging your sent emails from the same screen.
New "Last move date" and "Previous Step" Fields for Opportunities
We've added 2 additional system fields to Opportunities. "Last Move Date" is the date and time that an Opportunity last moved Sales Stage (Step). "Previous Step" is the last sales step that the Opportunity was in before it moved to its current stage.
These fields support new use cases for reports such as "How many opportunities moved from Scope to Proposal this week".
You can add these new fields to Filters, Reports and to your Opportunity List View.
General Improvements
We improved the way how Reminders works. You can now

see and manage all your Activity Reminders

from the Notification Hub. You can still choose to get pop-up floating Reminders as well and can work with your Reminders using Snooze or Dismiss — or click straight through to the Activity itself to update it — either from the Hub or from a pop-up. You can also get Reminders on your mobile phone by enabling Reminder Notifications in your Notification Settings in the Mobile App.
The Owner of a record should always reflect the current, active Pipeliner user

User

User means a person who uses or consumes a product or a service, usually a digital device or an online service.

is who most responsible for managing that record and it's really important to be able to easily keep Owners up-to-date as you realign sales territories, change users' responsibilities or as colleagues leave your company. Pipeliner's Ownership change feature has always allowed you to

quickly update a filtered set of records to a new Owner and Sales unit

but we've now made this feature even more useful by adding the option to update all related records at the same time! You can now

filter a list of Accounts

, for example, and, as well as updating the Accounts' Owner and Sales Unit, you can update all linked Contacts, Open Opportunities; Open Leads, Open Activities, "child" Accounts and Notes — all at the same time!

We've made it even easier

to create filters based on criteria that apply to related records. For instance, you may want to filter Opportunities that include a particular Product

Product

Product refers to anything (an idea, item, service, process or information) that meets a need or a desire and is offered to a market, usually but not always at a price.

or Opportunities where the related, linked Accounts are in a particular city as you're planning a business trip to that area. You can now easily do this in the Filters tab by choosing "Custom" and then selecting the related record type from a dropdown and then choosing your field or fields. This enhanced feature is available for Filters in the Power Panel in each main menu area as well as for Filters in Reports.
We have changed the way that emails are linked to Contacts and Accounts when using the Office 365, Exchange, Gmail and IMAP email integrations. Previously, all users needed to be added as individual Editors to every record that their emails needed to be linked to. Now,

for every user who has activated one of the email integrations

, all emails will be linked automatically to Contacts and Accounts as long as a matching email address is saved in Pipeliner on a Contact or Account

Account

Account refers to a record of primary and background information about an individual or corporate customer, including contact data, preferred services, and transactions with your company.

record:

Users no longer need to be added as Editors.
To allow for situations where your company doesn't want emails from certain organisations — e.g. Suppliers, Partners, HR Company — to be linked and visible in Pipeliner, Admins will be able to block emails to and from specific domains.
In the Admin Module from the "Settings" tab, Administrators can add the email domain to be blocked. Multiple domains can be added, separated by a comma.
Please note that some of these features are only available for our Business or EnterpriseEnterprise Enterprise (in the context of sales) is a relatively large organization typically composed of multiple levels, locations, and departments which need multi-layer software systems that support collaboration across a large corporate environment. Tiers.
Screenshots

Release Notes
Pipeliner CRM is getting better and better with each new release. If you´re curious, what other releases we had, please visit our "Release Notes" section.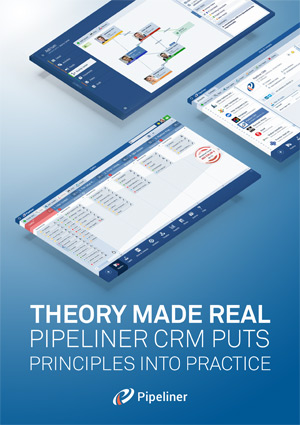 Theory Made Real
Based on proven economic principles, Pipeliner CRM is a tool for everyone.