January 30th, 2020
We are happy to announce the v2.8.0 release of Pipeliner CRM.
This release includes another exciting batch of new features for our cloud app as well as other improvements to existing functionality.
Please note that some of these features are only available for our Business or EnterpriseEnterprise Enterprise (in the context of sales) is a relatively large organization typically composed of multiple levels, locations, and departments which need multi-layer software systems that support collaboration across a large corporate environment. Tiers.
New Features and Small Enhancements
Collapsible Dynamic Forms
When you have lots of fields on a form, you can now collapse sections to make scrolling easier or to hide fields you're not interested in.
Fields & Forms
We've added the "∑" symbol to calculated fields so they are easier to identify in both the web app and the Admin module.
Power Panel
There's now an additional option in the "Grouped By" field on the View tab within the Power Panel for Opportunities. You can now select "Primary Contact" to group your Opportunities by the main person involved in the deal.
We've enhanced the "Dynamic period" options giving you even more flexibility for filtering and reporting on data

Data

Data is a set of quantitative and qualitative facts that can be used as reference or inputs for computations, analyses, descriptions, predictions, reasoning and planning.

using date fields. There are now 2 main Dynamic period options:

The "Dynamic" period IS › displays records where date(s) are within the criteria you select (for example, opportunities closing within the next 30 days)
The "Dynamic" period IS NOT › displays records where the date used is outside of the range you select (for example, leads created outside of the last 7 days)

Filtering on Ownership is a very common action so we've made it even easier for you by enabling the option to select multiple owners in the filter preset screen. Now, when you click into the "Owner" field, you can just check the Owner(s) you want to filter by.
Feeds
To make it easier for you to track your Mass Emails, we've added a preset "Mass Emails" stream to the main Feeds menu.
Mobile Application
We've added several enhancements to the Mobile App Business Card Scanner:

We have worked to improve the mapping of data that the Business Card Scanner can recognize — e.g. "Job Title". Please note that due to huge variations in the way that business cards are designed there will, no doubt, still be cases when the Business Card Scanner cannot recognize information — one example is the company logo.
We've added the option to scan and create an Account

Account

Account refers to a record of primary and background information about an individual or corporate customer, including contact data, preferred services, and transactions with your company.

record as well as a Contact.
You can check and edit data when creating the new Contact or Account

It is now possible to track emails from mobile through BCC
You can now log SMS messages in Mobile App
We've extended duplicate checking to the Mobile app. Now, before you save a new Account or Contact — however, it's created, you'll be prompted if any matching Accounts or Contacts already exist in Pipeliner. The check is an exact match on Account name (for Accounts) and both First Name and Last name for Contacts. You can then view the "similar" records to make sure you're not about to save a duplicate.
Administration Updates
We have added new integrations into Pipeliner Cloud and included a few enhancements:
User

User

User means a person who uses or consumes a product or a service, usually a digital device or an online service.

Roles
New User Permissions "Import", "Bulk Update". Pipeliner Administrators now have more control over which users are allowed to use the mass change features such as importing new data or bulk updating existing data.

Release Notes
Pipeliner CRM is getting better and better with each new release. If you´re curious, what other releases we had, please visit our "Release Notes" section.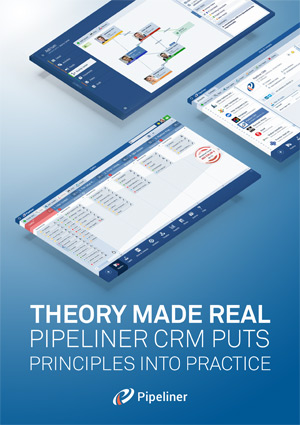 Theory Made Real
Based on proven economic principles, Pipeliner CRM is a tool for everyone.