March 31th, 2020
We are happy to announce the v3.0.0 release of Pipeliner CRM.
This release includes another exciting batch of new features for our app as well as other improvements to existing functionality.
Please note that some of these features are only available for our Business or EnterpriseEnterprise Enterprise (in the context of sales) is a relatively large organization typically composed of multiple levels, locations, and departments which need multi-layer software systems that support collaboration across a large corporate environment. Tiers.
New Features and Small Enhancements
Automatizer
We are incredibly proud to announce that Automatizer is here!
Automatizer is our "Point & Click" automation tool designed to help you easily and graphically build your organization

Organization

Organization is a cohesive group of people working together and formally bound by a shared identity (e.g., one team, company, club, etc.) and a common purpose (e.g., business growth, athletic victory, etc.).

's processes into Pipeliner.
Automatizer allows you to

streamline your workflows

and empower your teams working with Pipeliner by automating repetitive tasks and communications.
We've made it as easy as you would expect from Pipeliner! No complex language or coding is required!
Every process consists of triggers

Triggers

Triggers are a set of signals or occurrences that meet certain criteria to be considered an opportunity to make a sale.

, if/then conditions and can include multiple actions.
Your Pipeliner Admins have control over which users are able to add processes and whether those processes are "Private" to the owner or apply to all users of the space.
The

Process Manager

shows all processes, whether they are active or inactive and allows detailed monitoring of the status of processes.
Automatizer will also soon work via third party integrations.
Change log
We've worked on enhancing the Audit Log capabilities for our Enterprise customers.
When a user

User

User means a person who uses or consumes a product or a service, usually a digital device or an online service.

opens a record inside the Pipeliner web app, they'll now see a "View Changes" button on the menu in the Detail screen.
All changes made to the record will then be displayed and can be exported to an Excel spreadsheet or CSV file (if the user has rights to export data

Data

Data is a set of quantitative and qualitative facts that can be used as reference or inputs for computations, analyses, descriptions, predictions, reasoning and planning.

).
Also, in addition to being able to track all changes made in the Admin Module itself, Admins can now export all changes made to records in the Pipeliner web app from the new "Export Entity Changes" tab.
You can choose the Users, Entities, and Period for which you wish to view this information via Excel or a CSV file.
Emailing to contacts/accounts internal users more efficiently
When you're using the Send Email feature from Pipeliner, you can now start typing and Pipeliner will search within AccountAccount Account refers to a record of primary and background information about an individual or corporate customer, including contact data, preferred services, and transactions with your company., Contact and User email addresses and you can then just choose the email address(es) to send your email to. Check these improvements in our help Articles › for Microsoft Office 365 and Google Gmail.
General Improvements
We've enhanced the Merge function — now, when you open up an Account and spot duplicate contacts from the Contacts tab, you can merge them directly using the Merge button.
The usual pre-requisites still apply — you have to be the Owner of the non-master record and be based on a user role with delete rights.
In the Navigator, you can now set Target Period, Target Value and Comparison Period directly from the Navigator screen in the same way that you can from the Opportunities menu —

you no longer have to open up the Target tab to access these settings

.
We've also added the Owner's name to the Notifications section making it easier to identify who is responsible for each record.
We've added the ability to access the Global Search, Notification Hub and Favourites from an open record.
Users can then search by the generated number to find individual records.
Dropdown fields have been increased in width so that values are not truncated on screen. You'll probably notice this most when looking for user names — for example when filtering on Owner.
When sending an email directly from the Documents tab of a record, you can now select and send more than one file with the email. Use the List View and tick the files you want to send and then click on the "Create Email" button.
Administration Updates
We have added new integrations into Pipeliner Cloud and included a few enhancements:
In the Admin Module, we've added a new field in the Users tab named "User-created date" so you can see when the date that each user was added to Pipeliner.
Pipeliner Admins can now enable custom fields of type "Auto number" to be included in the Global Search.

Release Notes
Pipeliner CRM is getting better and better with each new release. If you´re curious, what other releases we had, please visit our "Release Notes" section.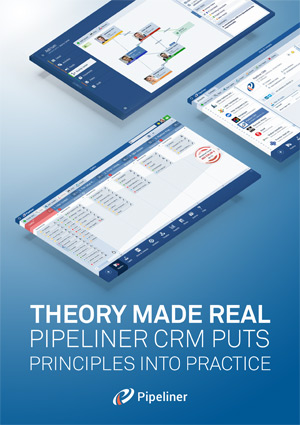 Theory Made Real
Based on proven economic principles, Pipeliner CRM is a tool for everyone.