April 29th, 2020
We are happy to announce the v3.1.0 release of Pipeliner CRM.
This release includes another exciting batch of new features for our app as well as other improvements to existing functionality.
Please note that some of these features are only available for our Business or EnterpriseEnterprise Enterprise (in the context of sales) is a relatively large organization typically composed of multiple levels, locations, and departments which need multi-layer software systems that support collaboration across a large corporate environment. Tiers.
New Features and Small Enhancements
Automatizer
We are incredibly proud to announce new exciting enhancements for Automatizer!
New Action Webhooks (Automatizer)
As part of Automatizer, we've added the ability to Send a Webhook as part of a process. We have always offered dataData Data is a set of quantitative and qualitative facts that can be used as reference or inputs for computations, analyses, descriptions, predictions, reasoning and planning. flow capabilities via our open API however it takes IT resources to build a service that takes data from Pipeliner CRM. Using webhooks via Automatizer offers a quick and easy-to-use alternative for those with the right level of technical knowledge:
Send a Webhook is available in Automatizer as a new Action.
You can set up a webhook with custom Body, Authorization and Headers:

You can configure the body in a simple way (for novices unused to JSON or XML structure).
For more advanced use cases you can build a Webhook in advanced mode, where you can

add your own code

.
You can use two Date formats (timestamp, ISO standard) which helps to push data into your system based on your needs.

You can test Webhook immediately without needing to run the Process in Automatizer.
Check our Knowledge Base article to get more information about Webhooks ›
Scheduled Trigger (Automatizer)
In our first Automatizer release, a userUser User means a person who uses or consumes a product or a service, usually a digital device or an online service. had to physically create or update a record to trigger a process to start. Now, as another major enhancement, we've added the ability to schedule a trigger to activate at specified periods:
Once (once only on a specific date and time)
Every day (at a specific time)
Every week (on selected days)
Every month (on selected days)
You could use this new functionality to, for example, schedule follow ups for Contacts or Accounts where the Last Contacted Date is more than 30 days ago.
Check our Knowledge Base article to get more information about Scheduled Triggers ›
Brand New Action Archive (Automatizer)
Another major enhancement is the ability to use an Automatizer process to archive Leads or Opportunities. All uncompleted linked activities can also be completed as part of the process.
This will be a huge time-saver for our customers who want to automatically archive records based on their individual criteria.
Check our Knowledge Base article to get more information about Action Archive ›
Improved Debugging (Automatizer)
When you are running an Automatizer process — or even testing a process — you want to know what data was created or updated. If there was an error or warning, you want to easily see the data issue on the record and you can now do this using links from the Run log.
Click on "Activity Log" for a process and then select an individual record to open up the "Run Log". You can now click through to the record that has been created or updated or which had an error.
Check our Knowledge Base article to get more information about Improved Debugging ›
Company Emails
Whether it is marketingMarketing Marketing is the field, set of actions, or practice of making a product or service desirable to a target consumer segment, with the ultimate aim of effecting a purchase. communication or system notifications, sometimes you want to send emails from your company email accountAccount Account refers to a record of primary and background information about an individual or corporate customer, including contact data, preferred services, and transactions with your company., not from your personal one. We have added a new tab called "Company Emails" in the Administration Settings, so you can send company emails through Pipeliner:
You can set up the company emails for Microsoft and Google accounts.
Company emails can be used for mass email communication, standard email communication, or in the Automatizer.
Users will have access to company emails based on how you set up their User Role.
You can now use the Company Email, which you can select from a dropdown menu when composing an email.
Check our Knowledge Base article to get more information about Company Emails ›
Bulk Operations
In some cases, working with too much data might be overwhelming in Pipeliner. We have added a variety of new Bulk Operations that allow you to better manage and archive your Opportunities and Leads. Now, you can easily update Opportunities and Leads all at once, instead of individually.
Using Bulk operations allows you to select multiple records and complete the following actions:
Lead Qualification

Lead Qualification

Lead Qualification is the process of determining whether a potential customer has the characteristics of your company's ideal client (such as sufficient purchasing ability and a higher likelihood of buying your product).

Archive Leads
Reactivate Leads
Move Opportunities
Win Opportunities
Archive Opportunities
Reactivate Opportunities
In order to perform a mass update, start in the list view, select all records to update, click the appropriate action in the toolbar, and fill in all required fields.
Check our Knowledge Base article to get more information about Bulk Operations ›
Scanning Documents in Mobile Application
Use your phone as a scanner to attach documents to any Pipeliner Record directly through the Mobile App. Whether you have paper invoices or other important documents, you can scan and save them in digital format against any record.
Main features include:
Scan documents & attach them to a record.
Modify/retake the scan if the scan is not valid.
Create PDF file from all scans and attach the PDF onto a record.
General Improvements
Mass Emails Visibility — Previously, when a user sent a Mass Email, they were the only one who would see the Mass Email from the main Feeds tab using the Mass Email stream. We've updated this feature so that users are now also able to see Mass Emails sent by other users when using the Mass Email stream in Feeds.
Back Button in Details — When in the detail of a record, you might click through to other records, and want to return to the previous screen. We have added a "Back Button" when viewing a record

so you can access the previous item

.

Release Notes
Pipeliner CRM is getting better and better with each new release. If you´re curious, what other releases we had, please visit our "Release Notes" section.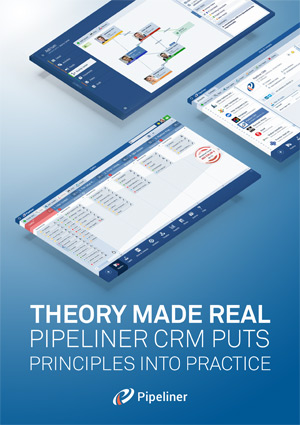 Theory Made Real
Based on proven economic principles, Pipeliner CRM is a tool for everyone.