April 29th, 2021
We are happy to announce the v3.11.0 release of Pipeliner CRM.
This release includes another exciting batch of new features for our app as well as other improvements to existing functionality.
Please note that some of these features are only available for our Business or EnterpriseEnterprise Enterprise (in the context of sales) is a relatively large organization typically composed of multiple levels, locations, and departments which need multi-layer software systems that support collaboration across a large corporate environment. Tiers.
New Features and Small Enhancements
Organization

Organization

Organization is a cohesive group of people working together and formally bound by a shared identity (e.g., one team, company, club, etc.) and a common purpose (e.g., business growth, athletic victory, etc.).

Charts
In this release, as the next part of our AccountAccount Account refers to a record of primary and background information about an individual or corporate customer, including contact data, preferred services, and transactions with your company. Management enhancements, we've focussed on the Organisation Chart and improved the depth of the information it gives you.
When building your hierarchy, you can assign customisable Account Role(s) to each person to show how each one impacts the relationship you have with your customerCustomer Customer is an individual or an organization that purchases a product or signs up for a service offered by a business. or prospect. Some examples you might choose to use are:
Decision-maker — those contacts who control the resources you need to be allocated to you!
Influencer — contacts who can influence the future of your partnership, work on building relationships with these contacts
User

User

User means a person who uses or consumes a product or a service, usually a digital device or an online service.

— contacts who directly use your product

Product

Product refers to anything (an idea, item, service, process or information) that meets a need or a desire and is offered to a market, usually but not always at a price.

or service, focus on how you can help them succeed
Leaders — Executives at your customer who have the power to raise concerns or put up roadblocks, you'll want to introduce your Leaders are introduced to these contacts as early as possible in your relationship
Your Pipeliner Admins can create just the roles that work for your business of course!
As well as the role(s), you can now also indicate the "Strength" of the relationship with each Contact. Our simple-to-understand traffic light system lets you choose from Green (Strong relationship) through Red (Weak).
Influences allow you to indicate who influences who within the organisation from the perspective of your relationship with the company. Using the same traffic light colours — a Positive influence is Green whereas Negative (as far as you're concerned) is Red.
Finally, you can easily track any Comments added to the Org Chart about an Individual, see if they are a contact for any Opportunities and even see all the Interactions associated with them by clicking on the icons on their card.
Check our Knowledge Base article to get more information about Organization Charts ›
Compact View › Dashboards
In our last release, we added the ability to start customising the Compact View for Accounts, Contacts, Leads and Opportunities and we've further enhanced that ability in this release. Pipeliner Admins can now choose which Overview information to include or exclude using "Edit Overview" in the Interface tab in Fields & Forms.
As well as selecting, removing or reordering the Lists and changing the filters used. Admins can now add custom charts to the panel — it works just like adding a chart to a Dashboard!
Check our Knowledge Base article to get more information about Compact View ›
As part of our ongoing useability enhancement program, we've updated the following features.
Various Improvements
Opportunities Target Comparison — If you enable Target Comparison in the Target tab of the Power Panel for Opportunities, you can now see more clearly how each period compares. Hover over the comparison percentage on the Target icon.
Reports › Change Ownership — If a user creates a report on behalf of a colleague, Ownership of the report (and any scheduling options associated with it) can now be reassigned using the Ownership button. The new owner will then have the rights to modify the report directly as required.
Activities — We've added a Bulk Update option to the Activities tab within an Account, Contact, Lead

Lead

Lead refers to a prospect or potential customer (who can be an individual or organization) that exhibits interest in your service or product; or any additional information about such entity.

or Opportunity so that you can make mass changes to all activities linked to specific records.
Automatizer — You no longer have to recreate a process from scratch if you decide to change the initial Trigger.
Calling — For those customers loving our Calling feature, you can now filter on the new Call Duration field. This field is completed automatically for all calls made using the Calling feature so, as an example, a filter on "Call Duration is not empty" would show you all calls made using the feature. We've also made sure that calls made using the Calling feature link correctly to the record from which you triggered the call. So, for example, when you call a Contact from an Opportunity, the Call will now be linked to both the Opportunity & Contact.
Selecting fields — To help you select fields more easily in the Power Panel (Filter), when using Automatizer and also when using Email Personalization, we've added an extra view so you can pick fields from each area rather than scrolling through a long list.

Release Notes
Pipeliner CRM is getting better and better with each new release. If you´re curious, what other releases we had, please visit our "Release Notes" section.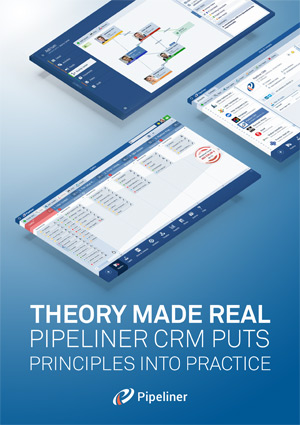 Theory Made Real
Based on proven economic principles, Pipeliner CRM is a tool for everyone.