June 30th, 2021
We are happy to announce our newest release of Pipeliner CRM.
This release includes another exciting batch of new features for our app as well as other improvements to existing functionality.
Please note that some of these features are only available for our Business or EnterpriseEnterprise Enterprise (in the context of sales) is a relatively large organization typically composed of multiple levels, locations, and departments which need multi-layer software systems that support collaboration across a large corporate environment. Tiers.
New Features and Small Enhancements
WhiteSpace View
We've added another invaluable feature to help with your AccountAccount Account refers to a record of primary and background information about an individual or corporate customer, including contact data, preferred services, and transactions with your company.-based selling and Key Account Management strategy. The Whitespace View is all about tracking your cross-sell and upsell opportunities by comparing your selected Account to others that are similar (use the "Similar Accounts" button to add companies with the same Account Class or in the same industry, for example) or to other Accounts within the same group of companies (you can manually add any companies you want to review using the "Add to Comparison" option). Choose between ProductProduct Product refers to anything (an idea, item, service, process or information) that meets a need or a desire and is offered to a market, usually but not always at a price. Categories or Products for your view.
Changing the selection to Products shows you all Products included in Opportunities linked to your selected Accounts. You can manually add additional Products using the "Add to Comparison" button.
Once you've used the WhiteSpace view to plan, you can execute your strategy directly from the WhiteSpace View by creating new Opportunities or follow up Activities.
Check our Knowledge Base article to get more information about WhiteSpace View ›
Activity Preview
We've updated Activities so that selecting any item displays a sidebar Preview panel on the right-hand side. Your users can now see all the important information about an Activity — such as Linked Items or attached files — without needing to open the Activity and can Complete, schedule Follow-Ups or add Comments, for example, right from the Preview Panel.
Pipeliner Admins can customise the fields displayed in the Preview as well as the contentContent Content refers to a material or document released in various forms (such as text, image, audio, and video) and created to inform, engage or influence specific audiences. of the Overview from the Admin Module. Each "Task" or "Appointment Type" can be customised individually (or you can easily re-use fields that you've chosen for another type of Activity by clicking on Reuse fields!).
When using the Calendar or Task Board View, you can open up the Agenda pane by clicking on the new "Agenda" button.
Check our Knowledge Base article to get more information about Activity Preview ›
As part of our ongoing useability enhancement program, we've updated the following features.
Various Improvements
Calling — Dialpad › We've added a dial pad so that you can enter extension numbers or phone tree options when using our Calling feature.
Opportunities — Customising Record Preview (Compact View, Tooltips, Sidebar) › As well as the new ability to customise the Record Previews for Activities described earlier, if you use multiple pipelines, you can now also choose different fields to include on your Opportunity Previews tailoring the content to be specific and helpful for the users of each pipeline

Pipeline

Sales pipelineis a visual representation of the stage prospects are in the sales process.

. We've added a visual cue to remind you that you have selected a custom view when working with an open record. The green dot will show when you are using any view except "Full View".
Better visualization of Editors & Watchers › We added the names of Editors & Watchers so you can recognize who is who even when the user

User

User means a person who uses or consumes a product or a service, usually a digital device or an online service.

has not added their picture.
Deduplication of data

Data

Data is a set of quantitative and qualitative facts that can be used as reference or inputs for computations, analyses, descriptions, predictions, reasoning and planning.

when importing Accounts › We've brought Account imports into line with other entities, you can now choose a custom field to de-duplicate your incoming data file.
Outlook Add-in › When creating a new Activity directly from the Outlook Add-in, it's not possible to link it to an Opportunity or Lead

Lead

Lead refers to a prospect or potential customer (who can be an individual or organization) that exhibits interest in your service or product; or any additional information about such entity.

(not just Account and/or Contact). We've also fixed some problems with finding existing Contacts.
Report Loading Speed › Our speed improvement focus this month has been on the time taken to load reports when you have lots of them!

Release Notes
Pipeliner CRM is getting better and better with each new release. If you´re curious, what other releases we had, please visit our "Release Notes" section.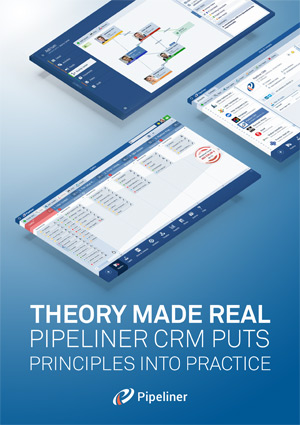 Theory Made Real
Based on proven economic principles, Pipeliner CRM is a tool for everyone.