June 30th, 2020
We are happy to announce the v3.3.0 release of Pipeliner CRM.
This release includes another exciting batch of new features for our app as well as other improvements to existing functionality.
Please note that some of these features are only available for our Business or EnterpriseEnterprise Enterprise (in the context of sales) is a relatively large organization typically composed of multiple levels, locations, and departments which need multi-layer software systems that support collaboration across a large corporate environment. Tiers.
New Features and Small Enhancements
Brand new "Sales POP!" Content

Content

Content refers to a material or document released in various forms (such as text, image, audio, and video) and created to inform, engage or influence specific audiences.

Widget
Sales POP! content is now available within Navigator for every Pipeliner userUser User means a person who uses or consumes a product or a service, usually a digital device or an online service. on a daily basis. As a modern digital magazine, Sales POP! multimedia delivers written content, videos, e-publications and free tools that highlight key topics in today's sales landscape. Our goal is to provide expertly curated content to empower sales professionals and leaders to achieve new levels of success. Every day, Pipeliner delivers a different article with a direct link to Sales POP! These articles are aimed at highlighting key issues in sales, in order to inspire and inform the modern sales professional. When you log in to the Navigator, a new article will be accessible every day via this brand new widget.
Users can select preferred categories of content by clicking on the gear icon. Our goal is to provide you with refreshing articles that match your personal interests to help you advance your sales expertise and knowledge. Articles matching the indicated categories will be delivered. This is a great way to start your day and get in the mode for selling!
Also, you can unsubscribe at any time from the Sales POP! widget.
Check our Knowledge Base article to get more information about "Sales POP!" Content Widget ›
"Automatizer" Enhancements (Manual Trigger)
Our customers are loving Automatizer — and with good reason! We've now made it even more adaptable and flexible for your business by adding the capability for your users to manually attach processes to records. So, they're working on a LeadLead Lead refers to a prospect or potential customer (who can be an individual or organization) that exhibits interest in your service or product; or any additional information about such entity., say, and realize that it needs to be added to a specific follow-up process — they can now add the process to the record they're working on right now! Or, maybe, an Opportunity is ticking along nicely and suddenly expands — the Key Opportunity Management process can be enabled in seconds! Check out our new article for the Key Opportunity Management example.
Set up and manage your manual processes in the Automatizer in the same way as any other process and use the Process Manager to track them. If your process has future scheduled activities built into it and something changes, simply clear them all or delete individually from inside the record.
Check our Knowledge Base article to get more information about "Automatizer" Manual Trigger ›
"Automatizer" Enhancements (Manual Processes)
We've been delighted that so many of our customers are blown away by the Automatizer!
We've been working on incremental improvements as well as the big new ticket item "Manual processes".
These include the option to personalize values for the Country field — e.g. populate a Contact with the value for Country on the related AccountAccount Account refers to a record of primary and background information about an individual or corporate customer, including contact data, preferred services, and transactions with your company. record.
When working with Opportunities and Leads you can now link the related Primary Account or Contact in Automatizer actions. You'd use this, for example, when creating a Task when you want to link it to both the Opportunity itself AND the Primary Account. This would work really well for an Account Credit Limit Check task that needed to be carried out when working with a prospect for the first time.
We've added additional process-related fields to the options when creating a custom filter from each main menu so that you can easily identify records affected by processes. As Automatizer has multiple triggersTriggers Triggers are a set of signals or occurrences that meet certain criteria to be considered an opportunity to make a sale. types you can now display the Trigger Type for each process in the Automatizer Process Manager list view.
Check our Knowledge Base article to get more information about "Automatizer" Manual Processes ›
Improved Imports
We've added multiple improvements to the import tool to make it more useful and flexible.
When you're importing Leads or Opportunities, you can now enable an option to automatically create the linked (Primary) Account and/or Contact at the same time:
The import wizard will check existing Accounts and Contacts and will not create duplicates where it can match your imported data

Data

Data is a set of quantitative and qualitative facts that can be used as reference or inputs for computations, analyses, descriptions, predictions, reasoning and planning.

to an existing record based on a match on Account (or Contact) Name AND Account (or Contact) Primary Phone AND Account (or Contact) Primary Email address.
When importing Contacts, there's the same option to create related Accounts.
You can map ONLY the following fields to your new Account/Contact records: Name, Primary Email and Primary Phone. If your data contains addresses and other data, you'll still need to create your Accounts and Contacts separately in advance of importing your Opportunities or Leads.
Importing data from other systems has been enhanced as you can map to system fields such as Created Date preserving the true timeline of records. Previously, Creation Date was automatically set to the date the record was imported into Pipeliner.
This concept has been made even more powerful when importing Opportunities. You can now import Won and Lost Opportunities as well as Open Opportunities and can map the dates that historical deals were closed as well as when they were created. Migrations from your previous system are now easier and quicker than ever!
We've also made it even clearer how the system fields behave if you do not map to them directly by clearly specifying what value your records will have if you don't map to them and use the defaults.
Check our Knowledge Base article to get more information about Improved Imports ›
General Improvements
Sales Step Statistics — Every sales step now has updated visual sales steps statistics that are based on the Target period you set in the Power Panel. When you are in the "Pipeline

Pipeline

Sales pipelineis a visual representation of the stage prospects are in the sales process.

View" and you hover over the sales step, you can view a variety of different metrics

Metrics

Metrics  are quantities that are measured and used to:

related to that particular step. "Conversion

Conversion

Conversion is the process of turning a target consumer into a paying customer; or more generally, the point at which a user performs a specific action favorable to a marketer or a seller.

to Next Step" is a new statistic that calculates how many Opportunities were moved on from the indicated step to the following step. In addition, you can click on any of the statistical links and get instant updates on Opportunities that meet the criteria.

New "Record URL" Field — Every main Entity as "Lead", "Account", "Contact", "Opportunity", "Task", "Appointment" — has a new field named "Record URL". This is a virtual field so not one that you can work with directly in the Admin Module or add to the form.


However, you can use it in both the Automatizer and the BI Feeder:

Automatizer — customers requested we add this field so it can be used in "notifications" created as part of Automatizer processes. Adding the "Record URL" field from the Personalization options will allow users to click through directly to the record from a notification email they receive.
BI feeder — when using the Pipeliner data generated by BI feeder to create a report — e.g. in "Power BI" — you'll be able to open records in Pipeliner by clicking the Record URL link.

Improved Document Scanning Algorithm — Document recognition is improved in this release. It means that documents taken by Document scanning feature can be captured in worse light conditions but with even better quality than in previous releases.
Business Card Scanning Improvements — When doing a scan of your business card, you can save the scan into Pipeliner as an image. This is really useful when data is not scanned properly. Now you can return to the image of the scanned card inside Pipeliner.
Create Email in Archive — Reach out to lost Leads or Opportunities directly from the Archive by sending them a standard or mass email. When you click on an archived Opportunity or Lead, an option will appear at the top to create a new email. Select multiple Opportunities or Leads to send out a mass email.

Release Notes
Pipeliner CRM is getting better and better with each new release. If you´re curious, what other releases we had, please visit our "Release Notes" section.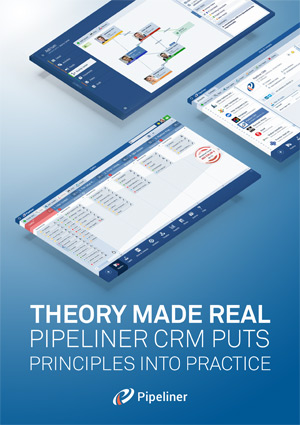 Theory Made Real
Based on proven economic principles, Pipeliner CRM is a tool for everyone.