July 30th, 2020
We are happy to announce the v3.4.0 release of Pipeliner CRM.
This release includes another exciting batch of new features for our app as well as other improvements to existing functionality.
Please note that some of these features are only available for our Business or EnterpriseEnterprise Enterprise (in the context of sales) is a relatively large organization typically composed of multiple levels, locations, and departments which need multi-layer software systems that support collaboration across a large corporate environment. Tiers.
New Features and Small Enhancements
Revenue

Revenue

Revenue is the amount of money a business generates during a specific period such as a year or a quarter; also called sales.

Recognition
Many of our customers need to forecast their projected revenue, and also accountAccount Account refers to a record of primary and background information about an individual or corporate customer, including contact data, preferred services, and transactions with your company. for their confirmed income, over different time periods and not just as a single value based on the closing date.
You may sell a single multi-year contract and need to recognize each year's revenue individually in your forecast projections. Or perhaps your business includes the sale of equipment or machinery along with a quarterly service agreement and you need to account for the machine immediately the deal closes but the service agreements should be recognized over each quarterQuarter Quarter is a three-month period in a company's fiscal year commonly used to make comparative performance analyses, detect or forecast business trends, report earnings, and pay shareholder dividends.. These are some examples where our new Revenue Recognition will help take your revenue projections and cash flow reporting to the next level!
Revenue Recognition is available for our Business & Enterprise tier customers and can be enabled by your Pipeliner Admins in the Automation Hub. Once running, you can enable Revenue Recognition individually for all of your opportunities in Pipeliner.
How does Revenue recognition work?
When you activate Revenue Recognition in the Automation Hub, you can select a Revenue Period that fits your business. Choose from Monthly, Quarterly or Yearly scheduled revenue.
We've also added 4 new fields that you can access in the "List View" or in "Reports" (also lookout for some great reporting enhancements in our next release!):
Recognized revenue (total)

— this is the total of the scheduled revenue for the opportunity. 

Recognized revenue (achieved)

— this is the total revenue already recognized to date.

Recognized revenue duration

— this is the whole time period over which the revenue will be recognized.

Recognized revenue in the target period

— this is how much revenue will be recognized during the period I have selected in my Target.
Check our Knowledge Base article to get more information about Revenue Recognition ›
Product

Product

Product refers to anything (an idea, item, service, process or information) that meets a need or a desire and is offered to a market, usually but not always at a price.

Line Items
In another major enhancement to Pipeliner, we have added the ability to add information to an Opportunity's Products "on the fly" using custom fields. You can now, for example, add your warranty to an Opportunity and select the start date or add your machine model and then pick the colour!
This enhancement will totally revolutionise the way our customers can use Products within Opportunities!
Add Products from the Product Catalog to Opportunities as before but, once added, you can now click on each Product and add additional, line-item specific information to each one. Click on the "Product Name" to open the Product Line Item dialog to add extra information about this product. You can choose to add these custom fields to your Product List View. Use these newly created custom fields in Office 365 Word and Google Docs templates as well as in Pandadoc templates if you use our Pandadoc integration.
We've also added a new option in Filters, so, when you're reporting on Opportunities, you can filter on Product & Product Line item fields.
Product Line Items are a new entity. From Fields & Forms in the Admin Module, Administrators for our Enterprise customers will be able to build product-specific forms, add custom fields to them and manage fields permissions.
Check our Knowledge Base article to get more information about Product Line Items ›
Google Forms (Web Forms) Add-in
The brand new Pipeliner CRM Google Forms Add-On allows you to quickly capture sales leads, contacts or accounts directly into Pipeliner CRM when a form is submitted by email, via a link or from a website.
For example, you might want to create a registration form for an event, or an online "Contact Me" form. When somebody completes and submits the Google Form, the Pipeliner CRM Forms Add-On will create a new record with the dataData Data is a set of quantitative and qualitative facts that can be used as reference or inputs for computations, analyses, descriptions, predictions, reasoning and planning. in Pipeliner CRM. The Add-on lets you link the options in those forms with the fields from a Pipeliner CRM LeadLead Lead refers to a prospect or potential customer (who can be an individual or organization) that exhibits interest in your service or product; or any additional information about such entity., Account or Contact record and assign the Owner for the newly created records.
Check our Knowledge Base article to get more information about Google Forms (Web Forms) Add-in ›
General Improvements
Hide Target — The "Toggle Target Visibility" addition allows you to choose whether to display the target calculation in front of or behind Won Opportunities. When viewing Opportunities in the Pipeline

Pipeline

Sales pipelineis a visual representation of the stage prospects are in the sales process.

View, the Target calculation is always displayed over Won Opportunities by default. Now you have an option under Target in the Power Panel to turn this feature off. If you uncheck the Toggle Target Visibility, the Target calculation now will be hidden behind your Won Opportunities.
Speed Improvements — Speed is always important. In this release, we improved speed of Creating and Updating records in Pipeliner in General mainly creating, Updating operations (bulk update, update form records), "Automatizer" (scheduled processes, manual processes). In some cases, we could achieve 500% improvements. Operations are now 5X faster. Enjoy this nice improvement :)
Administration Updates
Contextual "How to" Help Widget
The Pipeliner Administration Module now comes powered with a "How To" Help Widget. The widget delivers Articles and Videos to help you understand and manage every section of the Administration Module. In addition, you can submit a support ticket for help with any issues you are experiencing. In order to access the "How to" Help Widget, please click it at the bottom of any page within Pipeliner Administration.

Release Notes
Pipeliner CRM is getting better and better with each new release. If you´re curious, what other releases we had, please visit our "Release Notes" section.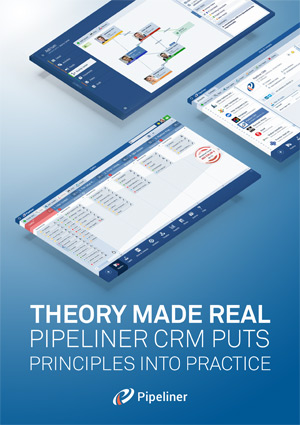 Theory Made Real
Based on proven economic principles, Pipeliner CRM is a tool for everyone.