September 3rd, 2020
We are happy to announce the v3.5.0 release of Pipeliner CRM.
This release includes another exciting batch of new features for our app as well as other improvements to existing functionality.
Please note that some of these features are only available for our Business or EnterpriseEnterprise Enterprise (in the context of sales) is a relatively large organization typically composed of multiple levels, locations, and departments which need multi-layer software systems that support collaboration across a large corporate environment. Tiers.
New Features and Small Enhancements
Scheduled Reports
Report Scheduling allows you to automate the sending of reports via email based on a schedule. For each report, you first choose the schedule from the available options. For each report, you first choose the schedule from the available options and then set up the email that the report dataData Data is a set of quantitative and qualitative facts that can be used as reference or inputs for computations, analyses, descriptions, predictions, reasoning and planning. should be attached to. You can base the email on a templateTemplate Template is a generic file with a framework showing the standard sections or features of a specific kind of document, used to create a new document of the same type faster and easier. and/or use personalization options.
You have a range of choices for the format that you wish the report to be sent in and can even enable password protection for sensitive data. Finally, if your report is being sent to Pipeliner users, you can schedule a follow-up task for them directly from the Reports Scheduler!
Check our Knowledge Base article to get more information about Scheduled Reports ›
Automatizer Improvements
We've taken some of the Automatizer processes we use ourselves every day as well as scenarios that customers ask about and have turned them into an incredibly useful set of Automatizer process templates. These are going to be invaluable to help you get started with using Automatizer as you can review the templates and choose those where the business case works for you.
Click on a template and then the "Create" button to create the process for your space and you can then modify the suggested flow in the Process Editor or simply Publish "as is" and start using.
Click on the Templates tab to see All or choose from one of the Categories to see all the associated templates.
In our standard processes, we've added the ability to update only primary related records rather than all records — you'd use this option to update just the Primary AccountAccount Account refers to a record of primary and background information about an individual or corporate customer, including contact data, preferred services, and transactions with your company. for an Opportunity, not all linked Accounts, for example. You can now clearly see if a manual process has been applied to a record as we've added the Last Run Date into the Automatizer widget.
Check our Knowledge Base article to get more information about Automatizer Improvements ›
Report Improvements
For most of our customers, reporting is a critical feature in Pipeliner and so, in this release, we've focussed on some significant enhancements to the way that you can structure your reports to give you a 360° view of your data.
There are two main options that you can choose between when adding additional relationships to your core reports:
Reporting on Aggregated Data for the related record type (entity) — Aggregation gives you totals of numeric/currency fields only
Reporting on All Data for the related record type (entity) — All gives you all data you select for the related records
Let's use a simple example of an Accounts-based report to which we want to add information about Opportunities linked to each Account. We would add Aggregation of Opportunities to our report in order to see the total value of Opportunities linked to that Account (we could filter just Won Opportunities if we wanted to).
We would change the Aggregation of Opportunities to All Opportunities in order to see a row for each Opportunity itself and can pick which fields to be included. If there are multiple Opportunities linked to one of our Accounts, we'd see one row for each Opportunity with the Account details repeated. You can group your data and display charts based on the related records you include in your report.
Here are some more cool new report ideas!
"All Products sold this month" sorted by Account and Opportunity
How about "This Month's Meetings with Account details"
NOTE: You will need to create brand new reports (not copy an existing report) in order to access these new relationships.
Check our Knowledge Base article to get more information about Report Improvements ›
Products Improvements
We have created a variety of different improvements to our Products & Pricing functionality. Now you can add photos directly into your Products. Insert images already saved to your computer, or by using an image URL.
Additionally, you can add images using the Products Import and mapping in a Photo URL for each of your Products:
Sort the order of Products within an Opportunity Product

Product

Product refers to anything (an idea, item, service, process or information) that meets a need or a desire and is offered to a market, usually but not always at a price.

Table by using a simple drag & drop. This feature might be useful when using Document Templates and you want to explicitly have it sorted in the order of your Quote.
The new "Automatic Opportunity Value Update" allows you to create Opportunity Value as read-only so it automatically updates according to the Total Amount of your Products. This way you are not rewriting values between Opportunity Value & Product Amount.
The Excel / Google Sheets Add-In now comes with a Product Table option, allowing you to pick from all Product / Product Line Item Fields. This means you have a lot more capability when building quotes and proposals using the Excel / Google Sheets Add-In.
Check our Knowledge Base article to get more information about Products Improvements ›
As part of our ongoing useability enhancement program, we've updated the following features.
Various Improvements
Modified filter are not reset when you log out or move from the App to the Admin Module — Previously the filter would be automatically reset to previous settings unless you actively saved your new selections.
Dropdowns now support a blank option — Prior to this new feature, if a user

User

User means a person who uses or consumes a product or a service, usually a digital device or an online service.

selected a value from a dropdown, they were then unable to "clear" their selection to blank out the field.
Additional Custom Date formats when importing data — You no longer have to prepare your data to meet a specific ISO date format but can select the date format used in your file from the most common standard date options when choosing your CSV file settings. The new choices are:

MM-DD-YYYY (HH:mm:ss) (Default)
DD-MM-YYYY (HH:mm:ss)
YYYY-DD-MM (HH:mm:ss)
YYYY-MM-DD (HH:mm:ss)

Release Notes
Pipeliner CRM is getting better and better with each new release. If you´re curious, what other releases we had, please visit our "Release Notes" section.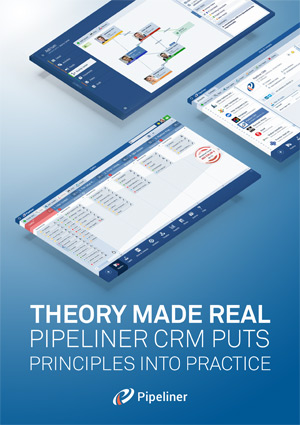 Theory Made Real
Based on proven economic principles, Pipeliner CRM is a tool for everyone.