November 5th, 2020
We are happy to announce the v3.7.0 release of Pipeliner CRM.
This release includes another exciting batch of new features for our app as well as other improvements to existing functionality.
Please note that some of these features are only available for our Business or EnterpriseEnterprise Enterprise (in the context of sales) is a relatively large organization typically composed of multiple levels, locations, and departments which need multi-layer software systems that support collaboration across a large corporate environment. Tiers.
New Features and Small Enhancements
Import Templates
Users who are regularly importing dataData Data is a set of quantitative and qualitative facts that can be used as reference or inputs for computations, analyses, descriptions, predictions, reasoning and planning. can now save their import settings as a TemplateTemplate Template is a generic file with a framework showing the standard sections or features of a specific kind of document, used to create a new document of the same type faster and easier. that can be reused each time when importing data from the same source. You can save the CSV File Settings — encoding, date format, that the file contains a header row etc. — as well as Import Settings — preferences including which field to use to group or de-duplicate the incoming data as well as whether to auto-create related records. 
Finally, you can then save the field mappings and select your saved template next time you're importing.
Check our Knowledge Base article to get more information about Import Templates ›
Importing Product

Product

Product refers to anything (an idea, item, service, process or information) that meets a need or a desire and is offered to a market, usually but not always at a price.

Line Items
When importing — or updating existing — Opportunities, it's now possible to import Product Line Items. You can import Product Name (this must match an existing Product), Quantity and the Unit Price that the product was sold for.
Your import CSV file will need to be prepared following the template format exactly with each Product Line Item on a separate row. You can select the field that identifies the Opportunity that the Products should be added to in the Import Settings option under the "Grouped by" field. For example, if your file contains a row per Product and each row has an identical Opportunity name, you would group by Opportunity name to avoid creating duplicate opportunities and to ensure all products are added to the same opportunity.
Check our Knowledge Base article to get more information about Importing Product Line Items ›
Importing Multiple Fields
Previously, when importing Leads, if your list contained company and contact information in any more detail than name, phone number and email address, you needed to separately import Accounts and then Contacts and finally your Leads. Now, instead of 3 separate imports, you can do it all in a single import from the Leads (also from the Opportunity, Contacts or Accounts menu).
Use the More Fields option on the Field Mappings screen to map website, address, more phone numbers, contact job title etc. You can map fields more than once — so you just need a single column for Owner, for example, and can map it to an AccountAccount Account refers to a record of primary and background information about an individual or corporate customer, including contact data, preferred services, and transactions with your company. and a Contact and a LeadLead Lead refers to a prospect or potential customer (who can be an individual or organization) that exhibits interest in your service or product; or any additional information about such entity. or you could map the same address fields to both an Account and a Contact.
Check our Knowledge Base article to get more information about Importing Multiple Fields ›
Email Conversations
From this 3.7 release forward, emails captured by the email integration(s) will be combined into conversations to allow users to keep a better track of their email threads. This will also allow Reply Status to be tracked and you'll see the number of replies in the bottom right-hand corner of the Feed item.
You'll be able to reply or forward from within the conversation and the thread will be kept in the reply.
Check our Knowledge Base article to get more information about Email Conversations ›

Release Notes
Pipeliner CRM is getting better and better with each new release. If you´re curious, what other releases we had, please visit our "Release Notes" section.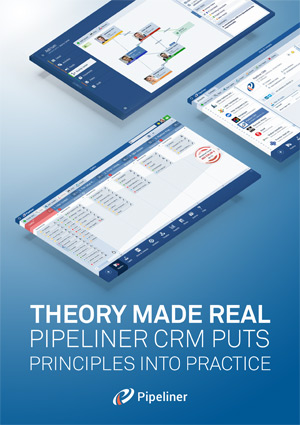 Theory Made Real
Based on proven economic principles, Pipeliner CRM is a tool for everyone.