Leads are critical to any financial firm—or for that matter, any sales-oriented organizationOrganization Organization is a cohesive group of people working together and formally bound by a shared identity (e.g., one team, company, club, etc.) and a common purpose (e.g., business growth, athletic victory, etc.).. Leads are expensive, so it's critically important that your business works and nurtures each leadLead Lead refers to a prospect or potential customer (who can be an individual or organization) that exhibits interest in your service or product; or any additional information about such entity. effectively to create solid opportunities and closes.
Pipeliner CRM allows you to rapidly analyze a lead, assign it, then track it through the entire sales processSales Process Sales Process is a series of strategic steps or a set of activities aimed at driving sales growth through the alignment of personnel, market insight, methodologies, relevant business units, and technology. to close and beyond.
In Pipeliner, leads have their own section in a process. Qualification criteria are built right in.
Leads can be entered into Pipeliner manually, imported by. CSV file or automatically populated (for example from web contact forms).
Lead distribution is a snap. Leads can be taken, changed or released.
Once a lead is qualified and becomes an opportunity, lead scoring

Lead Scoring

Lead Scoring is the process of assigning a relative value to each lead based on different criteria, with the aim of ranking leads in terms of engagement priority.

and ranking appears as part of forecasts.
Leads can be archived, and fully and instantly reactivated later.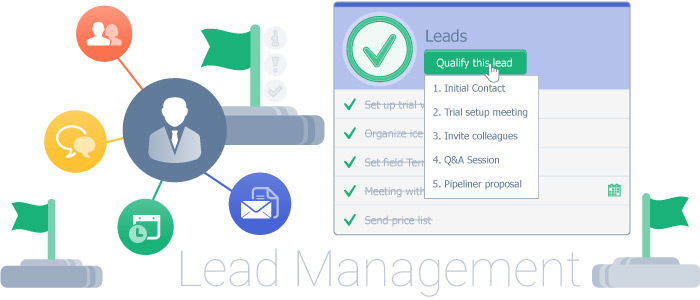 Leads Through the Process
Leads are expensive—therefore how they are handled after qualification is every bit as important as before.
Pipeliner is customized so that the pipeline follows your company's process, and each stage matches the exact steps you take to move an opportunity through that process. Since many firms have more than one process, you can have as many processes as you need with Pipeliner.
Once a lead is qualified, it moves to the first stage and will continue from there. With Pipeliner you have the option to require mandatory tasks and activities within process steps—and an opportunity cannot be moved to the next stage until they are completed.
Once an opportunity has been won, it can move to a new process (such as customerCustomer Customer is an individual or an organization that purchases a product or signs up for a service offered by a business. maintenance, for example). Lost opportunities, like lost leads, can be moved to the Archive. If at any time the opportunities come alive again, it can be instantly reactivated.
Screenshots