Leads are critical to any financial firm—or for that matter, any sales-oriented organization. Leads are expensive, so it's critically important that your business works and nurtures each lead effectively to create solid opportunities and closes.
Pipeliner CRM allows you to rapidly analyze a lead, assign it, then track it through the entire sales process to close and beyond.
In Pipeliner, leads have their own section in a process. Qualification criteria are built right in.
Leads can be entered into Pipeliner manually, imported by. CSV file or automatically populated (for example from web contact forms).
Lead distribution is a snap. Leads can be taken, changed or released.
Once a lead is qualified and becomes an opportunity, lead scoring and ranking appears as part of forecasts.
Leads can be archived, and fully and instantly reactivated later.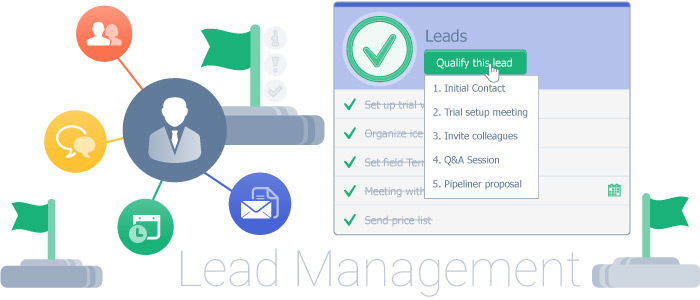 Leads Through the Process
Leads are expensive—therefore how they are handled after qualification is every bit as important as before.
Pipeliner is customized so that the pipeline follows your company's process, and each stage matches the exact steps you take to move an opportunity through that process. Since many firms have more than one process, you can have as many processes as you need with Pipeliner.
Once a lead is qualified, it moves to the first stage and will continue from there. With Pipeliner you have the option to require mandatory tasks and activities within process steps—and an opportunity cannot be moved to the next stage until they are completed.
Once an opportunity has been won, it can move to a new process (such as customer maintenance, for example). Lost opportunities, like lost leads, can be moved to the Archive. If at any time the opportunities come alive again, it can be instantly reactivated.
Screenshots