Unified Customer Database
No matter where they stand in whichever pipeline, Pipeliner CRM makes it possible for all potential and existing bank customers to be contained in a single database. From this database you can manage
all profiles, with contact data
client history including products offered and purchased
all client transactions including contracts, bank accounts, cards and any other financial instruments
multiple pipelines for different client types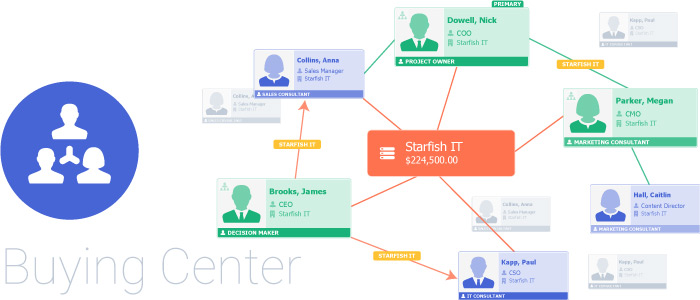 Complete Visualization of Data
With Pipeliner's completely visual, intuitive approach, prospects and customers can be readily viewed and appraised, and opportunities are ranked and can be instantly prioritized. Sales management can view opportunity status with regard to single reps, teams or an entire sales force.
Corporate Relationship Mapping
With Pipeliner's Visual Org Chart and Buying Center, corporate relationships are represented in a visual diagram. Instantly view who has influence on opportunities, in addition to company hierarchy. Drill down for data on individual influencers, and instantly edit interconnections. Any sales or company representative will always "know before they go" in any outreach regarding investment strategy or other sales activity.
Individual and Legal Entity Segmentation
Individuals, companies and legal entities can fall into very different groups, for example:
Industry
Size
Geography
Differing business rules
Products or instruments
With Pipeliner, client groups can be segmented into their own unique sales processes, for which best strategies can be formulated.
Customer Interaction History
In the financial industry, detailed interaction of a client or potential client's interests and financial focus is everything. Pipeliner keeps track of all prospect and client interactions (whether company or individual), including:
calls
email
letters
meetings
contracts
offers
All of these can be instantly and visually seen. Once again, any company rep can "know before they go" into any meetings or phone call, and any offering or recommendation can be made with confidence based on solid data.
Instant Intelligence, Visualized
Because of Pipeliner's visual, intuitive functionality, data is instantly convertible into actionable insight. This insight not only empowers a movement of opportunities along the pipeline, it assists in the identification of new opportunities.
Pipeliner's extensive filters, profiles, and reporting tools allow you to view prospects and customers under different lenses, and isolate the opportunities that fuel company growth.
Leading and Lagging Indicators
It is important when monitoring any financial services organization for efficiency, that both leading and lagging indicators are utilized. Leading indicators mean information about the present that is used to influence future outcomes. Lagging indicators mean information about the past: "How did we do?"
Pipeliner CRM has been specifically designed to function through a working balance of leading and lagging indicators.
Incorporating Social Media
Pipeliner includes social media in keeping track of all interactions, including feeds from Google+, Facebook and Twitter. Track your customers and prospects online, interact with them and assist them in making the right decisions.
Screenshots