Retail Banking
Pipeliner offers the complete toolset for attracting, servicing and maintaining bank consumer clients.
Learn More ›

Commercial Banking
Pipeliner is the system for total management of financial products and service sales to corporate clients.
Learn More ›
Totally Managed Customer

Customer

Customer is an individual or an organization that purchases a product or signs up for a service offered by a business.

Journey
Pipeliner CRM is the vital connection between customer or buyerBuyer A buyer is an individual or organizational entity that purchases a product or subscribes to a service. experience and agent proficiency. Exact processes can be tailored to your specific company and offerings—and your customer and buyer profiles. While totally maximizing opportunity management, precision metric, and analyticsAnalytics Analytics is the active study of different types of data with the aim of discovering meaningful patterns and translating these into insight (such as historical analyses and forecasts), or action (such as those intended to improve business performance). guide and facilitate management every step of the way.
Empowering Visual CRM
A prime consideration for any CRM application is userUser User means a person who uses or consumes a product or a service, usually a digital device or an online service. adaption. In stark contrast to traditional CRM, users love Pipeliner because it actually empowers them to sell and manage customers, with a minimum of dataData Data is a set of quantitative and qualitative facts that can be used as reference or inputs for computations, analyses, descriptions, predictions, reasoning and planning. entry. OnboardingOnboarding Onboarding is the process or act of introducing a new customer to your product or service; or integrating a newly hired employee into your workforce or team. and training time, (statistically proven), is a fraction of other CRM applications, simply due to Pipeliner's powerful simplicity.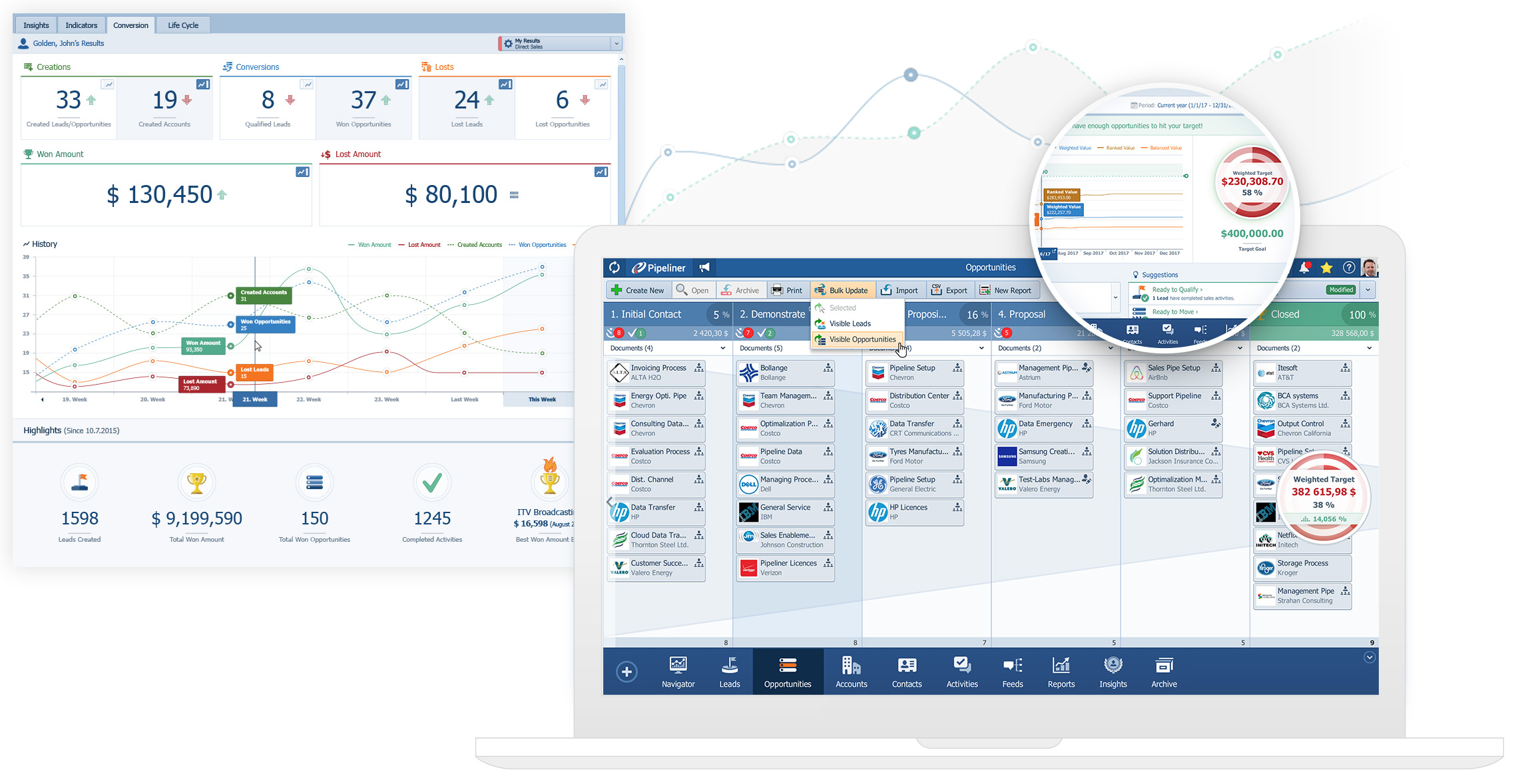 Sales-empowering CRM tailored to retail and corporate banking and financial institutions. Easily monitor and manage the complete customer experience from inquiry to loyal customer.