Traditional CRM solutions have often provided a complex view that left users scattered. DataData Data is a set of quantitative and qualitative facts that can be used as reference or inputs for computations, analyses, descriptions, predictions, reasoning and planning. was provided that certain users would never need, and it continually acted as a distraction. A bank or financial services company can scarcely afford to have agents distracted from selling and servicing customers.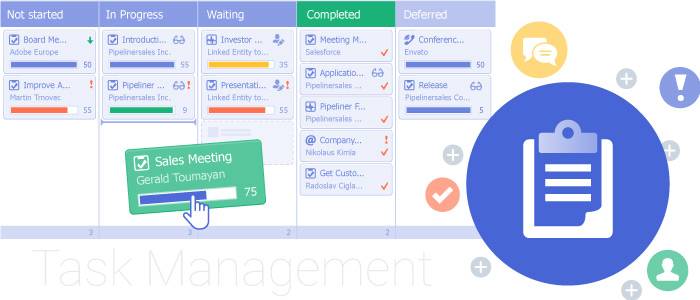 Pipeliner CRM can be precisely focused for each type of userUser User means a person who uses or consumes a product or a service, usually a digital device or an online service., so no distraction ever occurs. An agent within a bank or financial services company will need a specific view to customers and accounts:
Only that agent's or agent's group's pipeline

Pipeline

Sales pipelineis a visual representation of the stage prospects are in the sales process.

—opportunities available or being worked—can be viewed by that agent. This is true for each pipeline applicable to that agent.
Only leads assigned to that agent, or available for that particular agent to work, can be accessed by that agent.
Only Accounts and Contacts assigned to that agent or agent's group—including all data needed for dealing with a customer

Customer

Customer is an individual or an organization that purchases a product or signs up for a service offered by a business.

—are instantly viewable and actionable.
All communication—from email, phone notes, (even social media)—pertaining to any account

Account

Account refers to a record of primary and background information about an individual or corporate customer, including contact data, preferred services, and transactions with your company.

is also instantly viewable.
Activities—that agent's particular activities, task, and priorities, instantly viewable and actionable.
A series of activities and tasks for each process step can be set up for each agent and made mandatory if so needed.
An agent will have their own task board through which assigned tasks can be moved so that progress is clearly seen.
Insights—KPIs showing the overall performance of that agent.
Reports—all of Pipeliner's reporting features can be utilized and customized by any agent for their own view and use.
All agents' profiles are viewable together and separately by a manager, so that visual and intuitive real-time management is always enabled. Not only are agents kept focused, but management can also be focused for maximum target attainment, and sales and revenueRevenue Revenue is the amount of money a business generates during a specific period such as a year or a quarter; also called sales. achievement.
Focus is the key to success—and Pipeliner provides key focus for agents!
Screenshots