Agents can become overwhelmed managing opportunities that are in different stages of a process, and each with different needs. Pipeliner helps keep them focused and organized by allowing you to set a series of required activities that are linked to each particular stage.
With Pipeliner, activities and tasks can be visually and precisely managed for best practices, every time.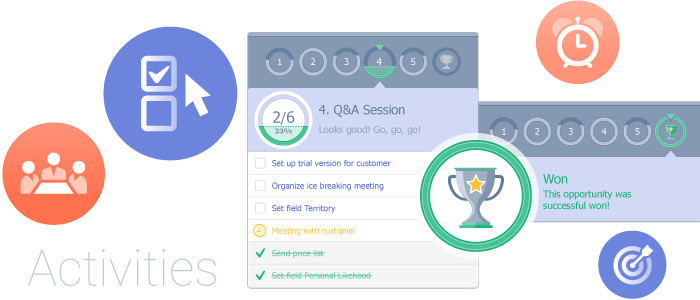 Day-To-Day Task and Activity Management
A Drag and Drop Activities Task Board visually displays an agent's daily tasks and which are integrated with emails, and reminders (even social interactions if required). Shareable tasks and activities make the progress of the entire team transparent, which makes managing and delegating tasks simple and efficient. The Task Management Filter gives managers and agents the option to search and filter tasks and opportunities easily. Two-way Integrations with other task management software (MS Office, Google Calendar) ensures that anyone can migrate their to-do lists into Pipeliner. And lastly, tasks and activities can be viewed by calendar in multiple display formats.
Automatic Task Creation
Now Pipeliner saves you even more time, with tasks automatically created as an opportunity or issue is moved into the next process stage. When an opportunity is moved to a new stage, a pre-defined list of tasks is suggested to the userUser User means a person who uses or consumes a product or a service, usually a digital device or an online service.. The user can accept, edit or reject the tasks.
Management can set activities and tasks that are suggested at each stage, and can rapidly edit or change them as needed.
Mandatory Tasks and Activities
Pipeliner also provides the option for certain tasks or activities to be mandatory–that is, they must be completed in order for a leadLead Lead refers to a prospect or potential customer (who can be an individual or organization) that exhibits interest in your service or product; or any additional information about such entity. or opportunity to be moved from one stage to the next.
History
The entire history of all accounts and tasks associated with a customerCustomer Customer is an individual or an organization that purchases a product or signs up for a service offered by a business. is right there to hand. This is even true for lost deals or accounts which have been retired—all associated dataData Data is a set of quantitative and qualitative facts that can be used as reference or inputs for computations, analyses, descriptions, predictions, reasoning and planning. remains completely visible in Pipeliner's unique Archive feature.
Screenshots