Pipeliner Feed
Within any opportunity in Pipeliner, the agent accesses the "Feed" section which shows email, notes from phone calls, and meeting notes—all right there, in order and visible. Email can be responded to from right within Pipeliner. If your organization allows access to social media platforms, an agent can also respond to social media postings as well. Email and social postings can be responded to from right within Pipeliner, and with all account specifics right there and available.
The Feed functionality also enables internal communication between agents or from managers.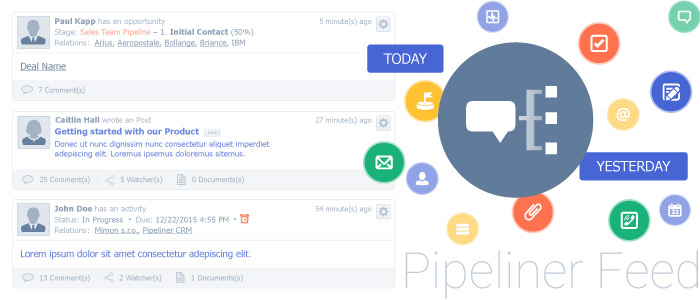 Notes Management and Integration
Part of communication within CRM is notes and notes management. There is always a need for notes in CRM–and Pipeliner makes note creation, management and sharing incredibly easy.
A CRM solution can have all the functionality in the world—yet there will still be times a salesperson or other CRM user will need to make specific notes about a conversation, an account, an opportunity or a contact.
With traditional CRM applications this was often done outside of CRM – in Notepad or another kind of doc, or even on hard copy sticky notes. It was then saved elsewhere, and hopefully could be retrieved again or shared when needed. Of course it could also be totally lost.
But like most other issues with traditional CRM, Pipeliner has solved this one, too.
Notes Throughout CRM
With Pipeliner, a user can create and save notes
from the main Pipeline View
from within an Opportunity
from within an Account
from within a Contact
from within an Activity
Notes can also be copied from one place to another, and shared with other users.
Analytics
Pipeliner's Analytics—specifically hit-rate manager—allow managers to track agent communication activity with regard to accounts. Always know if the right accounts are receiving the right attention.
Screenshots