We know that banks use other platforms in addition to their CRM tool. We've done our best to save them time, clicks, annoying scrolling, and the shock of noticing that they have 37 tabs open. We've accomplished this by making integrations available right from within Pipeliner CRM!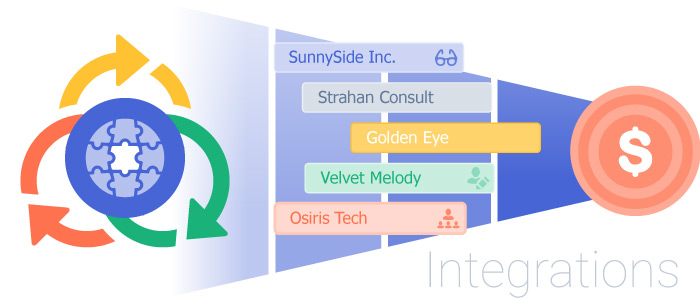 Pipeliner has CRM integrations with 50+ popular apps, so agents can work more efficiently. These include:
Email, Calendar, Contacts and Tasks—We have deep email and Google CRM integrations with all the main mail services: Office, Outlook, Gmail, as well as GoogleDocs.
Accounting Apps—Manage invoicing and bookkeeping with apps like QuickBooks, Xero, and FreshBooks.
Marketing Automation—Use many of the most popular automated solutions for your email marketing outreach, synced up to your Pipeliner CRM system. For email campaigns, for instance, we support MailChimp, ExactTarget, Act-On, Marketo, Constant Contact, Vertical Response, Mad Mimi, and more.
Data Import and Synchronization—Have access to the best data and the best intelligence and accelerate your sales from within your CRM. Explore useful contact integrations with apps like Capture!, Import2, and Brandizi. Store your information safely on Dropbox, Box.com, and GoogleDrive—and access it from within Pipeliner CRM
Support, Chat, and Helpdesk—Manage customer support, customer service, tech support and track them from within Pipeliner CRM with FreshDesk and ZenDesk. Manage chat functionality on your site with Olark.
Document Creation and Quote Management—Connect documents and quotes to any stage of your deals in Pipeliner CRM with PandaDoc. Connect Dropbox, Box.com, and GoogleDocs to Pipeliner so everyone has the latest version and stays on the same page.
Social Media (if applicable)—Connect Pipeliner CRM to all the major social channels and track your social success with our Klout integration.
Event Creation and Tracking—You and your team can coordinate your calendars, conduct GotoWebinars, and handle ticketing through EventBrite to help you keep organized when events have to be perfect. It happens in your CRM.
Custom Integrations
Our CRM integration strategy is to work with partners who enable users to build custom workflows for business productivity. We feature an open API in C#, Java, PHP, Ruby Software Development Kits (SDK's), which can be accessed and integrated easily by other vendors (and app integrators).
We're alway open to the most popular app and platform integrations — feel free to make a suggestion on our Feedback Forum! Check back often!
Screenshots