Setting the system up correctly from the start!
Why are units so important?
Units are a way of capturing your company structure — i.e. your internal org chart. Units (also called Sales Units) can represent sales territories, teams, even subsidiary companies within a group. They will affect everything from reporting to user rights.
All About Units:
What is a User Role & why is it important?
Each user of Pipeliner CRM has access rights that are based on a User Role. The specific User Role acts as the security framework to determine what they can access in Pipeliner.
All About User Roles:
Pipeline Process
The Key to Predictable Revenue
A Sales pipeline (or process) is a precise expression of a company's sales process. It consists of the individual steps taken by salespeople from the initial contact with a prospect to qualifying the prospect into a lead, further validating that lead into an opportunity, and following through the remainder of the sales stages to a close.
All About Process: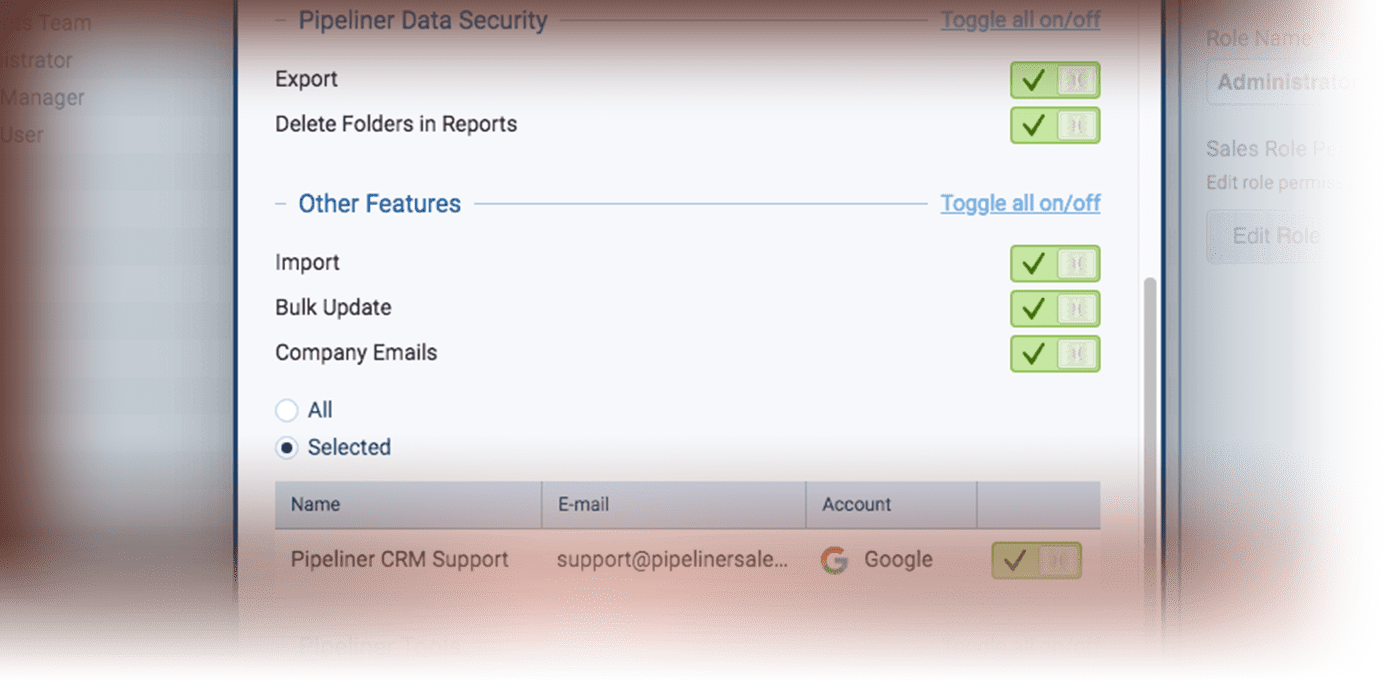 Your Company Emails
Whether you're sending marketing communications or notifications, sometimes you want to send emails from a company email account such as "marketing@mycompany.com" instead of your personal account.
The Company Emails tab allows you to add in these company emails for use in Pipeliner. Company emails can be used for mass emails, standard emails, or via the Automatizer.
Actions & Activities
Actions & Activities are what drives opportunities through the pipeline.
Sales Action fields added to Opportunities allow you to enforce your sales process by requiring your users to enter data but only at the relevant stage of the Opportunity pipeline.
All About Actions:
Activities in Pipeliner are Appointments (meetings that you have) or other day-to-day actions such as making phone calls or sending emails, these are known as Tasks. You'll link Activities to your Leads and Opportunities so you can keep track of the history of what's already been done as well as your next planned actions.
All About Activities:
Customer-Centric Approach (Blog)
Product Catalog/Categories/Line Items
Customizing Pipeliner with your own Price List & Product Catalog is very straightforward.
The Products/Services & Pricing offered by your company can be added to Pipeliner allowing your team to select the products, quantities, and pricing for their prospective sales (Opportunities) and even add specific custom information against each selected Product. Pipeliner can then sum the value of the Products selected and update the total value of the Opportunity in question (if you choose to).
All About Product Catalog:
Using Webforms To Create Leads, Accounts, & Opportunities
Gathering data from prospects or leads is made easy with Webforms & other tools!
The Pipeliner CRM Google Forms Add-On allows you to quickly capture sales leads, contacts, accounts, or tasks directly into Pipeliner CRM when a form is submitted by email, via a link, or from a website. The Web Clipper enables you to clip pages, add social profiles such as LinkedIn & create contacts, accounts, opportunities & leads in Pipeliner
All About Webforms:
Integrations & API
You likely have other core technology applications that you use in your business so integrating them with Pipeliner CRM will help with efficiency and workflow.
Pipeliner provides a number of different ways of doing this from using our native integrations or using third-party tools like Zapier or Tray.io or you use our API to build your own integrations.
The first thing you should do is ensure that everyone has their email system (Outlook or Gmail) setup & working with Pipeliner & they are using the Outlook or Gmail Add-in.
All about Integrations & API:
Automation & Digital Transformation
Now is the time to automate some of your business using the Automatizer!
Pipeliner's no code, workflow automation engine The Automatizer will make a huge difference to your business. Now you can automate routine or repetitive tasks and allow more time for selling!
Automatizer Links:
Additional Sales Process Resources
Continue on your Pipeliner CRM journey…