"Ask 100 different people at 100 different companies why their clients buy from them, and you'll likely hear 100 different answers with the same underlying theme: the value we provide."

Whitepaper,

RAIN Group
Deliver Value
Pipeliner CRM has robust accountAccount Account refers to a record of primary and background information about an individual or corporate customer, including contact data, preferred services, and transactions with your company. management features so that you can add value to your customers.
The Org Chart visually shows the hierarchy within your customerCustomer Customer is an individual or an organization that purchases a product or signs up for a service offered by a business.'s organizationOrganization Organization is a cohesive group of people working together and formally bound by a shared identity (e.g., one team, company, club, etc.) and a common purpose (e.g., business growth, athletic victory, etc.).—cards with specific contacts are placed in a hierarchical relationships to one another.
Org Chart Features
Indicate Strenght of Relationship

Highlight Level of Influence

Add Comments to Card View

Click on the Contact to see Feeds (email & text)

Highlight Attitude to your ProductProduct Product refers to anything (an idea, item, service, process or information) that meets a need or a desire and is offered to a market, usually but not always at a price./Service
Relationship Graph
Similar to the Org Chart is the Relationship Graph, which utilizes the same kind of cards. The Relationship Graph doesn't show the hierarchy, but indicates influence, even by those outside your customer's organization such as partners and consultants.
Your account managers should be aware of these relationships, as their goal is to expand accounts, which cannot take place without details such as these.
Creating Value is a Team Sport!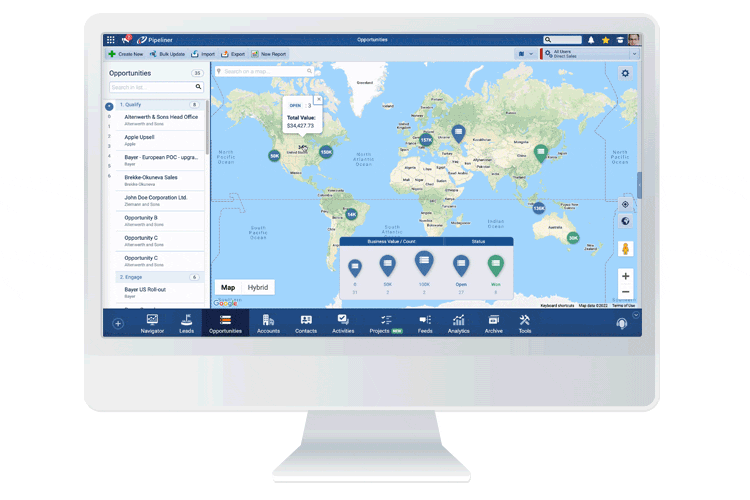 Account Management requires a team effort and every team member needs access to dataData Data is a set of quantitative and qualitative facts that can be used as reference or inputs for computations, analyses, descriptions, predictions, reasoning and planning. about their own activities and tasks in relation to an account. Because different people are viewing and working with an account, Pipeliner provides different views.
Not only do people have different preferences in the way they view data, but different roles within a company have different requirements for viewing data as well.
"If you're going to drive value proactively, a variety of people will need to do a variety of things. People on your team need to create action plans detailing what everyone needs to do, hold people accountable, and manage the whole strategic account growth process."

Whitepaper,

RAIN Group
Continue on your Account Management journey…