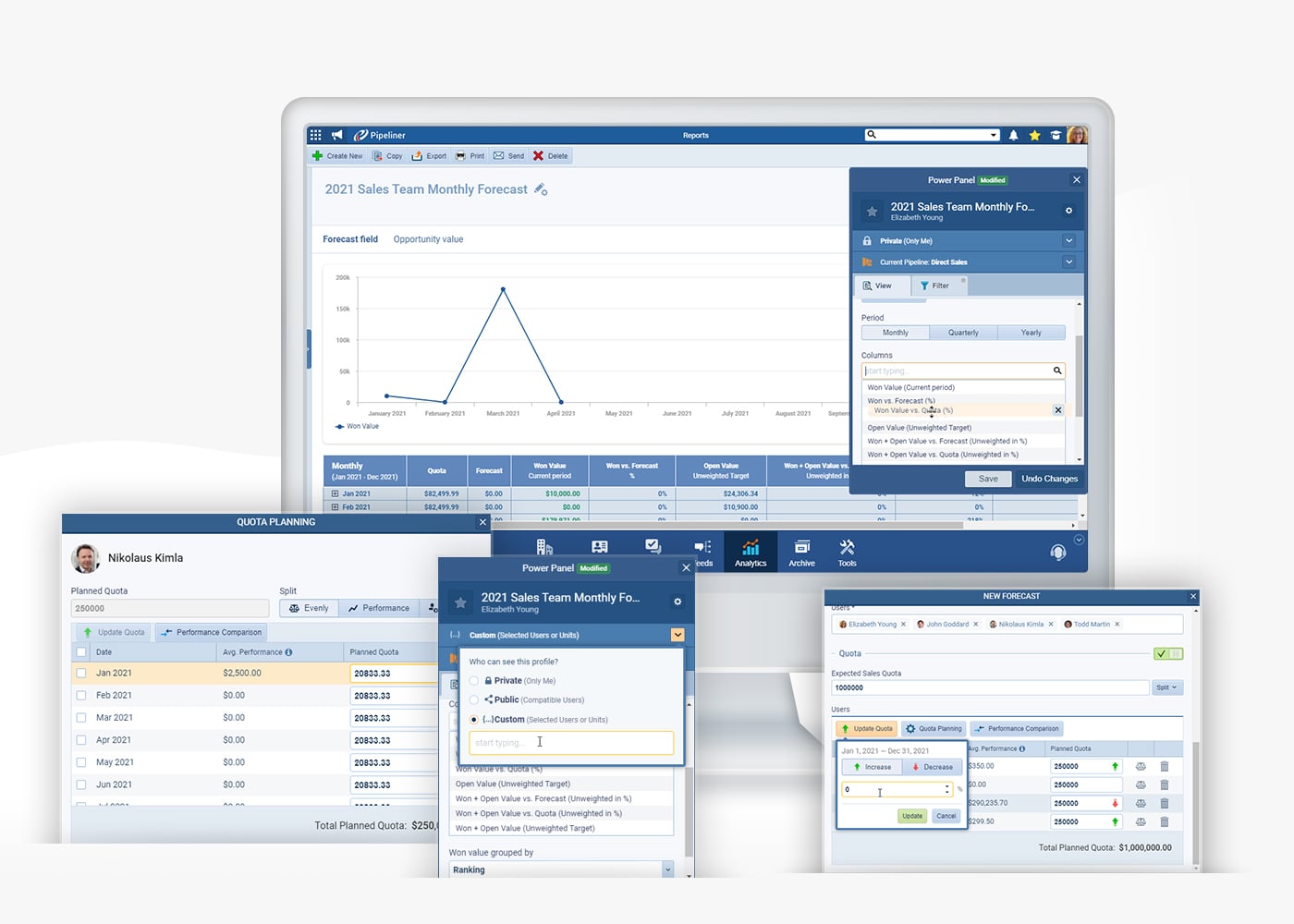 Quotas & Forecasting

Forecasting

Forecasting is a prediction or calculation of a trend or event likely to occur in the future based on qualitative, quantitative and historical data as well as emergent but relevant factors.
Another important foundational aspect of accountAccount Account refers to a record of primary and background information about an individual or corporate customer, including contact data, preferred services, and transactions with your company. management—and sales itself—is the handling of quotas and forecasting.
The Quota

Quota

Quota is a predefined benchmark indicating the amount of sales a selling unit such as a sales rep or a regional sales team should achieve within a given period, often used as a measure of success, performance and eligibility for commissions and other rewards.

& Forecasting Challenge
Most companies do top-down quota setting without any meaningful collaboration or dataData Data is a set of quantitative and qualitative facts that can be used as reference or inputs for computations, analyses, descriptions, predictions, reasoning and planning. analysis

Fewer than 20% of sales organizations have forecast accuracy of 75% or greater (Miller Heimann)

40% of sales operationsSales Operations Sales Operations is a collection of aligned business processes, strategic implementations and other activities aimed at achieving organizational goals, specially in the areas of sales revenue, market coverage and growth. leaders identified seller subjectivity as their greatest challenge to forecast accuracy (Miller Heimann)
"If you make a sale, you can make a living. If you make an investment of time and good service in a customerCustomer Customer is an individual or an organization that purchases a product or signs up for a service offered by a business., you can make a fortune."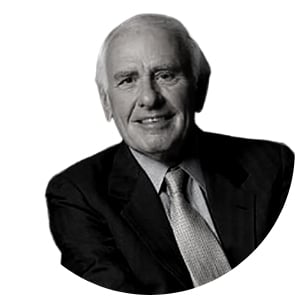 Jim Rohn,

Author & Motivational Speaker
The TARGET!
Opportunity management, in each of its phases, should be totally aligned to the sales target for that sales period. Pipeliner is also unique in this regard in that the target for the current sales period is always in view, and therefore always in mind for the sales team and sales managerSales Manager Sales Manager is an executive who leads a sales unit, team or department by setting goals and meeting targets, formulating plans and policies, designating tasks, and developing salespeople..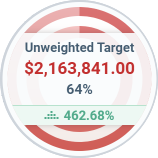 Unweighted Sales Target
The combined value of everything in your pipelinePipeline Sales pipelineis a visual representation of the stage prospects are in the sales process..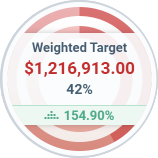 Weighted Sales Target
This is where you can see the effectiveness of your sales processSales Process Sales Process is a series of strategic steps or a set of activities aimed at driving sales growth through the alignment of personnel, market insight, methodologies, relevant business units, and technology. as this target is based upon the weighting at each stage of the sales process.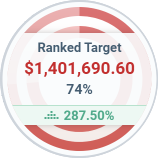 Ranked Target
This is the subjective ranking of opportunities by the salesperson – a good indicator of how accurately salespeople can forecast their own deals.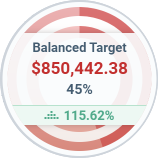 Balanced Target
This is a combination of the Weighted and Balanced Targets and is often the most realistic number to use – particularly when you are operating a sales "War Room".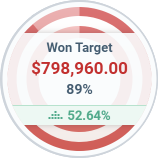 Won Target
The business you have actually won.
War Room
The war room meeting is centered around the overall target for a sales period.  You need a visual tool like Pipeliner CRM to execute it efficiently and consistently. Here are some elements to use in your War Room meetings (for even more detail click here):
Learn From The Past!
In order to accurately understand how much unweighted value you need to achieve a target, you need to look back at your history. What percentage of your target, overall, have you achieved in the past?

This is a typical lagging indicator—meaning an indicator that shows what we have previously achieved.

As you improve, you'll need less unweighted opportunity value to reach your target, because you'll be incrementally optimizing your conversionConversion Conversion is the process of turning a target consumer into a paying customer; or more generally, the point at which a user performs a specific action favorable to a marketer or a seller. rate.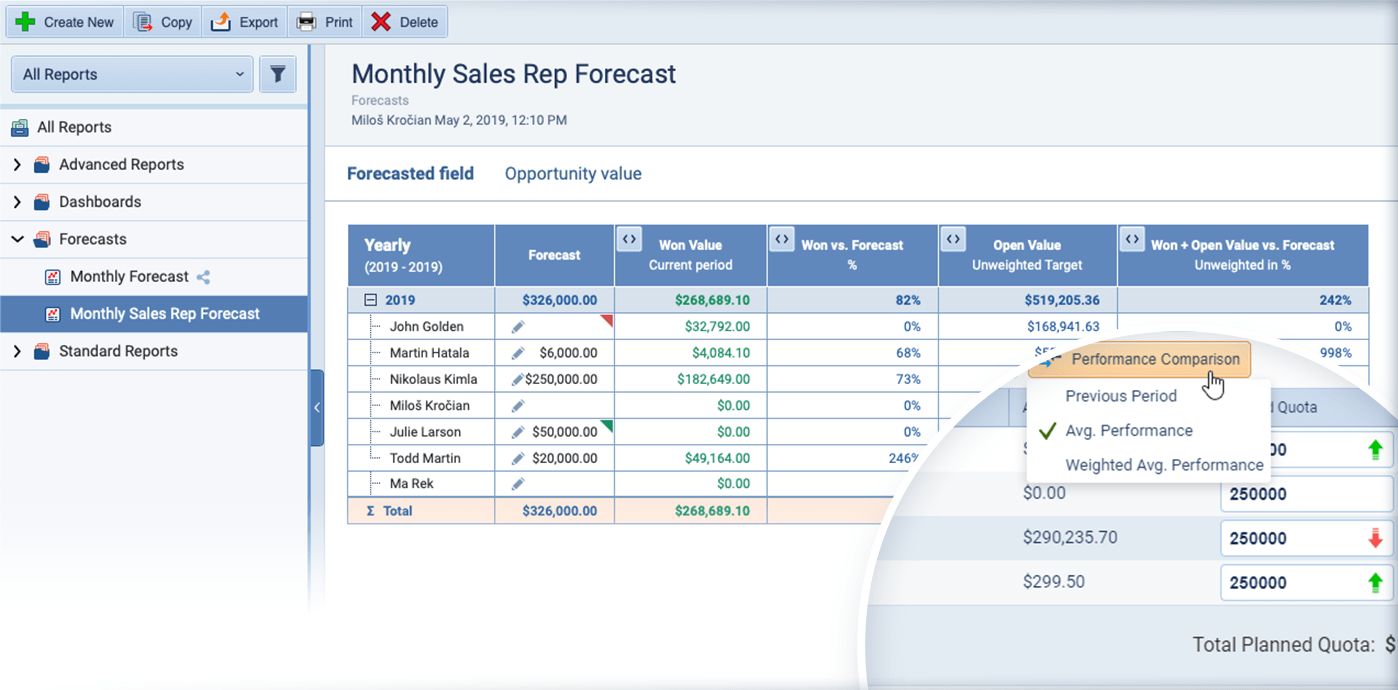 Simple Quota Considerations
The Individual › Quota should be calculated according to the experience & past performance of the individual salesperson as well as the potential their territory or target market has
The Benchmark › Sales yield is also important — the average annual sales revenueRevenue Revenue is the amount of money a business generates during a specific period such as a year or a quarter; also called sales. per full-time, fully trained, and effective sales representative. Here you use historical data to calculate the expected yield from reps with different tenures – for example, historically a first-year salesperson likely yields a small amount of revenue historically whereas a five-year veteran would be expected to deliver significantly more.
Pipeliner provides a tool that makes it easy to set quotas and manage forecasts:
Set up monthly, quarterly, and yearly quotas

Add in the various salespeople that will contribute to making the overall quota

Adjust quotas for each person based on experience, skill & business development potential
The overall quota, as well as the individual quotas, can be increased or decreased individually, or by applying a uniform percentage. With the Performance functionality, you can view and compare the performance of each salesperson.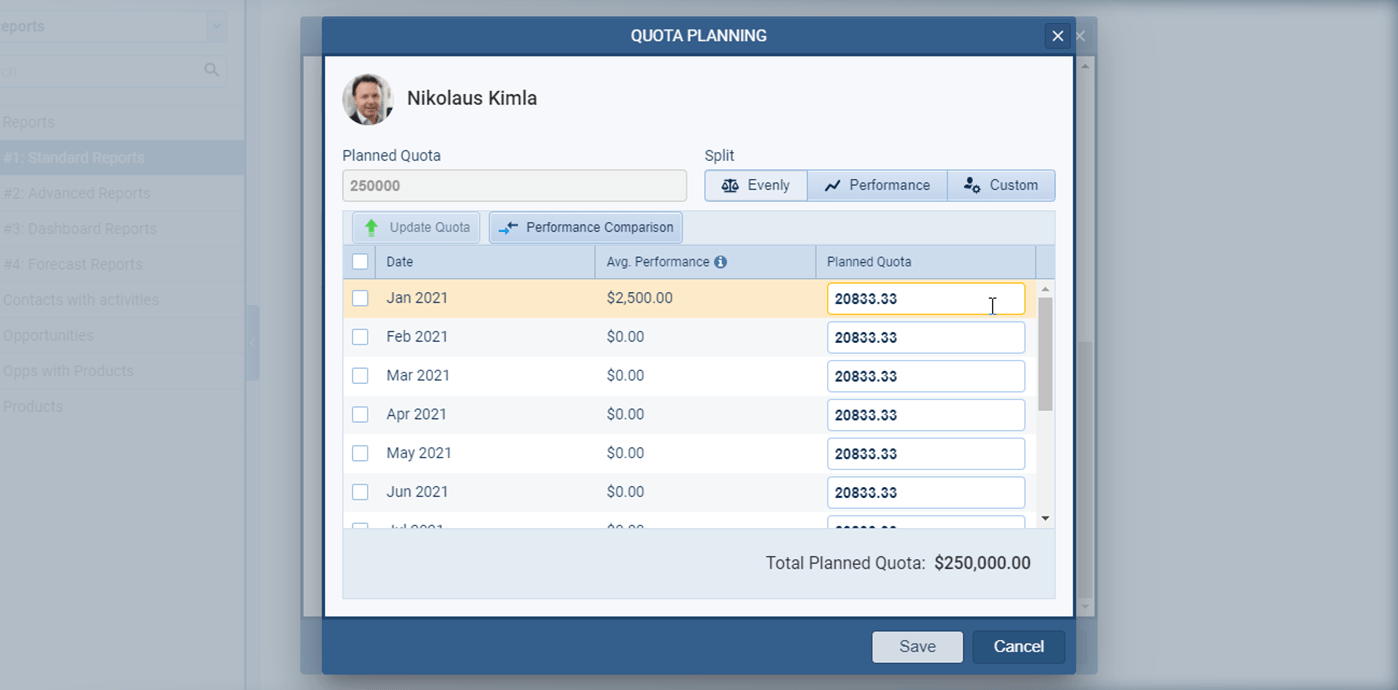 Using this tool, management and salespeople can agree on realistic quotas based on real data and analyticsAnalytics Analytics is the active study of different types of data with the aim of discovering meaningful patterns and translating these into insight (such as historical analyses and forecasts), or action (such as those intended to improve business performance)..
Your business cannot operate on guesstimates so Pipeliner's quota tool leverages underlying historical sales data to set quotas. Plus a simple review of closing and win rates will quickly tell the salesperson how much pipeline they need to generate in order to hit their quota.
Forecasting
Forecasting is the predictions salespeople make against quota attainment (you may require forecasts weekly, monthly, quarterly, etc, depending on your business).
Things to be aware of…
Lookout for over-optimistic forecasts and help the salesperson be more accurate and realistic by reviewing their pipeline opportunities in detail paying particular attention to ones they forecast that was lost.
Also, watch out for the "sandbaggers" — these are your salespeople who like to under-forecast and over-deliver — you need to make sure they understand that accurate forecasting is paramount for business planning.
The forecast should be constantly adjusted to the opportunities currently in the pipeline. If you find that you don't have the opportunities in the pipeline needed to reach a quota, you need to take immediate action. That's a challenge everyone in sales faces.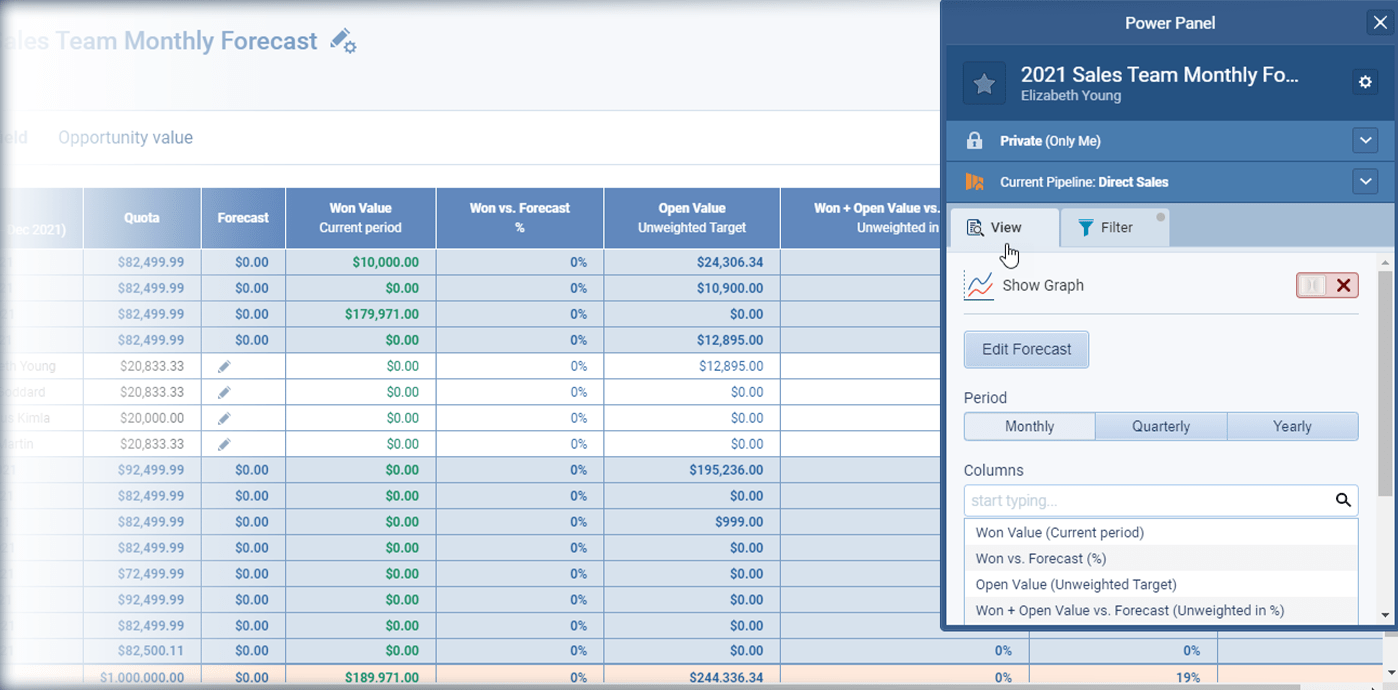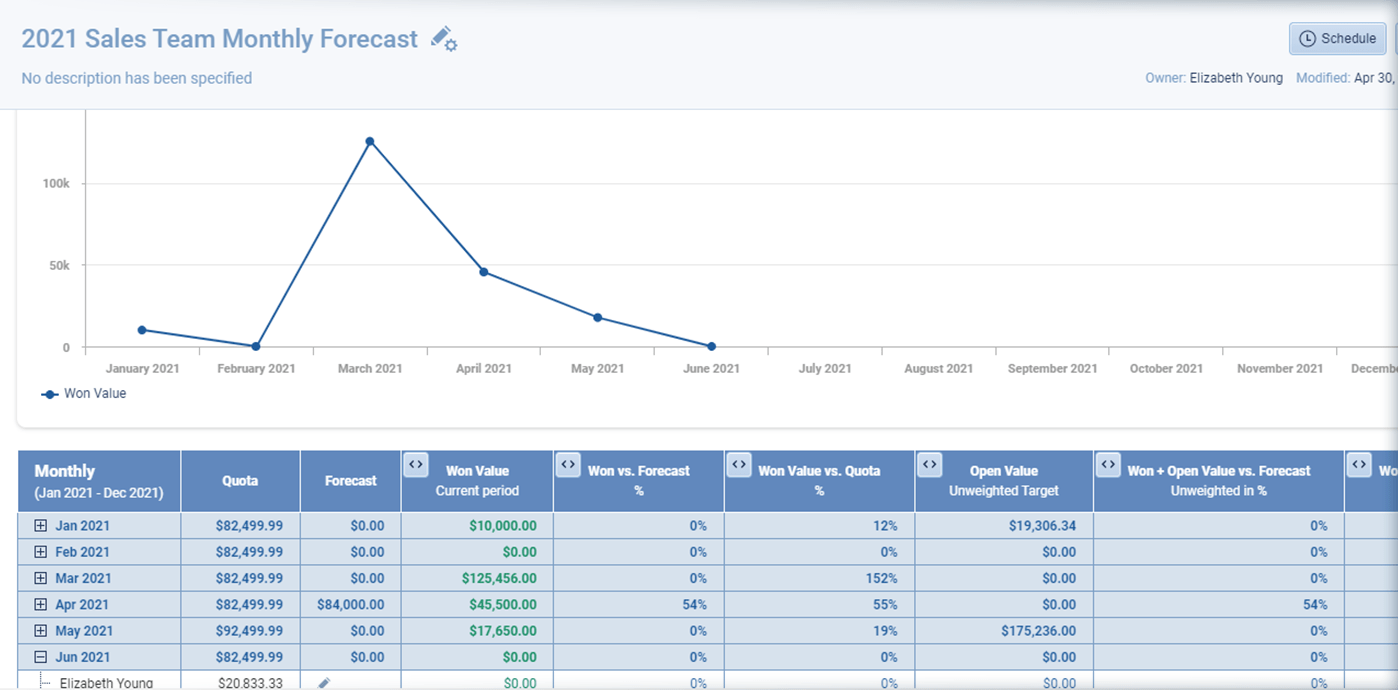 Pipeliner CRM Forecasting Tool
A line graph at the top of the tool, in real-time, shows the current sales forecasts out through time. Sales and company management can always view the most up-to-date and accurate forecast. The better the daily sales process, pipeline forecasting, and analytics, and the more these factors work together, the more accurate the forecasts will be.
In many public companies, there is almost zero tolerance for inaccurate forecasts, as investors won't tolerate an even 5 percent variation from a forecast.
With our forecasting tool, we are providing small, medium & enterpriseEnterprise Enterprise (in the context of sales) is a relatively large organization typically composed of multiple levels, locations, and departments which need multi-layer software systems that support collaboration across a large corporate environment. businesses with the ability to forecast with confidence and higher levels of predictability.
"A sales quota might be the goal of an average salesperson but it's the starting point for the high achiever."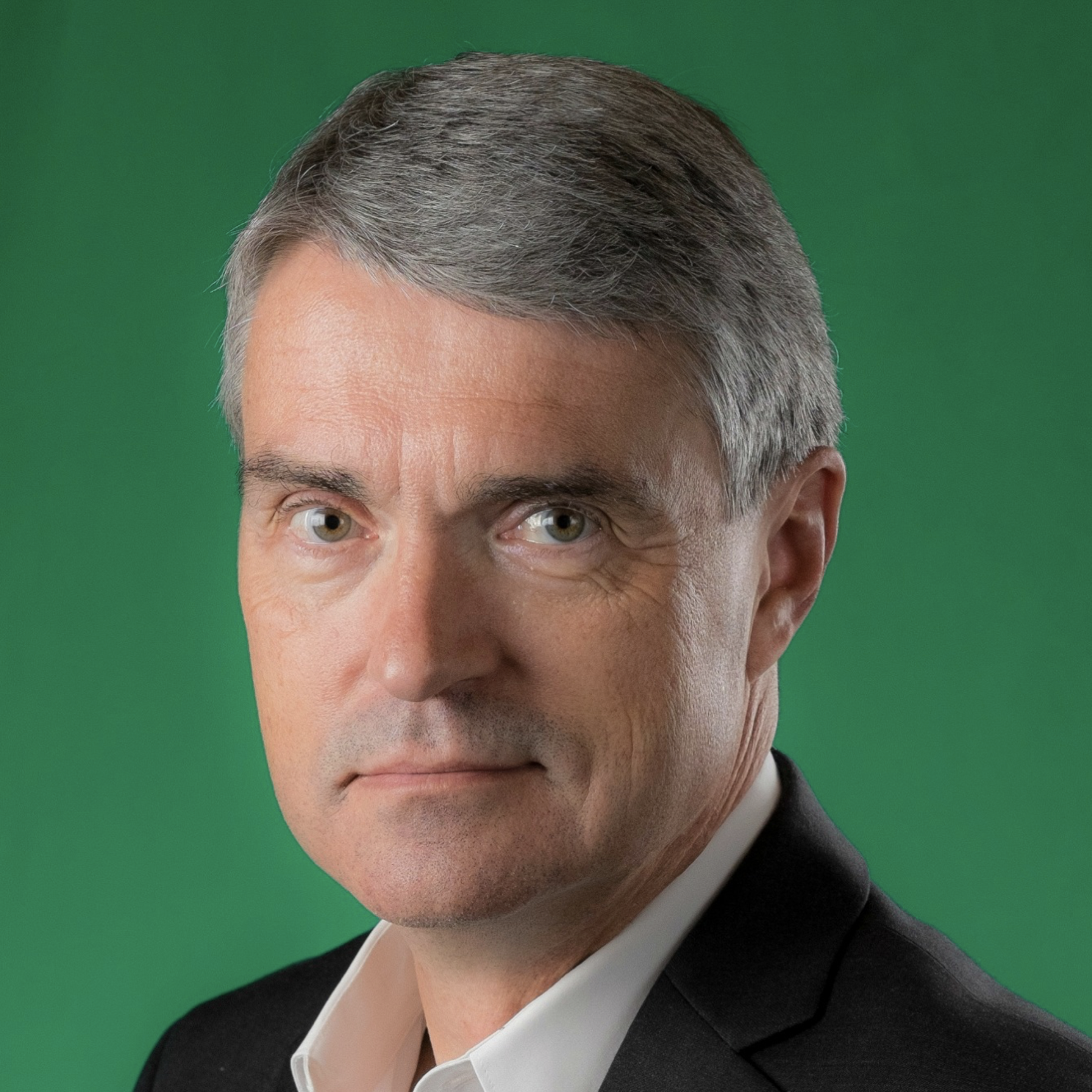 Mark Hunter,

The Sales Hunter
Continue on your Account Management journey…