About Nikolaus
Nikolaus is a true entrepreneur: over the last 40 years he has created six businesses, three of which are still going strong today. His experience in the software industry goes back over 20 years to his founding of uptime ITechnology. Through his work at uptime he learned software development from the ground up and, as noted above, the company has been a resounding success.
Following the project of World Check (World Check was acquired by Thomson Reuters 2011), which uptime has completed developed and overseen the IT for more than 10 years and still working today on it,  Nikolaus's attention turned to sales—for he felt that salespeople were seriously undervalued and unsupported in today's business world.
Thus began the 8-year journey that ultimately resulted in Pipeliner CRM—a unique solutionSolution Solution is a combination of ideas, strategies, processes, technologies and services that effectively helps an organization achieve its goals or hurdle its challenges. that actually empowers salespeople to sell instead of burdening them with cumbersome administrative duties as traditional CRM solutions have.
Role at Pipeliner
"I'm CEO and founder of pipelinersales.com and uptime ITechnologies, which I founded in 1994 and which has since played a significant role in the development of the IT-environment."
Technology is nothing. What's important is that you have a faith in people, that they're basically good and smart, and if you give them tools, they'll do wonderful things with them.
– Steve Jobs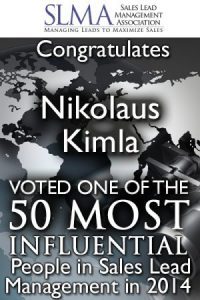 Voted Top 50 Most Influential