Improve leadLead Lead refers to a prospect or potential customer (who can be an individual or organization) that exhibits interest in your service or product; or any additional information about such entity. quality and drive lead generationLead Generation Lead Generation is a set of activities aimed at generating interest around a product or service through methods such as 1. content marketing (blogging, podcasts, free downloads); 2. advertising (PPC, banner ads, Yellow Pages, sponsoring an event); 3. referrals (recommendations from existing customers and other people); 4. outbound marketing (cold email, cold calling), and 5. partnerships (joint ventures, affiliate marketing). campaigns with Act-On MarketingMarketing Marketing is the field, set of actions, or practice of making a product or service desirable to a target consumer segment, with the ultimate aim of effecting a purchase. Automation for Pipeliner CRM.
About Act-On
As the industry-leading Marketing Automation provider, Act-On Software empowers marketers to achieve purposeful and personalized engagementEngagement Engagement is the state or process of keeping a specific class of audience (employees, management, customers, etc.) interested about a company or brand and invested in its success because of its perceived relevance and benefits to the audience. for optimal business growth. Act-On's Adaptive Marketing solutions make customerCustomer Customer is an individual or an organization that purchases a product or signs up for a service offered by a business. dataData Data is a set of quantitative and qualitative facts that can be used as reference or inputs for computations, analyses, descriptions, predictions, reasoning and planning. actionable, enabling marketers to strategize better business outcomes, drive more relevant multi-channel marketing, and generate higher customer lifetime value–all with the fastest time-to-value.
Act-On's simple, powerful, cloud-based integrated marketing automation platform puts first-rate marketing tools at your fingertips. Act-On provides everything you need to easily and quickly create, test, deploy, and measure your campaigns. It allows you to build engagement and relationships with direct-response email, social marketing, as well as score and nurture leads through the entire customer lifecycle.
Key Features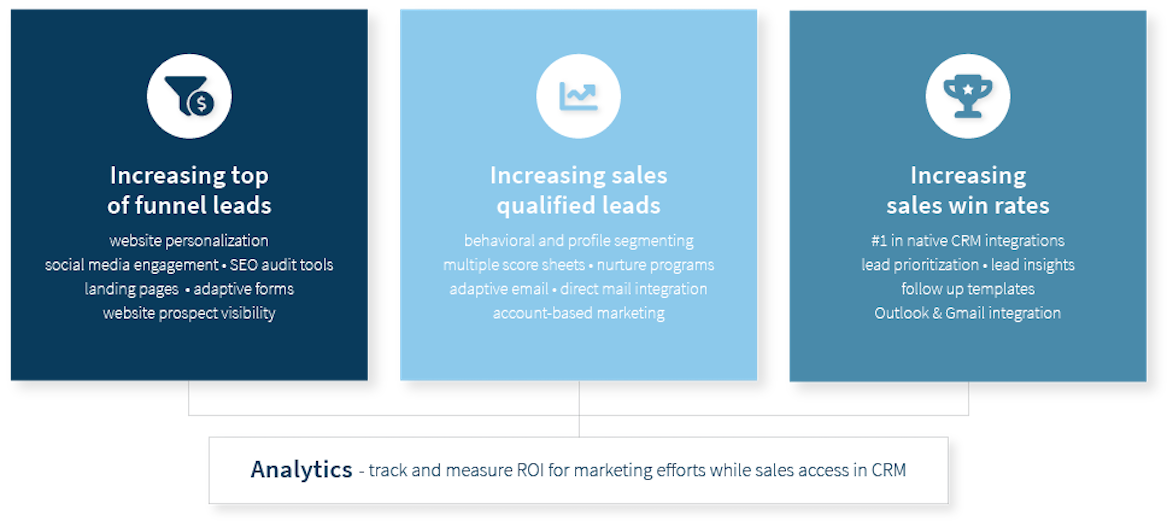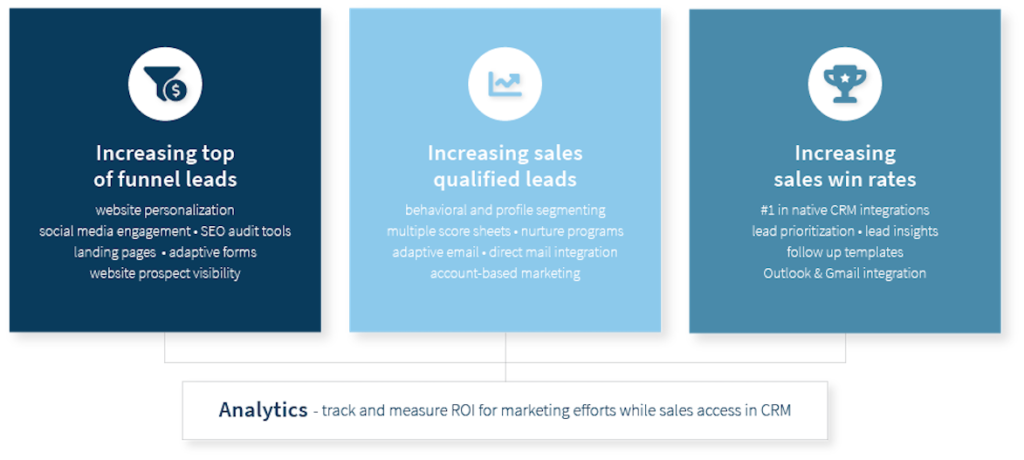 Pipeliner to Act-On Integration
Business professionals that want to integrate Act-On with Pipeliner CRM like that Pipeliner's native integration give them the power to sync all data, connect deeply, and configure flexible workflows. With Pipeliner, organizations can:
Create custom workflows
Receive hands-on support for ensured success
See how Pipeliner's enterpriseEnterprise Enterprise (in the context of sales) is a relatively large organization typically composed of multiple levels, locations, and departments which need multi-layer software systems that support collaboration across a large corporate environment.-scale API integration platform can transform your business. Request a demo today of Act-On integration, and automation.
Learn More About Pipeliner CRM
Take a no-obligation 14 day trial of Pipeliner CRM.
No credit card info required – just experience for yourself how it could impact your sales.