GleanQuote Integration with Pipeliner CRM
About GleanQuote
Quote Anything in Minutes – Any Pricing, Any Currency, Any Language, Any Design. Save time and eliminate costly errors by managing your products, pricing, and proposals all in one place. Integrates with Pipeliner CRM.
If your company is sending quotes and proposals to your customers, our GleanQuote integration will help you simplify the process while increasing your ability to quote and close more business.  All of your Pipeliner Leads, Contact, and Opportunity dataData Data is a set of quantitative and qualitative facts that can be used as reference or inputs for computations, analyses, descriptions, predictions, reasoning and planning. is merged for use as variables. This saves time and reduces costly mistakes.  Proposal activity syncs to Pipeliner Activity.
GleanQuote Features:
Advanced Pricing and Product

Product

Product refers to anything (an idea, item, service, process or information) that meets a need or a desire and is offered to a market, usually but not always at a price.

Options
Searchable Product and Pricing Catalog
Quote Editor with custom settings
Advanced user

User

User means a person who uses or consumes a product or a service, usually a digital device or an online service.

permissions and pricing controls
Multi-Language and Multi-Currency
E-Sign and E-Payment
Drag and Drop Proposal Builder
Custom HTML Element
Activity Tracking Sync to Pipeliner
User and Recipient Notifications and Reminders
Quick – Start
3 Easy steps to get started with GleanQuote for Pipeliner CRM
1. Enable Integration and map data fields
Click Here for Integration Setup
2. Click Quick start and select a templateTemplate Template is a generic file with a framework showing the standard sections or features of a specific kind of document, used to create a new document of the same type faster and easier.
3. Edit Quote Table and Send Proposal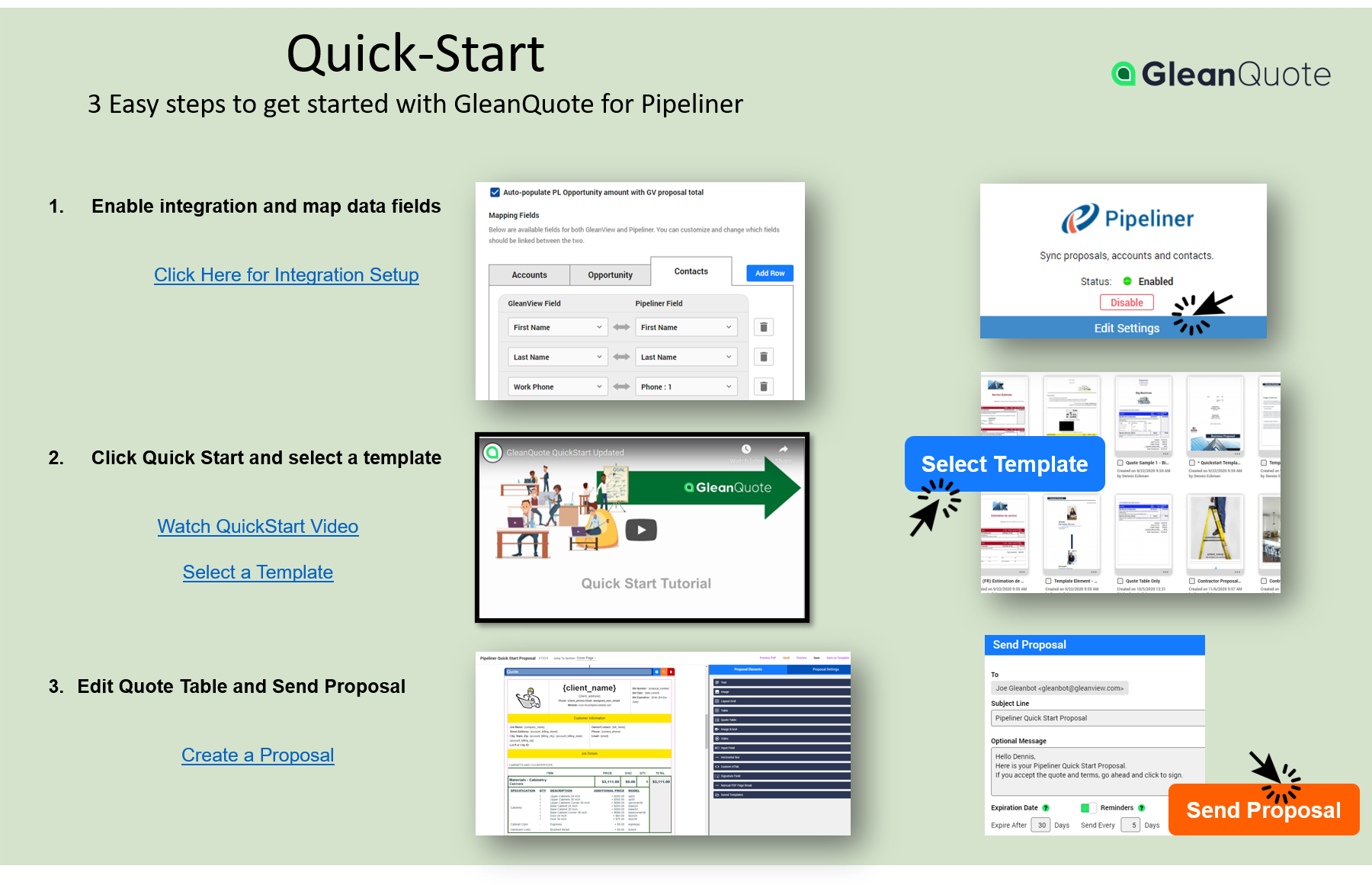 Merge and Edit
LeadLead Lead refers to a prospect or potential customer (who can be an individual or organization) that exhibits interest in your service or product; or any additional information about such entity., Opportunity and Contact data merged to Proposals for Accuracy and Speed.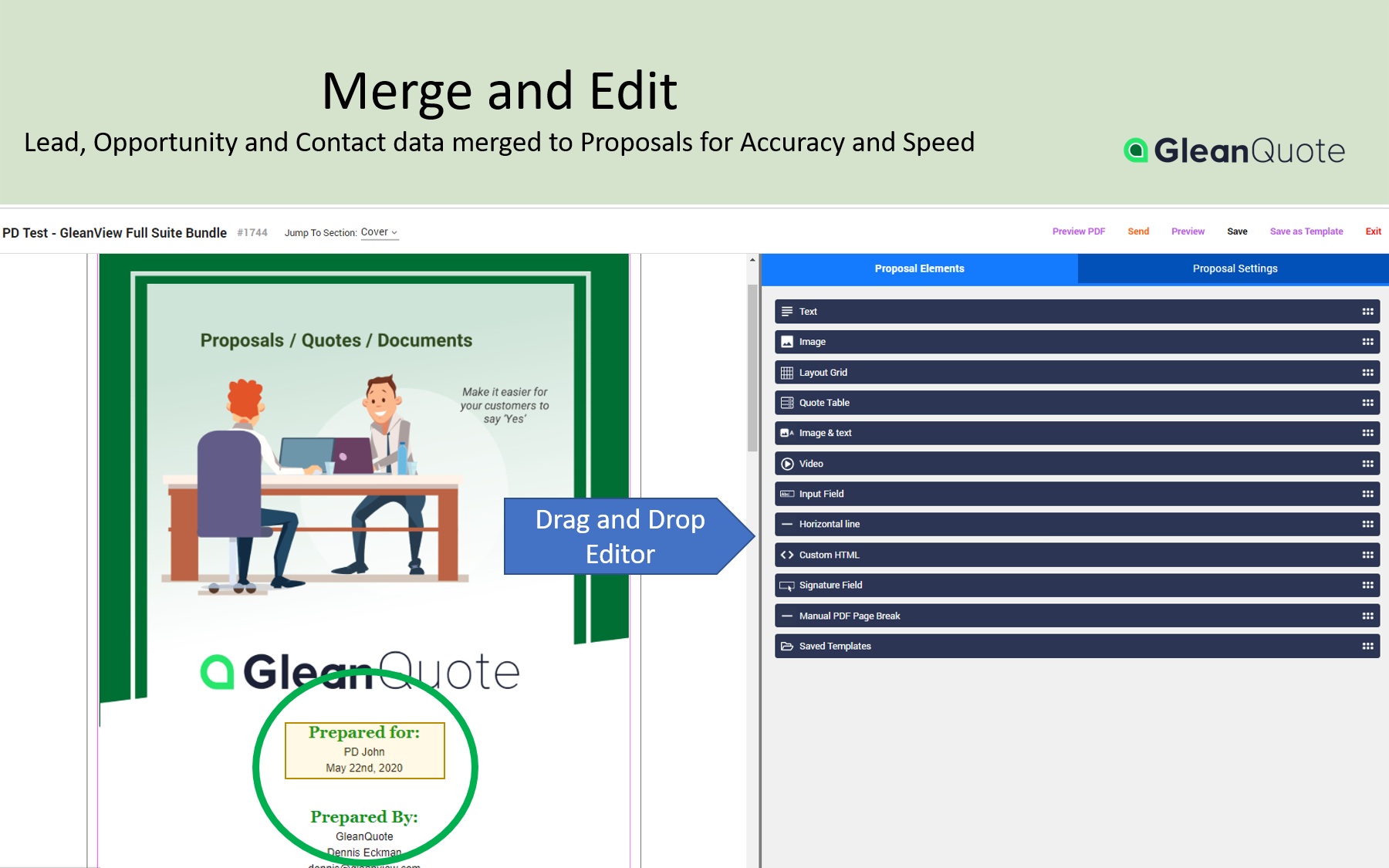 Quote Anything
Any pricing
Any Language
Any Currency
Any Design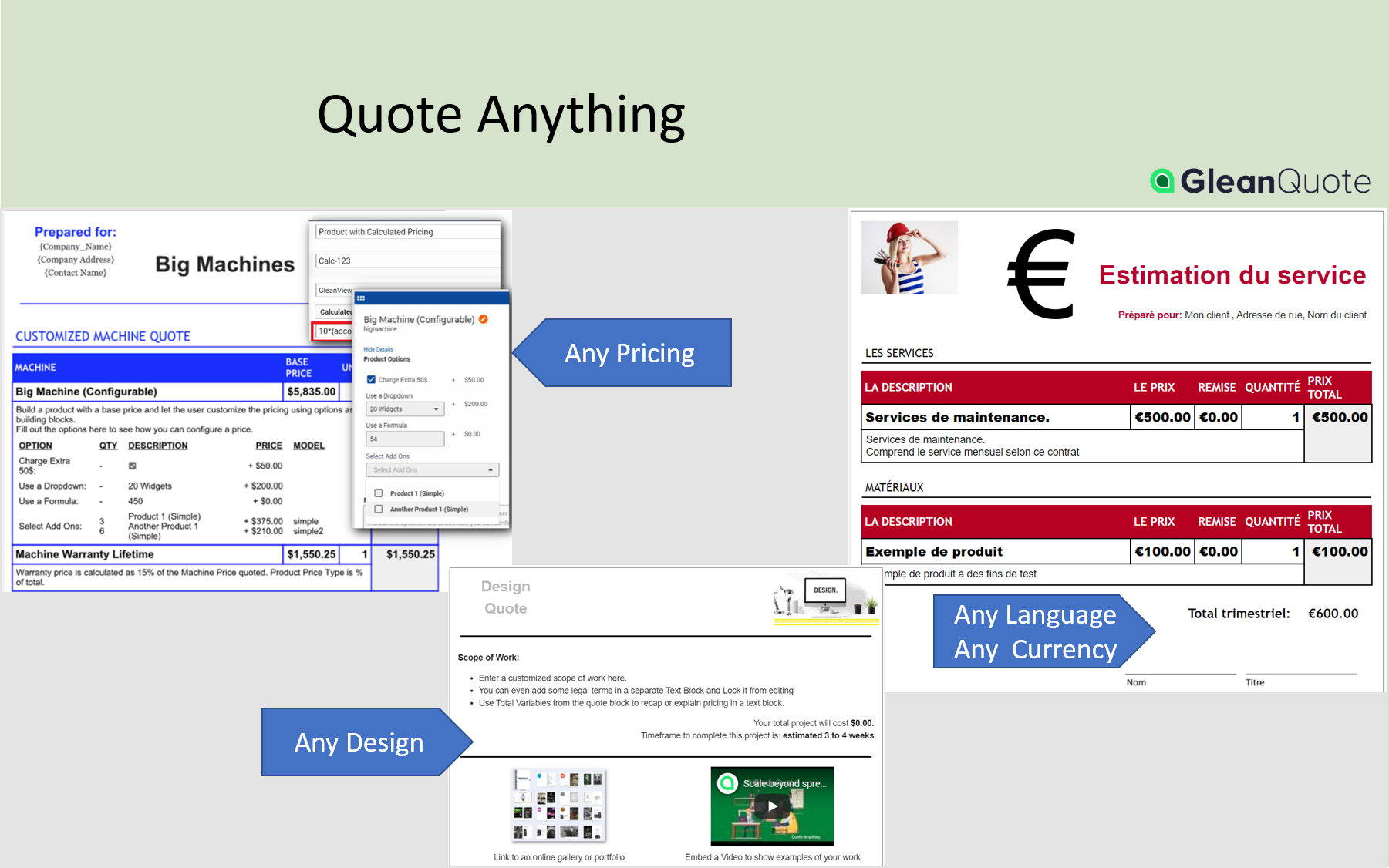 E-Sign
Send for fast approval and signatures on any device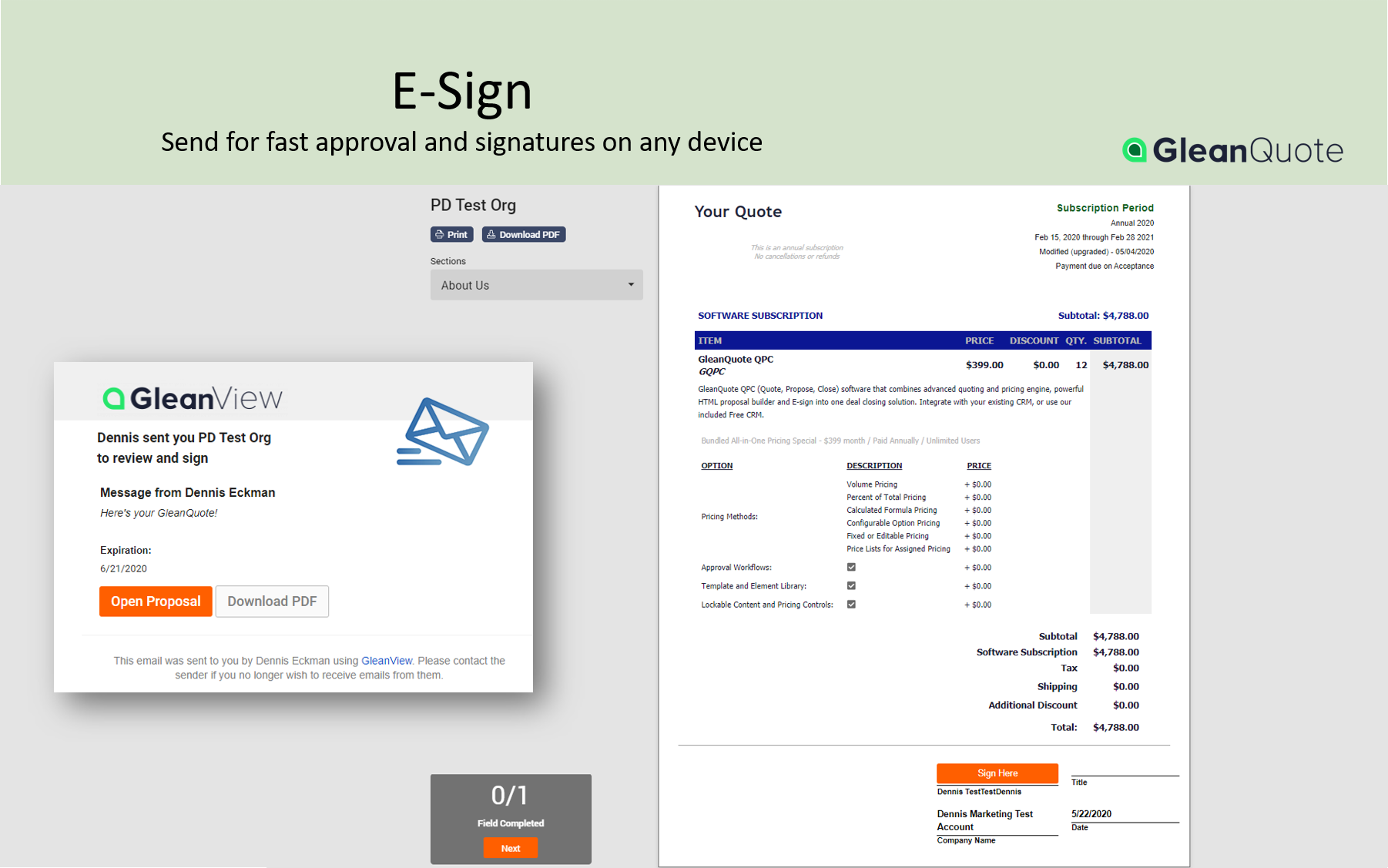 Activity Sync
All Proposal Activity synced back into Pipeliner for quick view
Track:
Created
Edited
Viewed
Signed
Completed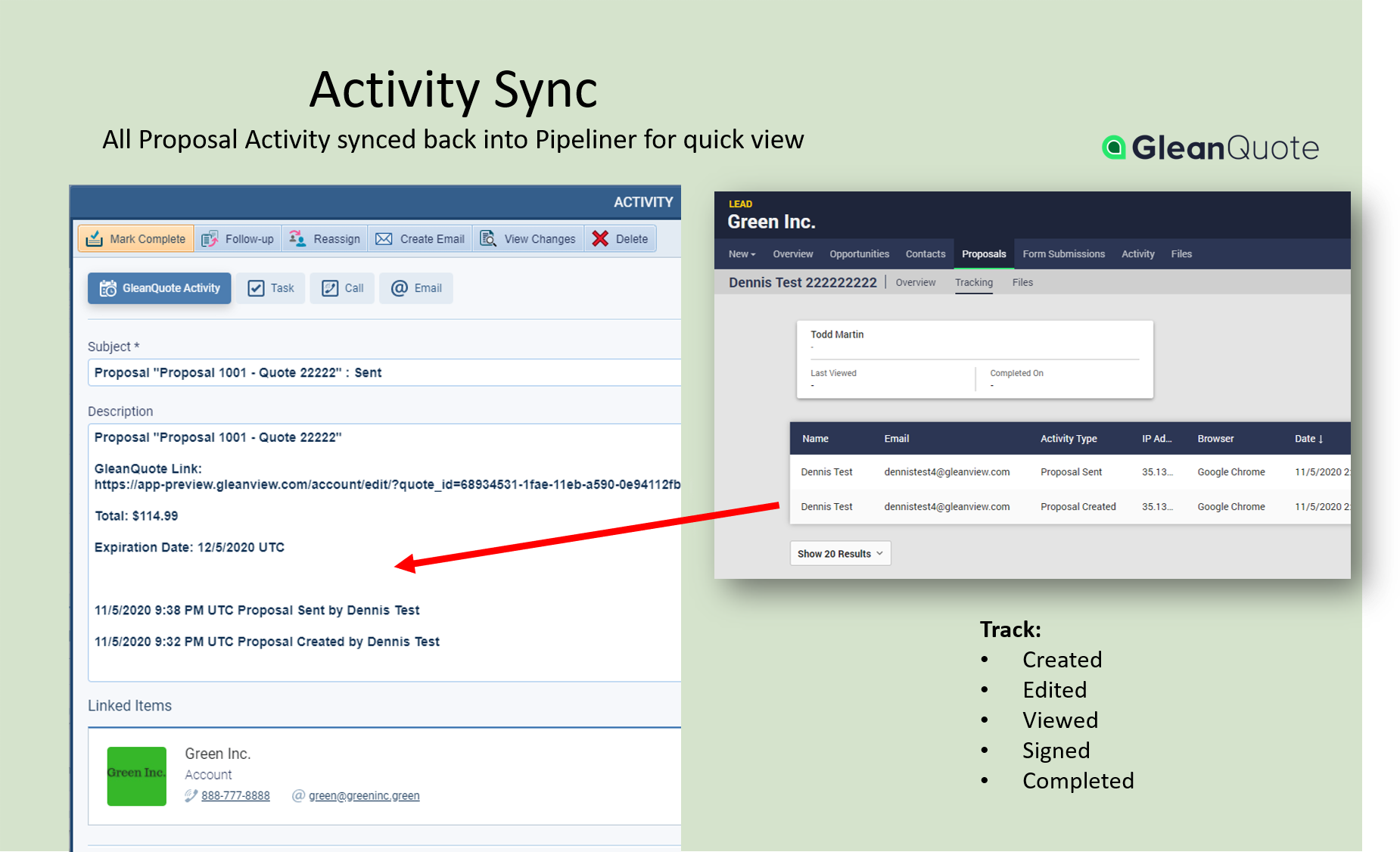 Learn More About Pipeliner CRM
Take a no-obligation 14 day trial of Pipeliner CRM.
No credit card info required – just experience for yourself how it could impact your sales.