Activity Management on the Go
Activity management is what happens inside each individual pipeline stage—those activities combine to move an opportunity through one stage and into the next. A salesperson is always engaged in those activities, whether in the office or not. For that reason Pipeliner's Activity Management features are always available through the Pipeliner CRM Mobile App, on your iOS or Android Smartphone.
Pipeliner activity management allows you to attach the same activity to multiple accounts, one or more opportunities or anywhere it applies.
Additionally, you are reminded whenever needed of an important activity or task.
With the release of Pipeliner CRM Chronology, you can invite other users as well as contacts to appointments, and can track an email as an activity.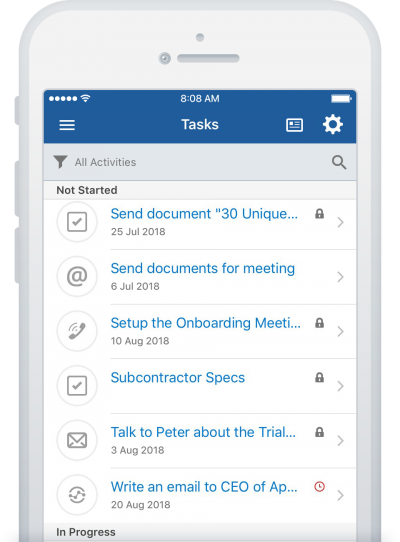 For any task or appointment, you can utilize Pipeliner CRM Quick-Views–an informative toolbar showing you the most important information regarding it. Simply force touch or long press on the task or appointment you would like data on.
You're picking up morning coffee and your prospect, High Energy Company, calls you and requests a meeting at a particular time. You accept, and quickly enter the meeting as an activity through Pipeliner mobile.
Schedule View
After you do that, you look over your activities from the Schedule View, to see what other activities will be occurring today.
Sitting in an airport lounge waiting for a flight, you access Pipeliner CRM's Mobile App, and see that there are several activities that you've accomplished, that you haven't updated in CRM. You can now quickly do so.
Coming out of an on-site client meeting, you access Pipeliner CRM Mobile App activity management to indicate your meeting is done—and see that you have an online presentation for another client in half an hour! You'd better get back to your desk so you can do that!
Download Pipeliner CRM Mobile App
Now put Pipeliner's most vital features always at your fingertips—with Pipeliner Mobile CRM for iOS and Android.
It's Pipeliner CRM on the go!
Check out the most advanced, intuitive and visual Mobile CRM available!