Navigator – Sales Dashboard
Pipeliner CRM's powerful Navigator feature brings targeted and innovative ways of delivering instant intelligence to the user. It's the first screen viewed when Pipeliner is accessed—for very good reason. It brings focus and clarity to the complexity of a salesperson's environment.
Because it is always needed, we provide Pipeliner Navigator functionality as part of your Pipeliner CRM Mobile App experience—always available on your iOS or Android Smartphone.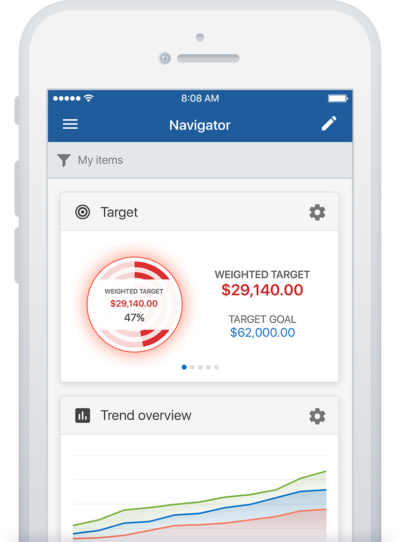 Activity Stream
Within Navigator's Activity Stream functionality, you can utilize Pipeliner CRM Quick-Views–an informative toolbar showing you the most important information regarding it. Simply force touch or long press on the activity you would like data on.
Sitting on a commuter train, you can access Navigator and, right there, see notifications for upcoming activities. Take your travel time to catch them up! Start right in with phone calls, emails or other activities to see that they're accomplished.
Dynamic Target
You've just checked into a hotel on a business trip, and just want to see where things are at. You access Pipeliner CRM's Mobile App, and see right there in Navigator the Target, showing where you stand in relationship to your sales goal. If you're a manager, you can also check the Target for the whole team, or individual members.
Profiles Functionality
Use Profiles on Navigator in many different ways. For example, you can set up a profile to view your sales for the current month, and then current year—and compare them with one click. If you're a sales manager, you can set up a profile to view your team members and their current sales figures. Or you can set up a profile to view only activities for yourself or (if you're a manager) your team.
Download Pipeliner CRM Mobile App
Now put Pipeliner's most vital features always at your fingertips—with Pipeliner Mobile CRM for iOS and Android.
It's Pipeliner CRM on the go!
Check out the most advanced, intuitive and visual Mobile CRM available!