Mobile CRM Products and Services
You can place your catalog right within Pipeliner Mobile CRM—never a need to switch back and forth between a catalog and CRM. Your services and products, along with pricing and discounts, are now part of your mobile CRM—a massive time saver.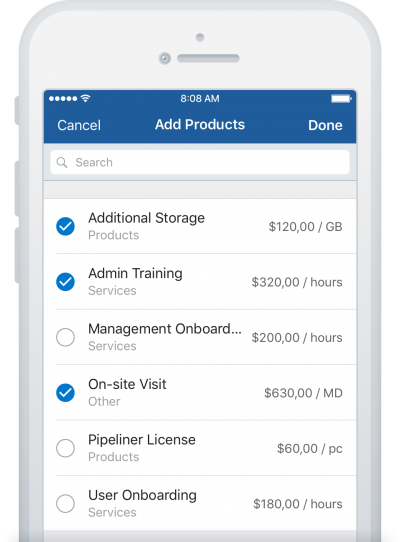 Your Full Product Catalog—Right in Pipeliner Mobile CRM
Commerce is lightning-paced today—there isn't time for a particular service or product to be entered into CRM every time a sales is made. The full list of services and products needs to be available so that the rep can simply associate particular items with the account of a prospect' or customer. Prices, discounts, terms, applicable taxes and more should also be associated with each product or service so that everything can be done with a few taps.
Right There in Mobile CRM
Now right in your Mobile CRM, all applicable information of every item from your company's product catalog can be available. When a prospect or customer is on the phone or right in front of a salesperson, an accurate, rapid quote can be made right then. A sales rep can also plan—right from the catalog and while viewing a customer's account and history—which services and products should be part of the next pitch.
A custom list of products and services can be created
Work with your custom list of categories
Utilize your own SKU (Stock Keeping Unit) numbers.
Price lists can be created, and products can be added on the fly.
Additions or Changes
Your company, just like any other, will always be introducing new or updated products and services. When this occurs your mobile CRM catalog can be updated in minutes. All new items can be accessed immediately.
Reporting
The Pipeliner CRM catalog Feature has a variety of reporting features:
Sales opportunity report based on products or services.
Pivot table report based on products and services.
Pivot table report based on product categories.
Reports can contain the difference between list prices and actual sale prices.
Download Pipeliner CRM Mobile App
Now put Pipeliner's most vital features always at your fingertips—with Pipeliner Mobile CRM for iOS and Android.
It's Pipeliner CRM on the go!
Check out the most advanced, intuitive and visual Mobile CRM available!