Powerful Mobile CRM Profiles
Pipeliner offers you many ways to visualize and instantly filter data so that you can have the precise view you need. But beyond that, Pipeliner allows you to save views that you know you're going to regularly use—with our Profiles Feature.
Now with Pipeliner CRM Mobile App Profiles feature, you can utilize the profiles you create on your desktop version–anytime, anywhere, on your iOS or Android Smartphone.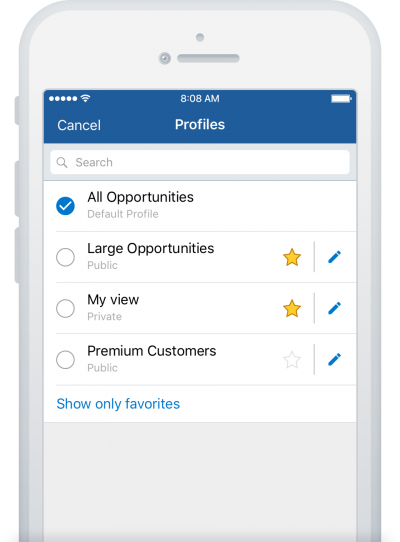 Profile Customization
You're standing outside the boss's office, because he's just asked to see you. While you're waiting, you access your Pipeliner CRM Mobile App. You have previously created and saved a profile that allows you to see all of your deals over $10,000. Now, when you walk into the meeting with your boss, you'll be able to confidently list off the big deals you're now working on.
You're at an informal meeting at a restaurant, with several potential business partners. They ask what the sales pipeline is for a particular product made by your company. You access your Pipeliner CRM Mobile App, and access the profile you customized for showing you opportunities for that product only. You then confidently and accurately provide the answer.
You're at home talking to your family, informally working out how the year is going to go financially. There is a question on what kind of commissions you can expect for this quarter, based on the opportunities in your current pipeline. You access your Pipeliner CRM Mobile App, and access the profile you created which shows your commissions for a sales period.
Download Pipeliner CRM Mobile App
Now put Pipeliner's most vital features always at your fingertips—with Pipeliner Mobile CRM for iOS and Android.
It's Pipeliner CRM on the go!
Check out the most advanced, intuitive and visual Mobile CRM available!