Sales KPI Dashboard – Insights On-Demand, On The Go
Pipeliner Sales KPIs (Key Performance Indicators) Dashboard is built so that everyone on the sales team, both inside and outside the office, can visually utilize data to make better, more informed decisions. You can access this vital feature on both the desktop and mobile version of Pipeliner CRM.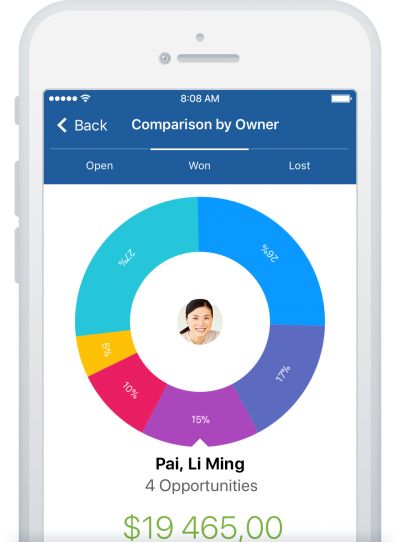 Visual Insights Mean Everything
Data is only useful if you can easily access it, interpret it—and then use it to make better decisions. We deliver 27 popular, pre-built KPIs that you can use to immediately analyze business for a single rep, a sales unit or territory, or a whole sales team.
Win Rate by Opportunity Value

Pipeline Conversion Rates Chart
Count of Overdue Opportunities

Top Accounts by Won Opportunities

Top Accounts by Lost Opportunities

Top Accounts by Open Opportunities
With our unique wheel chart, you can also compare won, lost or open opportunities by:
Out and about, waiting to see a client, and want to know how the prospect or customer you're about to visit stacks up? Access any of the visual KPIs, have a look, and be better prepared for that meeting, and for dealing with other opportunities throughout the day, week and month.
Also applicable within the KPI settings are Pipeliner's powerful Profile features—allowing you multiple lenses through which to view your KPIs, and diverse targets for measuring with KPIs. View an individual, a sales unit, or an entire sales team, and utilize differing filters with which to slice and dice the data.
KPIs is yet another intuitive, powerful reporting tool, part of the total Pipeliner experience.
Customizable On the Go
As with many other Pipeliner features, your KPI view is totally customizable. Pick any report and immediately add it to your view. They're always right before you when you need them.
Download Pipeliner CRM Mobile App
Now put Pipeliner's most vital features always at your fingertips—with Pipeliner Mobile CRM for iOS and Android.
It's Pipeliner CRM on the go!
Check out the most advanced, intuitive and visual Mobile CRM available!