Google Forms for CRM Integration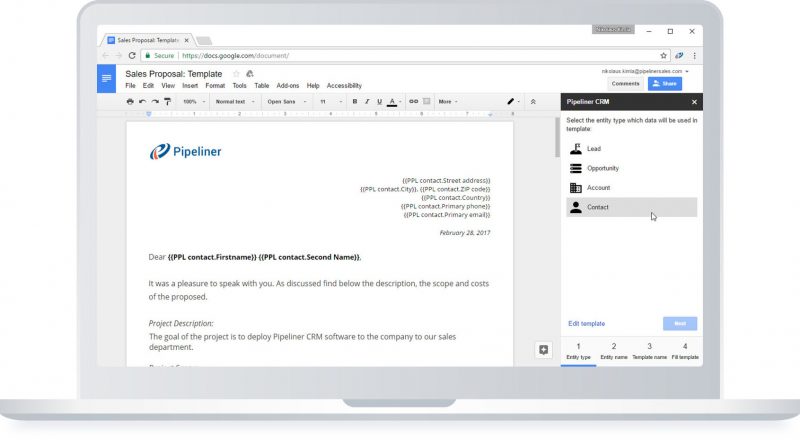 Pipeliner CRM seamlessly integrates with Google Forms, so that you can directly capture lead data from lead forms, and create document templates that are automatically populated with data from Pipeliner CRM.
Lead Data Capture—Greatly Simplified
With Google Forms you can create beautiful online web forms attached to your website, for example "contact us" or lead forms.
A major lead generation headache—or at least one of them—can be the capturing of data from a lead form. With the Pipeliner Google Sheets Add-In, Pipeliner has solved this issue. This tools enables you to use your Google form attached to your website as a lead generation tool for Pipeliner CRM. This feature can greatly simplify the lead capture process for any company.
Directly and Precisely, From Form to Pipeliner
The Google Sheets Add-On for Pipeliner allows you to add leads, opportunities, accounts or contacts to Pipeliner, directly from your company's Google form. Because of the precision of this integration, you can map your form data precisely to where it belongs in Pipeliner. When a website visitor fills in the Google form and submits the data, Pipeliner Google Sheets Add-On auto-creates the new lead, opportunity, account or contact right in Pipeliner CRM.
Document Templates
With the new Pipeliner CRM Google Docs and Sheets Add-Ons, you are able to do what was only possible in the Microsoft Office until now: create document templates that are automatically populated with the data from Pipeliner CRM.
Pipeliner CRM Google Docs Add-On for Document Templates enables you to create document templates and populate them with the Pipeliner CRM Data from Pipeliner leads, opportunities, accounts and contacts.
Get Started!
To get started with the Pipeliner Google Sheets and Forms Add-Ons, you need to have:
Google Account – You need to have a Google account, from which you can access Google Sheets and Google Forms.
Pipeliner Account – You need to have Pipeliner Account. If you do not have one yet, do not hesitate to sign up for Pipeliner CRM.
Once you have registered Pipeliner CRM and have created your Pipeliner account, you will be able to configure your Pipeliner Google Sheets Add-on to store your form submissions in Pipeliner CRM.