Pipeliner CRM Integration with Microsoft Excel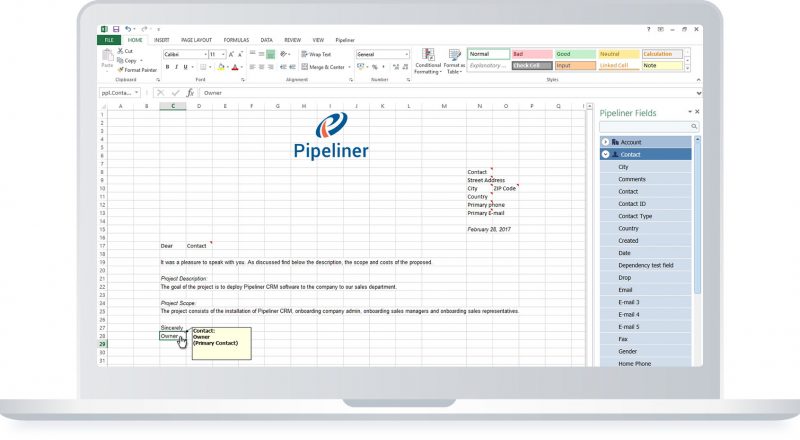 We know that in addition to Pipeliner CRM, you utilize many different apps in your daily work. To make that work simpler and easier, Pipeliner integrates with more than 50 of the most popular applications, including those contained within the leading Microsoft Office suite of productivity products.
Microsoft Excel, part of the Microsoft Office suite of products, is the most popular and widely used spreadsheet in business, and in fact is the industry standard for spreadsheets. It is widely applied in basic accounting, business mathematics, and for many other applications.
For that reason, from the beginning we've worked hard to ensure that Pipeliner CRM integrates with Microsoft Excel, so that companies could always use their favorite tools along with Pipeliner.
The Pipeliner Office Add-In contains a feature called PIpeliner Template Builder. Pipeliner Template Builder allows you to map any field from Pipeliner to your Word or Excel template.
Specifically for Excel, Pipeliner Template Builder allows you to auto-populate Microsoft Excel Document Templates from any field within Pipeliner CRM. This allows the user to generate a sales proposal, a quote, an invoice or any of an endless variety of documents. MS Excel document templates can also be attached to any sales leads, opportunities, accounts or contacts.
To sum up, with Pipeliner Excel integration you can:
Create a Template in Microsoft Excel
Attach a Microsoft Excel Template to Pipeliner CRM
Use a Microsoft Excel Template in Pipeliner CRM
To utilize Excel functionality within Pipeliner CRM, you need to have Microsoft Office 2010 or 2013 with Pipeliner Office Add-In installed. Please note: older Office versions, or online Office 365, are not supported.
To download Microsoft Office for Pipeliner CRM (which includes Microsoft Excel for Pipeliner CRM), please visit this page.