Pipeliner CRM Inbox Add-In for MS Outlook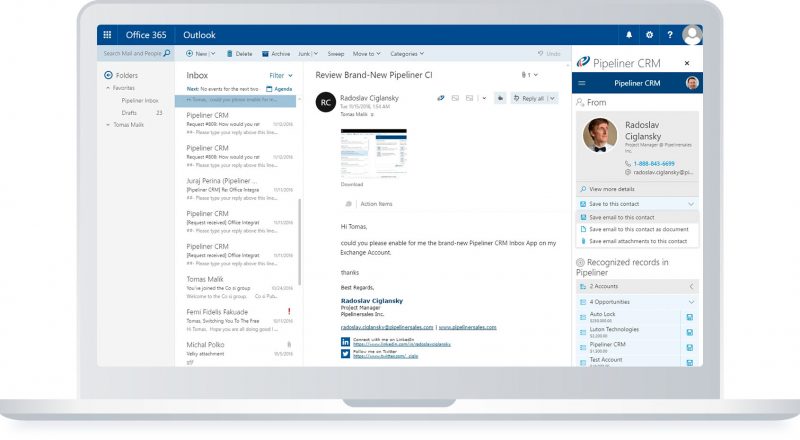 Many millions of salespeople over the years have become accustomed to working in Microsoft Outlook. When adopting a new, incredible tool such as Pipeliner CRM, it's only natural to expect to be able to continue working in Outlook, while now being able to take advantage all the intuitive visual advantages that Pipeliner CRM has to offer.
With Pipeliner's seamless CRM-Outlook integration, you can now do so.
No Switching—Total Visibility
The Pipeliner CRM Inbox Add-In for Outlook allows you to see all Pipeliner appointments, contacts, tasks, accounts, opportunities and leads associated with email addresses—without ever having to switch between Pipeliner CRM and Outlook.
All Vital Details
Whenever an email message comes into your inbox, the Pipeliner CRM Smart Preview Panel for Outlook displays detailed information about the message sender within seconds. You can easily review all previous business conducted with that contact, including all related activities, leads, accounts and opportunities.
If you click on any email message within your inbox, the Pipeliner CMR Inbox Add-In matches the data of the sender and recipients with Pipeliner CRM data:
Detects Existing Data
Detects Pipeliner Users
Relates existing records from Pipeliner to the Sender
Detects "Unknown" Data
You can save all content from a received email message to Pipeliner. If needed, you can also create and save additional records related to the contact.
Over the Pipeliner CRM Mobile App, you can also make a phone call directly from Outlook.
When Sending an Email
When composing an email to a prospect, client or customer, you can add other contacts or even other sales team members right from CRM. You can also, right from CRM, attach documents.
When Making Appointments
Pipeliner CRM is often used for scheduling appointments. With the Pipeliner CRM Inbox Add-In for Outlook, you can add contacts and members of the sales team as meeting attendees, and also attach documents to appointments.