8 Nov 2018
We are happy to announce the Pipeliner CRM App v1.4.0 release of Pipeliner CRM Cloud. This release includes even more features from the desktop version, many mobile-related features, and stability fixes.
New Features and Small Enhancements
General Improvements
Bulk Update is here! With this new functionality, you no longer have to make changes to records individually. Select any number of Leads, Opportunities, Accounts, or Contacts and bulk update your changes to your CRM data

Data

Data is a set of quantitative and qualitative facts that can be used as reference or inputs for computations, analyses, descriptions, predictions, reasoning and planning.

!
For all users, we created Contextual Help Guides that will give you a tour inside the app in case you´ll need some help. Simply click on the question mark button in the top panel and select Help.
Introducing Pipeliner CRM in German. You can now switch the application between two languages: English or German.
Archive feature now has the List view Records Preview! With this functionality, you can now select any record in Archive List view and quick Preview info will be displayed.
After you return to the List view from editing any record you will no longer lose that record and have to look for it. It will be selected for you.
We optimized the application to perform faster saving and loading with the small changes under the hoot with a big impact on the speed performance.
Google Sync will now sync the data only per space you activated it in. It is no longer a global user

User

User means a person who uses or consumes a product or a service, usually a digital device or an online service.

setting.
Reports Improvements
We have updated Reports, particularly:
Pivot Reports now have "Ratio" in Main Sum Row
With the new update, when you create new Pivot Report it is no longer empty (without row or column)! Now for each Pivot type there is default row and column. For example for Accounts the row will be Owner and Accounts columns will be Sales unit.
Dashboard Pipeline

Pipeline

Sales pipelineis a visual representation of the stage prospects are in the sales process.

Velocity Chart is here! Simply open Power Panel in reports Dashboard,select Add Charts and add the brand new Velocity Chart.
In Dashboard we also fixed the problem with "Top" charts. Now it only shows the top 5 items to give you a better viewing experience.
Compact view Improvements
In Compact view, we have updated the Business Overview pie chart with new visuals!
When Contact or Account

Account

Account refers to a record of primary and background information about an individual or corporate customer, including contact data, preferred services, and transactions with your company.

has linked social media, social media icons will show in the Compact view.
Admin Improvements
When inviting users to your space, Pipeliner CRM now autodetect your domain and prefill it into the invitation process.

Release Notes
Pipeliner CRM is getting better and better with each new release. If you´re curious, what other releases we had, please visit our "Release Notes" section.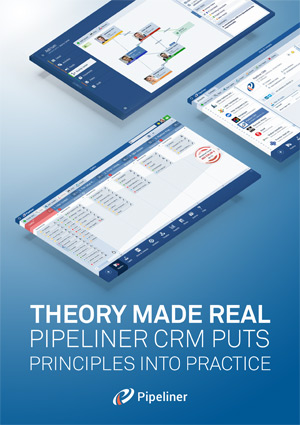 Theory Made Real
Based on proven economic principles, Pipeliner CRM is a tool for everyone.